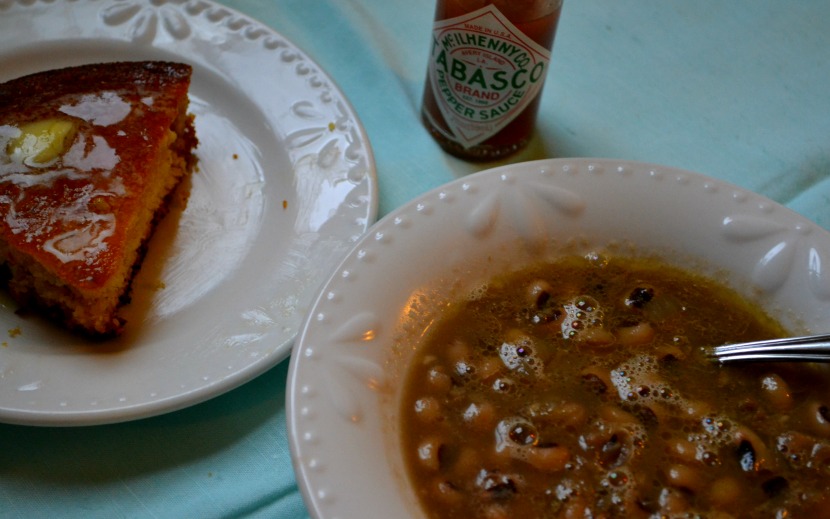 Congratulations to making it through another year! Whether it was wild, hectic, unpredictable or mellow, we hope it was a fond one and mash-licious in every which way. With the 1st of the year upon us, we're celebrating with foods that signify luck and good fortune for the year to come: like tteokguk (Korean rice cake soup); pork and sauerkraut; or a roast suckling pig. For our Mash-Up Nishta Mehra, it's black-eyed peas — a dish she dutifully ate as a kid growing up in the South but came to embrace as an adult (we feel that!) Read on for her memory and version of the classic Southern comfort food. What's your New Year's Day Mash-Up food tradition? Email us at yo@mashupamericans.com. We wish you a happy and prosperous new year!
Many cultures have a set of culinary traditions associated with the New Year — foods designed to bring luck, prosperity and/or fertility. In the South, we eat black-eyed peas, which are said to represent coins, alongside collards or other greens, to represent paper money. Given that field peas (black-eyed peas are but one variety, but the most well-known) were originally brought to North America by enslaved Africans, it seems puzzling that they are now considered auspicious. Perhaps the peas came to be seen as evidence of survival in the face of horrific circumstances — a source of comfort and hope, as food often can be.
Whatever their trajectory, black-eyed peas are required New Year's Day eating in the South: each year, my mom added them to her famous marinated salad, which she served alongside shrimp Creole and wild rice, our traditional Mash-Up New Year's Day meal. I wasn't much crazy about black-eyed peas as a kid, but my mom insisted that I eat at least 12: one for each month of the coming year. (I love how sincerely my Indian-born mom took on the superstitions of her adopted homeland.)
I learned to like black-eyed peas as an adult, cooked the traditional Southern way, which is how my wife Jill and her family make them. As Sheri Castle details in her recent, excellent piece for The Bitter Southerner, historically, Southern food was never the meat extravaganza many folks think of it as today. Rather, meat (usually some type of salted or cured pork) was used in small quantities as a flavoring agent, as is the case with these peas. This is a humble dish — inexpensive to make and filling, particularly alongside a pan of cornbread.
As is the case with so many beloved Southern dishes (gumbo, gravy, greens, etc.), it makes more sense to provide you with a method than an exact recipe. Traditionally, meat is used as the flavor "backbone" here, but if you need or want to make this a vegetarian dish, lean on the heavier side with the onion and garlic, and consider adding diced carrot to the aromatics.
These proportions will make enough to feed a family of four, plus leftovers. Double if you have a gang of folks coming over for New Year's Day. Serve with a bottle of hot sauce and a pan of cornbread.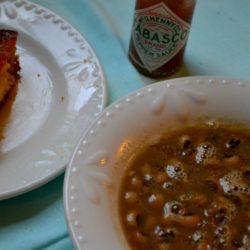 Nishta's New Year's Day Black-Eyed Peas
Cooked the traditional Southern way.
Ingredients
2

cups

black-eyed peas

soaked in cold water for 8 hours, then drained

Some type of meat to serve as a flavoring agent: 2-4 strips bacon, a little bit of salt pork, a smoked ham hock or turkey wings

Aromatics: 1-2 diced yellow onions or a bunch of green onions chopped, plus 2-4 cloves garlic, minced

Seasonings: salt & pepper for sure (and a couple of bay leaves if you're feeling fancy)

4 – 6

cups

Liquid: stock or broth is preferable as it will amp up the flavor, but you can use water if you need to
Instructions
If you're using bacon or salt pork, dice it up and crisp it in the bottom of a large stock pot with a bit of neutral oil (like Canola). If you're using a ham hock or turkey wings, you can skip straight to the aromatics.

After you've got some good grease coating the bottom of the pot, add your aromatics and sauté them over medium-low to medium heat until you get a bit of color on them. (Color = flavor!)

Season with some salt and pepper, erring on the conservative side if you are going to add stock, and on the more generous side if you're going to add water.

Toss in the peas, the liquid, and the bay leaves, if you're using them. This is also the time to slip in a ham hock or turkey wings.

Bring everything to a boil, then reduce to a simmer, cooking until peas are tender, which will take between 1—1 ½ hours.

Season to taste, adding more salt or pepper accordingly, then give the peas a few minutes to absorb seasoning before you serve. Enjoy!
Notes
This is an excellent dish in which to use up any post-Thanksgiving turkey stock that may be taking up room in your freezer! If you want your peas more broth-y, use 6 cups of liquid. If you want them thicker, use more like 4 cups of liquid. 
Resolving to read more this year? Start with these:
Starting Fresh: 5 Detox Traditions From Around the World
What Do a Buddhist, Episcopalian, Sikh, and Jew Have in Common?
How Do You Celebrate Chinese New Year?
Nishta J. Mehra was born and raised in Memphis, Tenn., the proud first-generation daughter of Indian immigrants, which means she can make both saag paneer and buttermilk biscuits from scratch. Author of The Pomegranate King, she is currently at work on her second collection of essays, Making Space: On Parenthood, Family, and (Not) Passing, forthcoming from Picador. She teaches high school English in Texas with her wife, Jill, and their son Shiv. Follow her @bluejeangourmet.