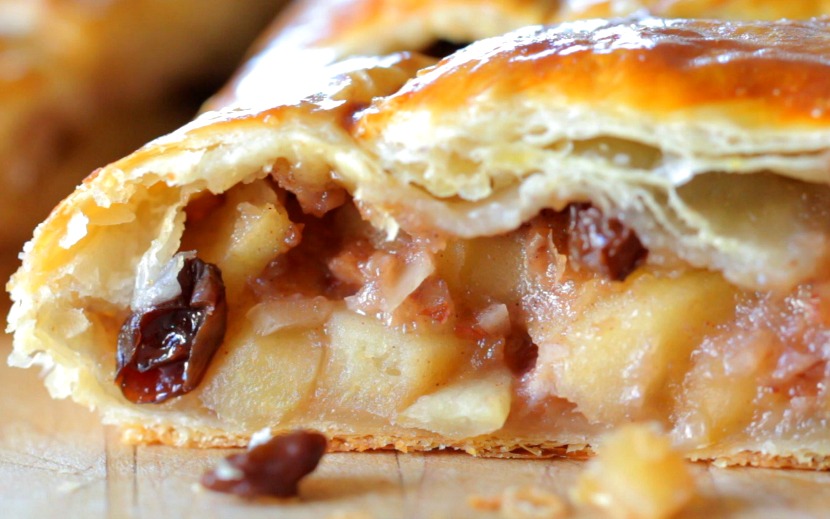 For Mash-Ups, our "home" foods hold more than a deep nostalgia — they are our connection to our history, our family, and our culture. Mash-Up co-founder and Salvadoran-Jewish-American Mash-Up Rebecca Lehrer takes a fresh look at one of her favorite pastries, apple strudel, and joins the generations of women who have made it before her.
Apple strudel is also the perfect treat to celebrate Rosh Hashana, perhaps with a healthy dollop of honey and a cup of Viennese coffee. L'Shana Tova, y'all!
For my Viennese-Polish-American dad, apple strudel is Saturday afternoons at his grandparents' apartment with Viennese symphonies on the record player and their friends coming to visit. For me, apple strudel is a siesta at my Oma and Opa's house, of course accompanied by coffee and our favorite sweet. For both of us, it's about taking time for family.
I come from a long line of strudel eaters and bakers on both sides of my family. The delicate crust is a thing of legend. How thin could Tante Fanny make the pastry? And what about Nanny? Mastering the crust is one of the great prides of Viennese and German Jewish women. As I prepare to welcome a new little girl into my family, I thought it was time to join the line of strudel bakers. I wouldn't say I mastered it, but here's a darn good recipe I adapted from two different recipes: Claudia Roden and Yvonne Ruperti.
Note: I made one dough from scratch and bought another frozen pastry sheet from the supermarket. Viennese grandmas, cover your ears: The frozen pre-made one was 100x better, and much easier to make thin! But we can pretend I never said that, and just enjoy the deliciousness.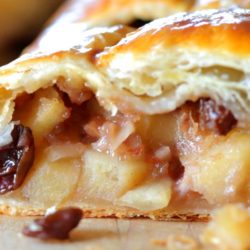 Rebecca's Apple Strudel
Win the battle of pastry dough and buy premade.
Ingredients
Dough
Frozen pastry sheets. Usually come in packs of two.

Half stick of unsalted better

melted
Apple Filling
1

lemon

juiced and zested

2

lbs

Granny Smith apples

about 5 apples, peeled, cored and cut into small cubes

3/4

cup

chopped walnuts

3/4

cup

granulated sugar

plus more to sprinkle on top before baking

1/2

teaspoon

cinnamon

1/2

cup

golden raisins

¾

cup

ground almonds or almond flour

salt

because it makes everything more delicious
Instructions
In one bowl mix sugar, cinnamon and a hearty pinch of salt. Like if a giant pinched it. In another bowl, mix apples, raisins, lemon juice, lemon zest, and ground almonds. Just before you're ready to fill the strudel, combine the two bowls of filling ingredients.

Starting about 6 inches from one end of the dough, use half the apple mixture, as if you're about to fill a burrito. Also leave a couple inches on both edges of the mixture. Don't worry if the filling seems like it's piled really high because the fruit will shrink.

Now you have to roll! Take the 6 inches of the dough you left in front of your filling line and start pulling it over the filling to cover it. Fold the dough over the sides, burrito-style, when halfway through. Go until you're all wrapped up with no gap.

You should see the lumpy contours of the apples and filling.

Your strudel-burrito will now be all rolled up on top of a piece of parchment paper. Lift that parchment paper with the strudel on it and put it on top of a baking sheet.

Brush more of the melted butter across the top of your strudel-burrito (which is likely between 15-20 inches long). Liberally sprinkle sugar across the top.

Repeat with second pastry sheet, and place second strudel-burrito on the baking sheet.

Bake for 20 minutes at 425 degrees, then lower the temperature to 350 degrees and bake for another 30 minutes or until golden brown.

To serve, enjoy with the Viennese Symphony Orchestra and coffee.
Notes
This is enough for two rolls of strudel.
Rebecca is co-founder and chief executive of The Mash-Up Americans. A Salvadoran-Jewish-American married to an American-American, she has worked for 10+ years in media, arts and culture. She creates cultural experiences, brings people together, and introduces newbies to Armenian string cheese. You can follow her @beccale and find her in Los Angeles.