What Is Your Comfort Food?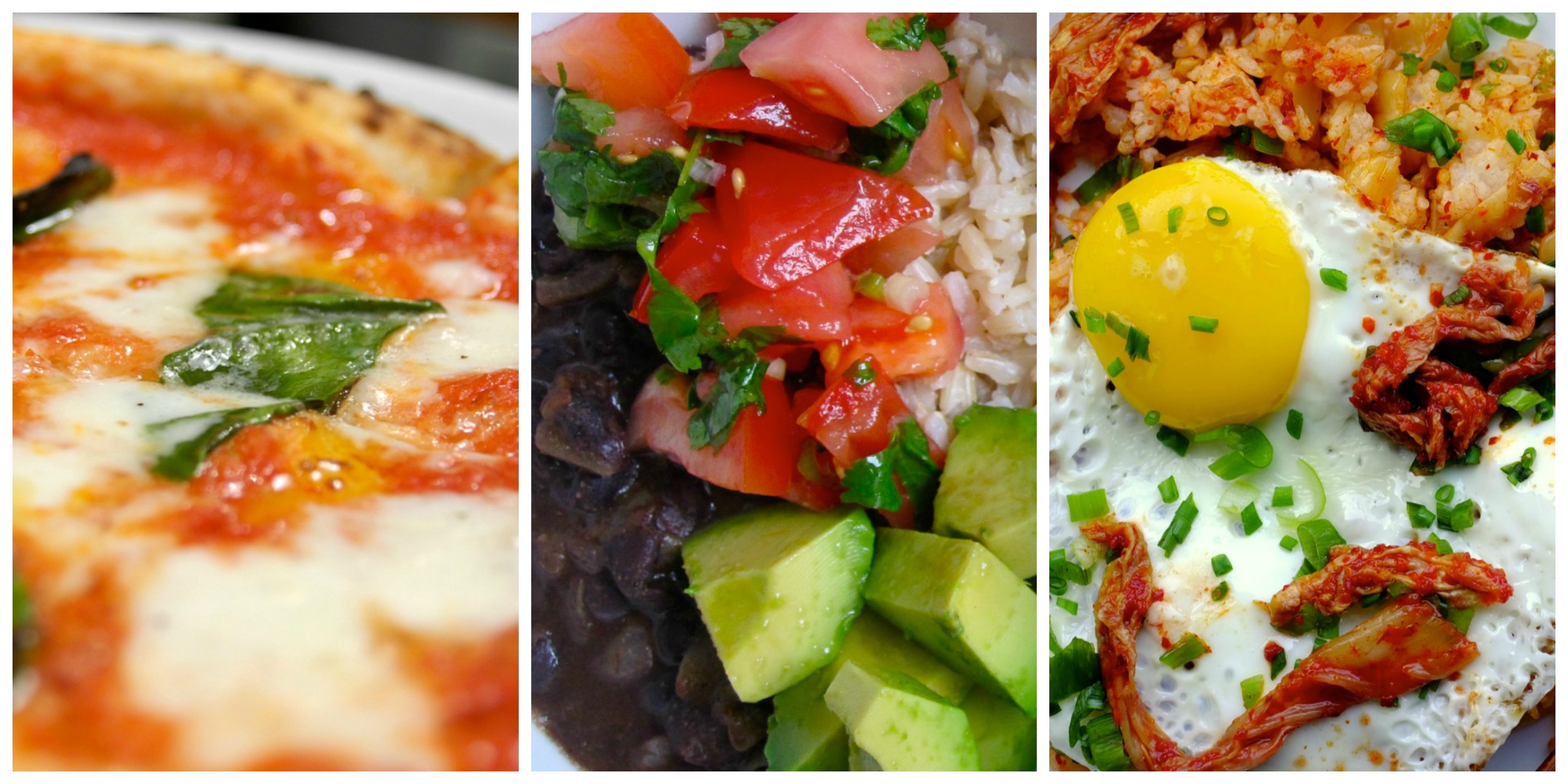 It's no secret that we at The Mash-Up Americans love food. Nothing expresses affection like a dish prepared with love, and nothing more easily bridges the gap between disparate generations, cultures, languages, and religions than a shared meal. Our comfort foods may not be the zenith of our culinary traditions, but they are what we crave when we need to feel closer to home, when we want to feel cozy in our bellies. What flavors makes you happy? What scents evoke family and childhood?
What is your comfort food? Here, we'll start.
Rebecca, Salvadoran-Jewish-American
Rice and beans. Black beans and perfectly cooked rice (cooked with a little oil and sometimes onion) are my happiness. I can eat for breakfast, lunch and dinner. I can add lime, or avocado, or salt, or just plain. I can mix them together to make casamiento (the salvadoran dish, a marriage of rice and beans). They fill me up and they fill up my soul.
Amy, Korean-American
My comfort food is Spam and kimchi, usually chopped, fried and topped with an egg in a bokumbap concoction. I like my Spam extra crispy and my kimchi really old and sour. But I'm also into Spam musubi with kimchi on the side, or a plate of white rice with kimchi and slices of fried Spam on the side. I know the Korean affection of Spam can be an over exaggerated stereotype, but for me, it is 100% absolutely a true love relationship.
Dark chocolate and popcorn. Lots of butter and salt.
I've been a pescetarian for some time, but as a comfort food, I still instinctually crave chicken adobo. Prepared with the perfect amount of potatoes, onions, garlic, soy sauce and vinegar, then served with steamed white rice and topped with diced tomatoes, it really is the perfect meal. I once tried to make a vegetarian version, which turned out to be an epic, epic failure. I sometimes think about incorporating chicken back into my diet, only for the adobo.
I want to say it's like rassam or idli or dal and sound like a good Indian dude, but really, it's this thing you can't even get anymore. There used to be an American Chinese restaurant that all these old Jewish people used to go to in the neighborhood I used to live in, and they had fishtanks and everything inside. They had sesame chicken, and it was the first time I ever had it. It was incredible, and the sauce was really vinegary, like it used to be, when they invented that made up thing. It used to come with cauliflower instead of broccoli and it was this incredible thing that used to be my favorite food, and it's what I think about whenever anybody asks me about food.
Phil Yu, Korean-American
Ddeukguk. Korean rice cake soup. It's easily my favorite thing that my mom makes and I look forward to it every time I go home.
My comfort food is generally speaking noodles, but most specifically ramen is my jam. Yea yea yea, I know, that's a Japanese staple, not a Chinese one, but if you read the history, the Japanese stole it from us anyways, so I'm vindicated!
I once read someone describing ramen as one of her top 5 "soul" foods in the entire culinary universe and I could not agree with that statement more. Ramen indeed touches my soul and both literally and figuratively warms me up. On a cold wintry day, getting a nice big bowl of ramen is one of my favorite things in the world. The delicious noodles, the piping hot soup, the fixings, and of course the best part of all, the "molten" egg that hopefully has been seasoned in a sweet soy marinade. And finally it's communal. Just all the fond memories of trying new ramen places with all of my closest friends and family makes ramen comforting unto itself.
Green chili cheeseburgers. I'm from New Mexico!
Sharda Sekaran, Black-Indian-Baptist-Hindu-American
My grandmother's food. Southern food. Collard greens, corn bread, barbecue. Things that might of come out of my grandmother's kitchen, that's my comfort food.
PT Black, Episcopalian-Jewish-Welsh-American
My comfort food is matzoh ball food or Cantonese chicken soup, which we used to have growing up. I used to have Peanut butter and fluff, and maybe on top of that a roast beef sandwich with extra sharp cheddar cheese and horseradish on whole grain bread and Chinese tea.
Sy Yang, Korean-Canadian, US Resident
My comfort food is Chapagetti, cooked with no broth. It's a fast-food ramen-like version of Koreans' interpretation of Chinese noodles. There are so many degrees of separation between it and any legitimate food group or dish, but it is so impossibly delicious, especially with some vinegar-soaked pickled radish (the yellow stuff you find in Korean kimbap).

Gabriel Bermeo, Colombian-Mexican-American
My mom's sopa de arroz. The thought of toasted rice soaking in tomato and spices warms me inside. When you layer in cooked onions and peppers, it's heaven. I didn't realize until I left home how much this dish was part of my life. The sizzle of the rice, the smell of cumin and sight of that plate of red rice with a side of jalapeños — it's what makes me think of home and the love I have for my family.
Roben Farzad, Iranian-Jewish-American
Persian food: Kabobs w rice, Shirazi salad and tadig (the crunchy bottom of the rice pot). Those of you in Manhattan have to hit the joint Ravagh. Those in the DC area should try this at Shamshiri.
Anything with carbs and a savory flavor. Pasta, pizza, stuff like that.

Pizza and mac and cheese.
Alfred Chung, Korean-American
Fried Chicken! KFC, extra crispy with mashed potatoes and baked beans. I've loved eating chicken since I can remember; my parents always thought it had something to do with me being born in the year of the rooster. I also love my mom's Sam Gye Tang. I'm big on delicious broths and this dish is like chicken soup on steroids. The ginseng really kicks it up a notch. Having coarse salt to dip the boiled chicken in is a must. As is some crunchy kkakdugi kimchi to dip into the broth.
Bread and cheese, and I mean fresh, good bread.
My comfort food is baked ziti. It's burnt cheesy deliciousness. My mom used to make it. She isn't Italian — she's a Jew from Queens and moved to Southern California when she was young. I guess she assimilated a lot of "white people" things to fit in. She's a very adventurous cook, but that was something she would make when she didn't have the energy to make something more complicated.

Raffi Lehrer, Salvadoran-Jewish-American
Black beans. My childhood nanny taught me how she made them for us when I was growing up. I like to make a big batch on the weekends to have throughout the week. I've tweaked her recipe a little bit. I like things 1000 times more spicy than I did as a child — but its the same savory black beaniness I grew up with.

What's your comfort food? Share with us!
Team Mash-Up is the brain trust of smart minds and savvy creators, that builds all the cool stuff you see here.