On Being a Black Woman in Korea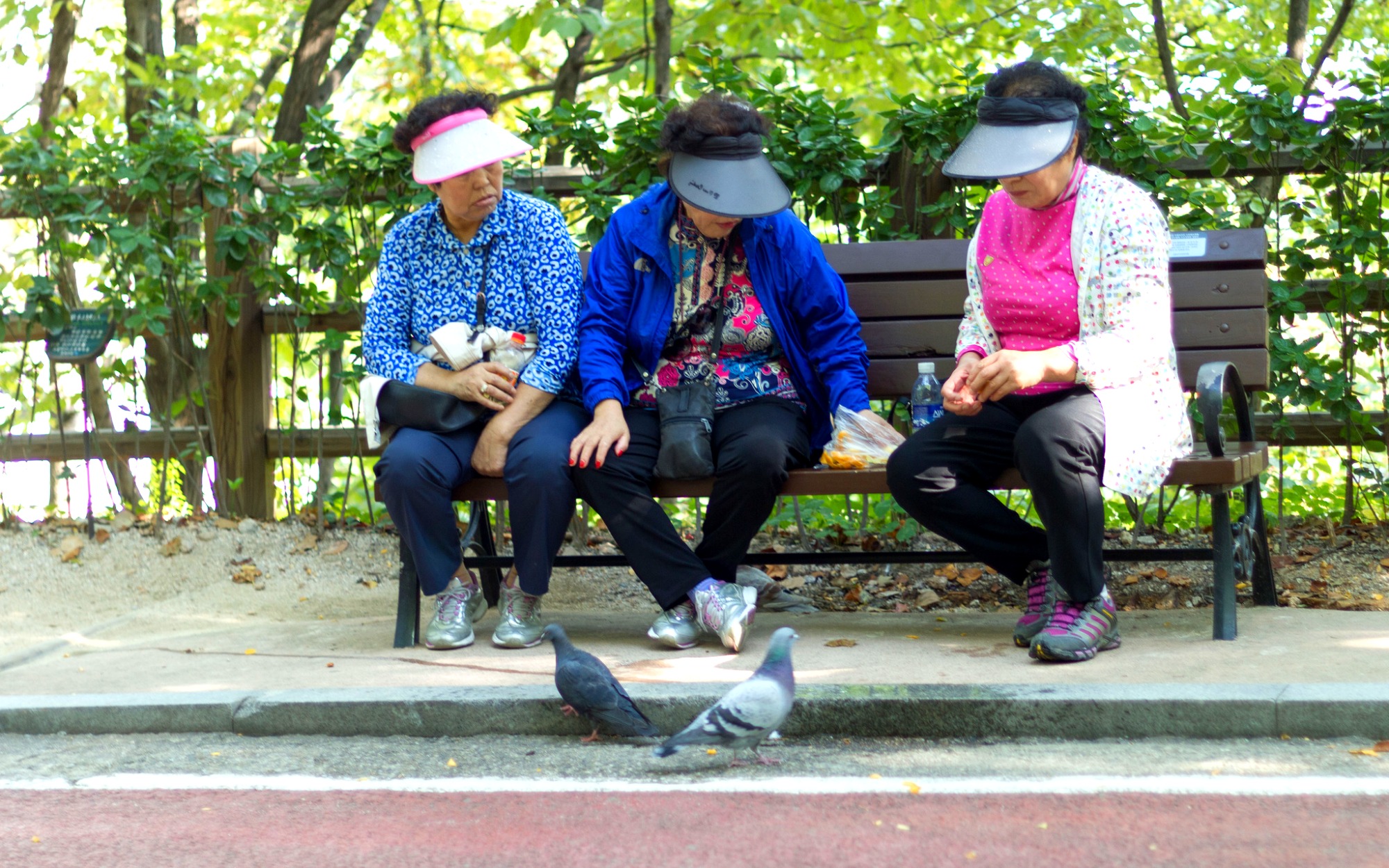 Life as a Mash-Up is an ongoing search for your authentic self, set in a complex web of identities, cultures and languages. Taking that show on the road and across the globe is tough — especially when the basic facts of your appearance and lifestyle are cause for judgement, fascination, and sometimes disdain. Our Black-American Mash-Up Kimberly Taylor, originally from Tennessee, now teaches English in South Korea with her husband, Troy Wiggins. She has learned that ajummas can't keep their hands off her, while men are really good as passing notes. Oh, and she should probably have a baby. Read on.
Interested in what it's like being a black man in Korea? Read her husband's story here.
Before we moved to Korea, my biggest fears weren't about a lack of language skills, or if I would like Korean food, or if my husband and I would make friends. No. As a big black woman, I was most worried about becoming a walking, talking testament to America's culture of overindulgence — or a petting zoo attraction. I'd traveled abroad before, so I knew comments about my obesity or requests to touch my hair were usually innocent, but that didn't make them less painful. I was terrified that I'd end up being too defensive and overreact to questions, possibly hurting a curious kid's feelings or shouting at an interested old stranger on the subway.
My biggest fears, basically, were about my hair and my fat.
Nobody is going to be super shocked that you're fat — you're an American.
Koreans ask waygooks (white expats) all the time: "If you could tell your 'On the Way to Korea' self anything, what would it be?" I'd tell myself to relax.
Why?
Most Koreans who are odd enough to want to touch your hair are also bold enough to do so without asking you jack, so don't worry about what you're going to say when they ask. They won't.
Nobody is going to be super shocked that you're fat — you're an American. They will be shocked that you're not ashamed of your big, fat self.
Instead, I would tell myself that for the black, married foreigner, there are other, far weirder comments than those about hair and fat.
Take the come ons, all colored with, well, color. Unlike the ajummas, who are so mesmerized by my backside and breasts that they forget how to control their hands, and so charmed by the sight of my bantu knots that they smile and stare all the way from Singi Station to the KTX (that's a long way), Korean guys are able to refrain from touching me. But they can't resist propositioning me. There was the esthetician who gave me his card in a café and told me that he could lighten my skin and take me on trips. Then there was one of my student's older brothers, who found me so irresistible that he passed me a note during graduation to give me his number and tell me, "I know what black women like. I went to Alabama A&M."
Then there's the neverending questions about my non-existent baby. For my co-teachers, there's nothing better than a baby. Discussion of a teacher's recent delivery can derail a staff meeting at school. The presence of a toddler turns this group of multilingual, taciturn teachers into shiny-eyed grannies, incapable of forming real words in either Korean or English. Childbirth among close family members is one of the only acceptable reasons for absenteeism. Baby photos must be wielded with care lest an entire half-hour be lost to rapturous cooing. Babies are so well-loved among so many women that not to love babies could very well spell trouble for your social life, which I've found out the hard way.
He passed me a note to tell me, "I know what black women like. I went to Alabama.
My ajumma co-workers inquire constantly about my children: how many do I have, did I bring them to Korea, how old are they? After I've told them I don't have children, they ask for verification: "You don't have a baby?"
There's a healthy dose of "What the hell," in their tone. Still, it's a fair question considering where we are, so in the interest of building a friendship, I reply with my nicest "Nope." If I'm really lucky, the Baby Portion of the conversation ends. If I'm unlucky, we spend 20 minutes talking about the lady's daughter/younger sister/church member who gave up her job saving endangered Siberian tigers to become an upstanding member of the gender community and do her baby-baking duty (FYI, she couldn't be happier).
If I'm very unlucky, they ask: "Why no baby?"
"Why" is where it unravels. That's where the tender green sprout of our good rapport is shriveled by the arid wind of a lack of common interests. "Why" is where I go from being "Kim-Teacher, the Loveable Waygookin" to "Kim-Teacher: Baby Hater."
"Why no baby?"
"I don't like babies. I know my limits. Anyway, maybe we can sit together at lunch? Oh, okay. Bye."
Turns out that worrying about a stranger wanting to touch my hair was unnecessary. In order to make friends and belong in Korea, I probably should have come packing a baby. But at least I know where to go if I need to get my skin lightened.
Kimberly hails from Memphis, Tenn. She earned her undergraduate degree in Linguistics and EFL in 2008 and is currently recovering from graduate school (M.Ed 2012) in Daegu, South Korea. She lives with her husband and her dog, Prince Rogers Wiggins, in an apartment that is not nearly as small as she thought it would be before she moved to Korea.