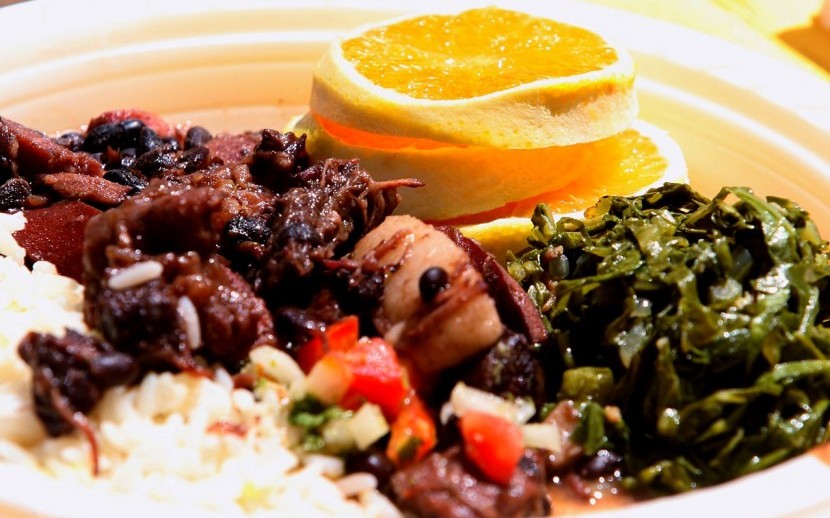 Sometimes the things that seem totally normal to us as Mash-Ups are actually maybe not that normal to mainstream Americans. What, your oma didn't make feijoada with smoked tongue when you were growing up? You don't know what feijoada is? Or an oma? Don't worry. Co-founder Rebecca will share her oma's recipe, and then you will cook it, and then you will eat it, and then you will be more Brazilian, which is always the goal. Watch her make it!
Oma made Feijoada for us growing up, as did my mom, and again it took me a while to learn that a) This wasn't something that everyone ate regularly (or knew how to pronounce) and b) Brazilian culture plays a big part in who our family is. So, inspired by my grandmother Oma, Carnaval, and the World Cup, I'm making a Mash-Up version of Brazilian national dish, feijoada.
My Oma is basically the OG Mash-Up (she just isn't American…never even lived in the US!). She was born in the Ukraine, her family moved to Berlin when she was young, then to Sao Paulo when she was 12 because they had an uncle there and my great-grandma was prescient and knew it was time to get out of Germany. Eventually she met my Opa,who was a German Jew living in El Salvador and they shacked up right away and raised 5 kids in Central America (who now live all over the world). Also, she's so smart and full of the best stories.
It's freaking delicious, but do not cook the night before, say, you need to wear tight pants.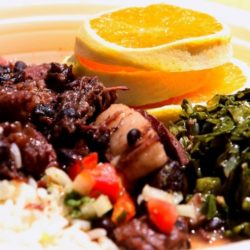 Oma's Feijoada
Feijoada, the Brazilian national dish, should be served with rice, sliced oranges, farofa, collard greens and a mixed salad. You can switch in and trade out lots of the meats for others you prefer, but smokiness is key. Mm. Smoke.
Ingredients
Ingredients for the Feijoada
6

15-oz cans of black beans

(for a total of 90 ounces)

2

large onions chopped

1

jalapeno

chopped

1

lb

linguica or spicy fresh sausage taken out of casing

3/4

lb

chorizo sliced

3/4

lb

dried beef or corned beef

(if you can't find dried beef: 1lb of stew beef cubed; we actually prefer this)

3/4

lb

smoked bacon

1.5

lbs

smoked pork chops or smoked spareribs

8

cloves

of garlic chopped

4

bay leaves

10

black peppercorns

whole

Olive oil
Ingredients for the Farofa
3

cups

of thick grain manioc flour or cornmeal

1

onion

3

tbsp

olive oil

1

egg

handful of parsley

optional: black olives
Ingredients for the Collard Greens
2

bunches of collard greens cut into thin strips

olive oil

juice from 1/2 a lime

3

garlic cloves

salt and pepper to taste
Instructions
To Make the Feijoda
Bring beans and all meats except sausages to a boil.

Then add bay leaves, jalapeno, peppercorns, 4 cloves of garlic, and simmer for 1.5 hours in large pot, covered.

At the 1 hour mark, sauté 2 onions and remaining garlic with olive oil in a separate sauté pan.

Add sausages to pan and cook everything without covering.

When cooked, add sausage, onion, garlic mix to the beans and meats.

Stir together and let it keeping cooking for 20 more minutes, without covering.

It can keep simmering until you are ready to serve it, or you can even prepare the night before and heat up to serve.
To Make the Farofa
Cook onion in olive oil until soft, then stir in the manioc flour (or cornmeal).

Scramble in the egg and then add a handful of parsley and keep on heat just a minute longer.

Oma adds black olives.
To Make the Collard Greens
Mash garlic with a pinch of salt.

Heat oil in skillet and then add garlic and cook for 30 seconds.

Add collard greens, lime juice and some black pepper and cook until bright green, about 4 minutes.
Put it all together, and enjoy!
Rebecca is co-founder and chief executive of The Mash-Up Americans. A Salvadoran-Jewish-American married to an American-American, she has worked for 10+ years in media, arts and culture. She creates cultural experiences, brings people together, and introduces newbies to Armenian string cheese. You can follow her @beccale and find her in Los Angeles.