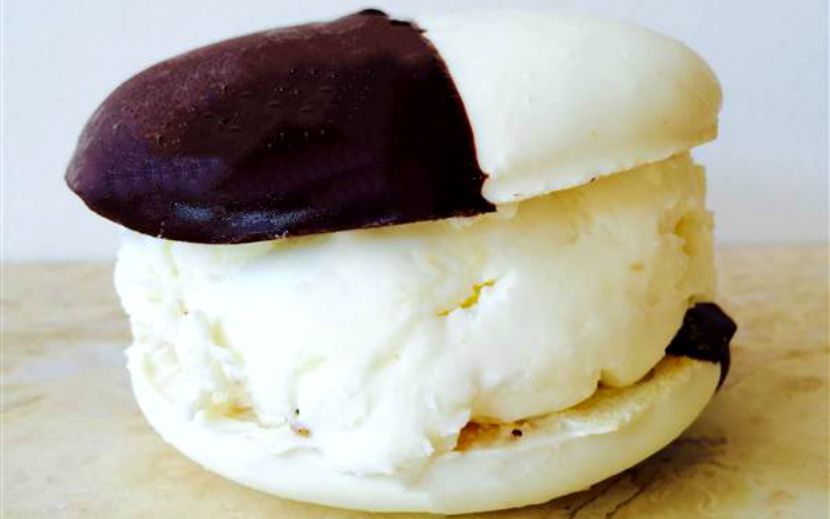 What could be sweeter than a Rye & Cream Cheese Ice Cream Sandwich to celebrate Rosh Hashanah? Ukranian-Russian-Polish-German-Jewish-American Mash-Up Natasha Case and Chinese-Filipina-Spanish-Portuguese-American Mash-Up Freya Estreller, founders of COOLHAUS and Ludlows Cocktail Co., shared their recipe for this mashiest of ice cream sandwiches to help us celebrate the Jewish New Year. It's round! It's sweet! It's delicious. Do it. L'Shana Tova, all.
This sammie is from our new "Jewish Deli" inspired menu, which is available at our shops in Los Angeles. We were inspired by seeing our generation create new takes on the deli concept, like Wise Sons in San Francisco and Wexler's Deli in L.A., and wanted to give comfort food a Millennial twist. We got a little playful and did sweet and savory interpretations of deli classics.
Some things didn't work so well. We tried pickle cream — big fail! Our idea was to sort of go a Thai direction with the pickles, so we made a spicy peanut butter base. The pickles actually scared some people in the office who were not expecting to see them in there when they opened the tub. Not a good sign. The Rye & Cream Cheese ice cream was definitely one of the winning outcomes of our R&D adventure! Pack it into a black and white cookie and you have holiday perfection.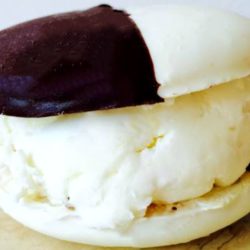 Coolhaus Rye & Cream Cheese Ice Cream Sammie
What is black, white, and delicious all over? This mashiest of all ice cream sandwiches.
Ingredients
Ingredients for the Plain Custard Ice Cream Base
3

cups

whole milk

1

cup

heavy cream

1 ½

cups

granulated sugar

divided in half

8

large egg yolks
Ingredients for making the Rye & Cream Cheese Ice Cream and the final sammies
4

oz.

cream cheese

1

cup

rye crackers with carraway seeds

(e.g. Mary's Gone Crackers brand), loosely crushed

pinch

kosher salt

Plain Custard Ice Cream Base

see recipe below

8

black & white cookies
Instructions
First, make the Plain Custard Ice Cream Base
In a 4-quart saucepan, combine milk, cream, and half of the sugar.

Set over high heat, and cook, stirring occasionally, until mixture comes to a boil, about 5 minutes. Meanwhile, in a medium bowl, whisk yolks and remaining sugar until smooth, heavy, and pale yellow, about 30 seconds.

When cream mixture comes to a boil, whisk, remove from heat, and, in a slow stream, pour half of cream mixture over yolk-sugar mixture, whisking constantly until blended.

Return pan to stovetop over low heat.

Whisking constantly, stream yolk-cream mixture back into pan. With a wooden spoon, continue stirring until mixture registers 165 to 180 degrees on an instant-read thermometer, about 2 minutes. Do not heat above 180 degrees, or eggs in base will scramble! Mixture should be slightly thickened and coat the back of spoon, with steam rising, but not boiling. (If you blow on the back of the spoon and the mixture ripples, you've got the right consistency.)

Pour base into a clean container and refrigerate for 12 to 24 hours. Makes about 1 1/2 quarts of base.
Then, make the Rye & Cream Cheese Ice Cream and put it all together
Mix cream cheese and salt into ice cream base with an immersion blender or hand mixer. Process base in an ice cream maker according to manufacturer's instructions.

Transfer cream cheese ice cream to a bowl and fold in crushed rye crackers. Scrape into an airtight storage container. Freeze for a minimum of 2 hours.

To serve, scoop the ice cream into a sandwich of two classic black and white cookies. Enjoy!
Natasha Case and Freya Estreller launched COOLHAUS ice cream in 2009 at the Coachella Music Festival from a renovated postal truck. They now have 12 ice cream trucks, 2 shops, and a product line sold at 2,500+ stores nationwide. Freya recently launched Ludlows Cocktail Co., a start-up crafting all-natural, innovative spirited products.