How to Hack a Kosher Dessert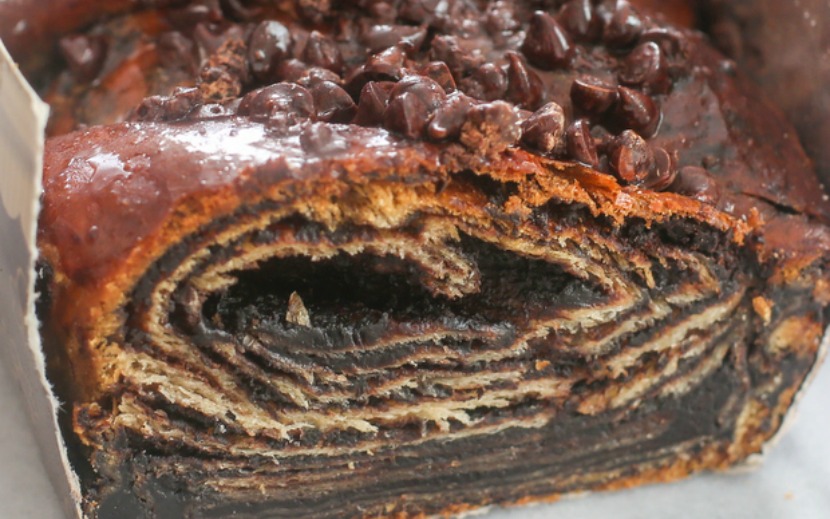 In "Shalom, Kosher Kitchen," our Jewish-American-Princess Mash-Up Lauren Young [Editor's note: She calls herself a princess. We consider her a queen.] shared with us the challenges, and joys, of keeping a kosher kitchen as part of her relationship between Jewish and More Jewish.
But perhaps Lauren's greatest achievement, as a kosher-keeping chocolate addict, is creating kosher desserts that don't suck. Here are her tips for keeping kosher sweet.
One of the hardest things about being kosher is that you can't mix milk with meat. So unless you're eating vegetarian, you can basically never eat chocolate for dessert. The horror! I don't have many dairy-free desserts in my repertoire, but I am working on it. Here are my best tricks.
1. Trader Joe's Chocolate Brooklyn Babka
I have often thought that all of life's trials and tribulations can be compared to a Seinfeld episode. One of my favorites is "The Dinner Party," when Jerry and Elaine try to score a chocolate babka at a bakery. Too bad they didn't know about Trader Joe's Brooklyn Babka! I am not generally a babka fan, but this stuff is da bomb. It's moist, chocolately and rich. Plus, it's pareve. And, at $4.99, a total bargain!
2. Dairy-free Chocolate Chips
The key to all chocolate desserts is finding chocolate that is dairy-free. Trader Joe's used to have semi-sweet chips that fit the bill, but much to the dismay of observant Jews, switched processing methods. As a result, I have been buying Enjoy Life dairy-free chocolate chips at the local health food store. I have been enjoying them (see what I did there?) in a dairy-free mousse.
3. Wholesome Chow Chocolate Cake Mix
My stepsons both celebrated their birthdays recently, so I made special-request dinners. One picked lamb chops (delicious and expensive), and the other wanted veal chops (a disaster since the kosher veal was terrible). Either way … meat meals! Since we celebrated both birthdays on a school night, waiting the proper amount of time to eat delicious dairy cupcakes (with buttercream frosting!) was not an option. I tried this vegan cake mix ($6.29) and added a ½ cup of kosher chocolate chips. I made frosting with a stick of margarine, a dollop of soy milk and Droste cocoa and covered the cake with sugar sprinkles. It got rave reviews.
4. Chocolate Chip Meringues
This one is tricky. I've tried a couple times and gotten edible, not ideal results. But this Smitten Kitchen recipe with dairy-free chocolate chips is promising.
5. Non-Chocolate Desserts
I hesitate to say it, but perhaps not eating chocolate for dessert is a kosher girl's best option. Sigh. These are drastic times, but dessert can occasionally come in the form of a Purple Plum Torte or a peanut butter cookie — with margarine or coconut oil in the place of butter, natch. Love wins.
What are your best kosher hacks? Tell us!
We will do anything for love. Even that. 
Building a Village, One Pawpaw at a Time 
Lauren Young is a Jewish American Princess of Main Line Philadelphia lineage marrying a Super-Jew from Long Island. She is a personal finance expert, a yogi and a mom/stepmom. Lauren lives in Brooklyn where she has ample opportunity to express her irrational love of dogs. Her secret brisket ingredient is Sriracha. You can find her on Twitter @laurenyoung.