Alexis Diao, our Filipino-American-Southern Mash-Up, believes that the kitchen is the ideal place to prioritize and celebrate both her Filipino and Southern heritage and share them both with her daughter. We couldn't agree more. Read about her journey to deliciousness, and embark on your own with her Mash-Up version of shrimp & grits, loosely based on the famous Crook's Corner's Shrimp and Grits recipe and Filipino food truck pioneer Marvin Gapultos' Ginataang Hipon.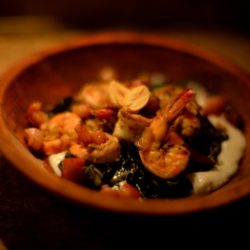 Garlicky Filipino Shrimp & Grits With Lemony Collards
The perfect marriage between Filipino heritage and Southern roots.
Ingredients
Ingredients for Coconut Milk Grits
4

cups

of coconut milk

1

cup

of grits or hominy

Water or broth for thinning as needed

1

tbsp

of butter

pinch

of salt

pinch

of nutmeg

hefty pinch of cayenne

garlic salt and pepper to taste
Ingredients for Garlic-Ginger Shrimp
2

lbs.

shrimp

deveined

4

large garlic cloves

chopped

1

medium-sized sweet onion

chopped

1

tsp

freshly grated ginger

6

oz

bacon ends

cubed

1-2

dried Thai chili

1

tsp

shrimp paste

available online or at an Asian grocery

white wine for braising

garlic chips to garnish

available online or at a Filipino grocery
Ingredients for Lemony Collards
1

bunch of collard greens

1

medium lemon or 1/2 large lemon for juice

1

tbsp

olive oil

salt and pepper to taste
Instructions
First, make the Coconut Milk Grits
Bring the coconut milk and pinch of salt to a boil.

Stir in grits, cover, and let simmer. Stir occasionally, and thin with water or broth as needed.

When the grits have reached a smooth consistency, stir in remaining ingredients.
Then, make the Garlic-Ginger Shrimp
Cube bacon ends and fry in hot skillet.

Set aside bacon, leaving oil in the pan.

On medium heat, sauté onions and garlic together.

When soft, add shrimp paste, ginger and peppers.

Turn heat to medium-high and add shrimp, using white wine to ensure no sticking.

Top with bacon ends and garlic chips.

Put garlic-ginger shrimp in the oven on low heat to keep warm while you make the collards.
Finish with the Lemony Collards
Heat skillet on medium-high heat.

When hot enough to sizzle water, add oil and collards. Cover and let sit for about 10 minutes.

When color brightens, add salt and pepper, cover, cook until stems soften. Juice lemon onto cooked collards and stir.
To serve, plate the grits and top with collards, shrimp and garlic chips. Enjoy!
Alexis is a first-generation Filipino-American, born and raised in the Deep South. She currently produces and edits audio goodness for NPR and Slate. She is an urban gardener, beekeeper, and proud mama to a biracial Mash-Up. She can be found @meowdiao or in D.C.