You know when you think what you do is what everybody does, and it turns out you only do it because your family is Chinese? Or Jewish? Or Black? Or Episcopalian? We understand. Our Chinese-American Hapa Mash-Up Paige Cowett talks to us about how Thanksgiving is the most mashy holiday of all. A most delicious recipe follows.
As a kid, I just thought this was what stuffing was. My aunt, the white one, always made the regular kind of bread stuffing so I knew my Chinese-American mom made it differently. But I didn't really realize it was Chinese. I just sort of thought my mom had a way better stuffing. Ditto the turkey, which is vaguely Chinese too actually (it's basically just a soy based marinade).
At some point I realized that this was how my mom's mom made it too — I never knew her so I didn't ever taste hers — and it was then I figured it was Chinese influenced.
I also for a long time thought that maybe it was just my Chinese family's interpretation of stuffing, but then I made it one year at a friend's Thanksgiving dinner. A guest from Hong Kong was totally familiar with it and psyched that I made it. The recipe calls for lop chong, or Chinese sausage. I instead use spicy and sweet Italian sausage from Paisanos because it's amazing. And I live much closer to Italians than to Chinese these days.
As with many family recipes, it's a lot about making it taste like you remember it tasting…but also making it taste like you want it to taste. So have at it!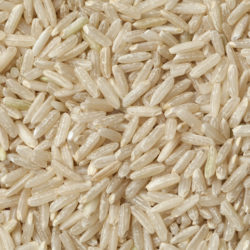 Paige's Sticky Rice Sausage Stuffing
Have you ever looked at bread stuffing and wished it was made of rice? Here is your solution.
Ingredients
1 1/2

cups

short grain sticky rice

1 1/2

cups

long grain white rice

1/2

lb.

boiled, peeled, and quartered fresh chestnuts

(not water chestnuts!)

1

lb.

sausage (lop chong or whatever you like, as long as it's spicy)

1/2

cup

cilantro

1/2

cup

parsley

1/2

cups

chopped green onions

2

tart apples

2

finely chopped carrots

1/3

lb

shitake mushrooms

lots of garlic

2

tbsp

chopped ginger

3

tbsp

olive oil

(you'll use this for cooking the sausage, vegetables, and apple)

1/3

cup

soy sauce

2

tsp

sesame oil

+ more to taste

tiny bit of rice wine vinegar

salt and pepper to taste
Instructions
Cook the two different types of rice together.

In a separate pan, saute the garlic, ginger with olive oil, throw in the sausage, then throw in the vegetables and apples.

Add soy sauce, sesame oil, and a bit of vinegar.

Once all the stuff is cooked and tasty, add in the rice.

Add more soy sauce and sesame oil and bit of vinegar to taste. Mix it all together well.

Add more pepper as needed.

You never have to long for rice stuffing again. Enjoy!
Paige Cowett is a 4th-generation Californian and first-generation hapa. She has a graduate degree in urban planning, has worked in the arts and in Brooklyn politics, and now she's a producer/reporter at WNYC Radio covering health issues.