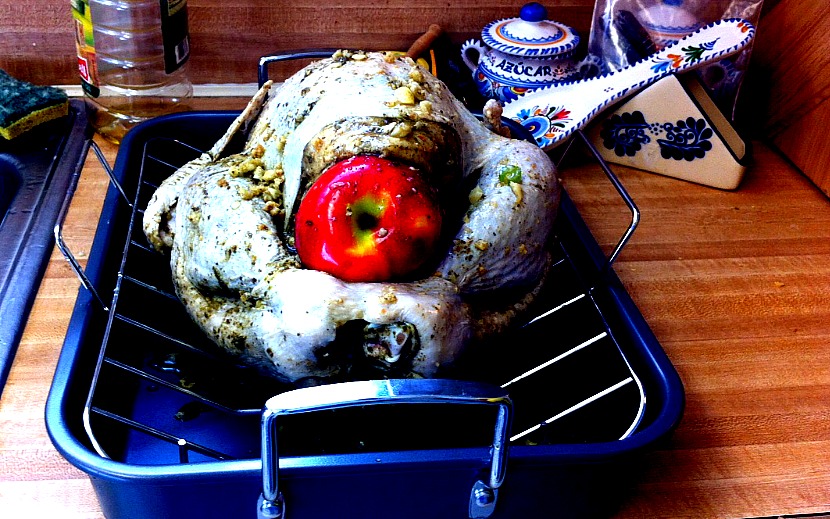 Thanksgiving is the ultimate Mash-Up holiday. It is our holiday. And on our holidays, we feast. This year, The Mash-Up Americans provide for you a complete holiday menu, including Nuria Net's Puerto Rican-inspired guava turkey, recipe below, to serve with a Mexican-infused jalapeño cornbread stuffing, Indian-spiced cilantro green beans. Save space for a straight-from-the-South bourbon pecan pie. Guava turkey not your jam? Try our Chinatown-inspired soy-seasoned turkey, with sticky rice and Chinese sausage stuffing or a cornbread and Sriracha dressing. Eat on, Mash-Ups. Eat on.
In Puerto Rico, the entire culture is inherently mash-up. On Thanksgiving, everyone gathers to eat turkey with rice and beans, sweet plantains and pasteles (like tamales), and blast folk jibaro music, which signifies the holidays are here.
My mom is the eldest of six siblings, so as the matriarch she usually hosts everyone for every holiday, including el Dia de Acción de Gracias. Since it's so many people, we usually do buffet style. My tias Isa and Annie bring the side dishes (salad and rice with mushrooms), Tio Jaime brings pasteles de yuca or plátano. Mi Tio Sergio, the Cuban one, is usually in charge of cutting the turkey. My mom, Marta, makes the turkey. Sometimes she makes filling out of yuca, and sometimes she glazes it with guava. She is always mixing it up.
Last year, three weeks after our wedding, my new hubs and I hosted Thanksgiving at our place in Miami. From Puerto Rico came my parents, a cousin and an uncle. And from Orlando another uncle and 2 cousins, all staying at our place, because we like to be piled up all together. My Spanish husband is already used to the big familia, so although he was a bit freaked out, he handled it well. He brought out the Ron de Barrilito, his favorite Puerto Rican rum. I was very intent on learning how to do the turkey from my mom, and it was great. We're having a vegetarian Thanksgiving this year with my sister and her Indian-American boyfriend and his mother in New Jersey, so I won't get to practice the recipe. But hopefully next year I'll be making turkey adobado in Puerto Rico!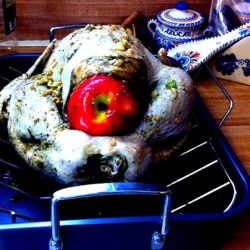 Nuria's Turkey Adobado con Guava Glaze
You might smell like garlic and guava at the end of cooking the turkey, and that would not be a bad thing.
Ingredients
Ingredients for Abodabo Marinade
8

cloves

of garlic

roughly chopped

4

tablespoons

fresh black pepper

3

teaspoons

oregano

18

teaspoons

salt

18

teaspoons

olive oil

8

teaspoons

vinegar

8

local limes

if you're not in Puerto Rico, do a mix of lemons and limes
Ingredients for Guava Glaze
1

stick of butter

1/4

cup

rum

1/2

cup

guava jelly
Instructions
To make the Abodabo Marinade
Blend all ingredients together.

Set aside.
To make the Guava Glaze
Melt butter. Combine with rum and guava jelly.

Set aside.
Glazing the Turkey
Preheat oven to 350°F.

Wash and dry the turkey. Rub well with the adobado.

Roast, approximately 20 minutes per pound.

When it's about 2/3 of the way done, baste with the guava glaze.

Be careful, because if you glaze it too early it will burn!

Save the remaining glaze and serve at the table, so you can dip the turkey in it a few more times.
Nuria was born in Barcelona and grew up in San Juan, Puerto Rico. After 12 years in New York City, she now calls Miami home. Nuria works as Digital Managing Editor at Fusion and occasionally moonlights as DJ Lechuga after dark. Net is her real last name.