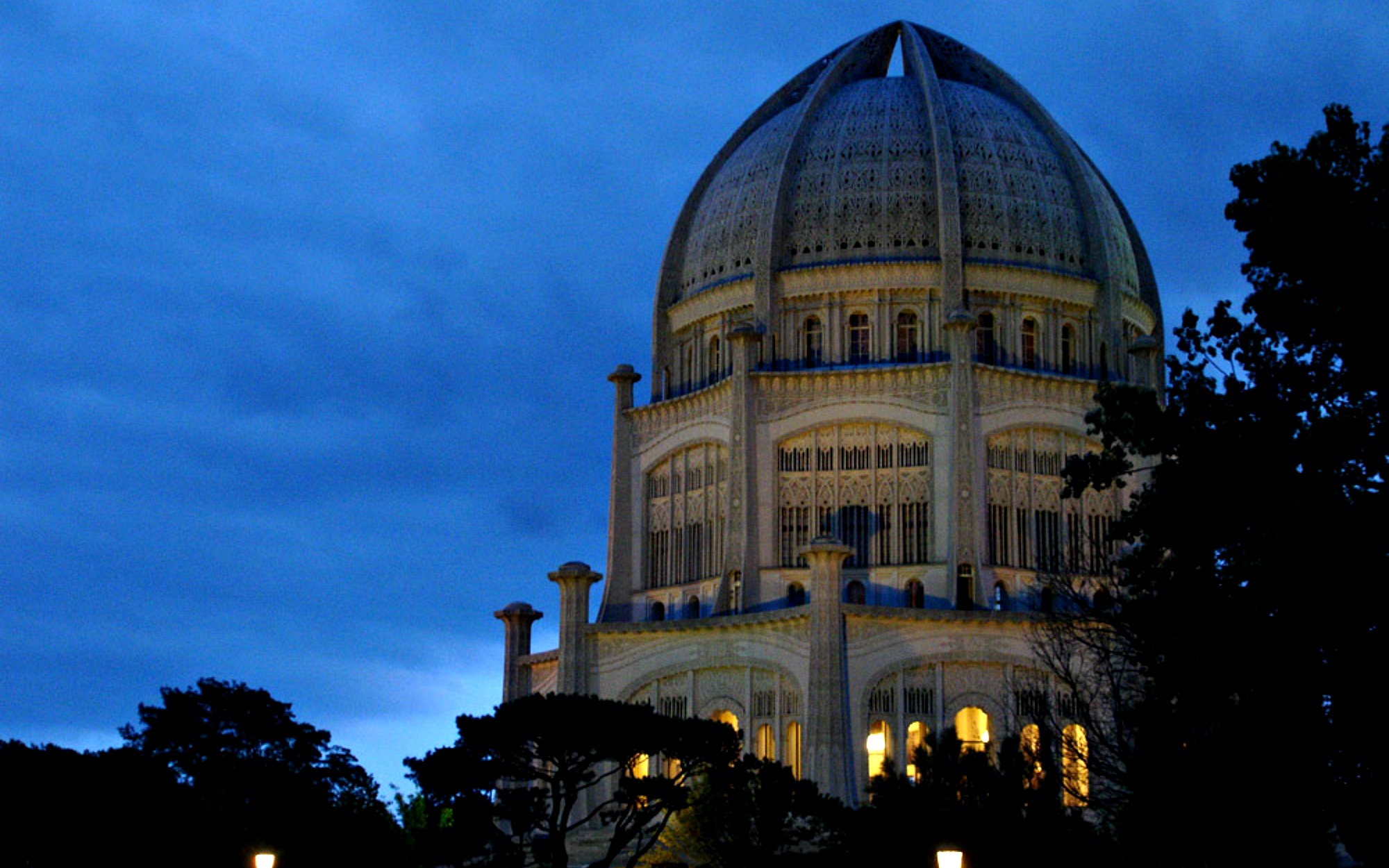 Faith is both a beautiful practice and a deep commitment. Yet when our faith is tested, in our scariest, darkest moments, the act of believing itself can feel like an affront. Why me? Why now? Liz Dwyer, our Black-Irish-Bahá'í-American Mash-Up, shares with us how she grappled with her faith, while her teenage son committed more deeply to his. [Editor's note: Grab a tissue, you're going for a ride. Also, fuck cancer.]
Last summer, when my elder son said he planned to declare his belief in Baha'u'llah, the prophet-founder of the Bahá'í faith, our lives were just emerging from the shadow of months of chemotherapy, surgery, and radiation.
We're Bahá'ís, and in the Bahá'í faith, 15 is the age when a child is considered spiritually mature. That means they're accountable for the progress of their own soul, and it's the age when a youth freely chooses whether or not to become a Bahá'í. Because there are no clergy, no rituals, and no fixed traditions for Bahá'ís, how an individual's relationship with God evolves is not prescribed.
Cancer is a real asshole. It is packed with its own "clergy" (some better than others), rituals, and prescriptions — all while testing your faith in an unspeakably deep way. My son Olinga's choice to commit to his faith came after a period in which our family had to commit to my healing and believe I would recover. It wasn't always easy.
I grew up in a Bahá'í family and have raised my kids as Bahá'ís as well. My Black mom grew up Methodist and became a Bahá'í the year before I was born. My white Irish-formerly-Catholic dad became a Bahá'í when I was three. We regularly honored our faith by being advocates for racial unity and performing service in our community. I don't recall us doing anything noteworthy on my fifteenth birthday — which was perfectly fine since there is no expectation to do, or not do, anything.
Meanwhile, my husband, Elarryo, who is also Black, grew up in a Catholic home, but during his middle and high school years he often went to an Apostolic church with his best friend. He became a Bahá'í when he was 19. As a teenager he never had a rites of passage experience.
Over the years, we'd had several conversations between ourselves and with friends about how significant the rites of passage ceremonies for young men in various African cultures seem to be. But as life-changing as a Maasai warrior camp where village elders teach teen boys life skills seems, we live in Los Angeles and that's not our background. It wasn't until two years ago, when Olinga's best friend Henry turned 13 and we headed to a synagogue in Beverly Hills to celebrate his Bar Mitzvah, that we really began to think seriously about a coming of age celebration for our own son.
It was powerful to hear Henry recite the Torah, and to see him talk about the service project he'd undertaken: making care packages for the homeless in his neighborhood. We also got teary-eyed listening to Henry's parents publicly share the qualities that they appreciated in him.
Witnessing so many friends and family members offer their love and encouragement to this young man was extremely moving. Afterwards we talked about how the ceremony seemed to provide such a strong spiritual and emotional foundation for youth, particularly as they are about to embark on the insecurity-laden teenage years, a universal truth if there ever was one.
Elarryo and I subsequently brainstormed various ideas, like having Olinga read and study a different Bahá'í book monthly, as well as texts from other faiths — or maybe we could help round up some of his friends to do a service project similar to Henry's. But then I was diagnosed with breast cancer, and our world quickly turned upside down.
Once I started chemotherapy, no amount of prayer was going to stop my hair from falling out.
Like most folks, when I was first diagnosed, I wanted to know why I'd gotten cancer. I'd run eight marathons and been a vegetarian since I was 19, so was God sending me a message that my life was actually a mess? With one in eight women being diagnosed with breast cancer, probably not. It's also tempting to assume a cancer diagnosis will catalyze an intense spiritual awakening or recommitment. But once I started chemotherapy, no amount of prayer was going to stop my hair from falling out.
Seeing your mom unable to walk, having her faint while she's helping you do your homework, and wondering if she'll be alive in a month makes a kid grow up fast. Every so often, when I was in really bad shape, Olinga would come and hold my hand and ask me if I wanted him to say a prayer for me. Those moments, along with the outpouring of love and willingness of friends of all backgrounds to be of service to our family, had the biggest spiritual impact on me. Friends came over to clean and cook. They drove Olinga to interviews for high school. They sat with me for hours because I was so scared that I was going to die if I was alone.
Olinga grew nearly a foot taller during the months I went through treatment. His face lost the last vestiges of baby-like roundness, and his voice deepened significantly. Towards the end of my treatment, his graduation from eighth grade was only a few weeks away, and the idea of a coming-of-age ceremony resurfaced. After such a turbulent time, we all craved this simple act of togetherness and love.
Cancer had brought doubt and unrest to our family. At the same time, there is so much unhappiness, unrest, suffering and disunity bubbling up in the world, both here and abroad. So bringing diverse people together to shower Olinga with love became the key to his celebration.
"The goal wasn't to establish any rituals or traditions. The goal was to make everyone feel brought together and included," says Olinga about his celebration. "You could do this and you don't have to be a Bahá'í."
After consulting with Olinga, we knew he wanted to have a separate birthday party — bowling and a sleepover with his friends — on one day, and then his coming-of-age observance the next. He also didn't want a big gathering, just a simple coming together of the people who have been most instrumental in his life.
We asked a half-dozen close friends who also happen to be Bahá'ís to participate. The other half-dozen or so attendees were folks from diverse faith backgrounds who we have become friends with over the years, including his former first and second grade teacher, a babysitter, our next-door neighbors, and Olinga's best friends and their parents.
We held the event on a Sunday morning — not because we were obligated to, but because it was Olinga's birthday — at a neighborhood cafe owned by one of our closest friends. The celebration was open to the public so anyone who happened to come in could listen in.
To mark the occasion, Elarryo put together a program that included Bahá'í prayers. Our younger son, Toussaint, read a short opening prayer: "Blessed is the spot, and the house, and the place, and the city, and the heart, and the mountain, and the refuge, and the cave, and the valley, and the land, and the sea, and the island, and the meadow where mention of God hath been made, and His praise glorified."
Elarryo was the MC of the event, and started off the day by thanking everyone for coming. "This is the village that has helped us raise the child, so this time together is as much about being thankful to you, as we are to the good Lord for both our healthy sons," he said.
There has never been a better time to tell a young man that we love you.
He asked each adult attendee — the "elders" — to share a 5 minute-long reflection they'd previously prepared about the spiritual qualities they see in Olinga. They also offered advice to him in his new role and responsibilities to the community, including being of service to younger children, and being an advocate for gender equality. One friend presented him with his own kente, that he'd obtained in Ghana, and explained the symbolism of the patterns on the cloth to us all.
There were plenty of tears over the next hour, but they really flowed when Olinga's two best friends, Henry and Justin, got up to walk us through a photo book of memories with Olinga that they'd made. It was deep to see two other 15-year-old boys get emotional about their love and appreciation for a kid they consider to be their brother.
"There has never been a better time to tell a young man that we love you," Elarryo told Olinga during the celebration. "This is our collective answer: No ritual, but rather a response to troubling times, where we all come together to say, 'Olinga, in spite of what influences exist outside this moment, we love you.'"
What came next? Everyone ate snacks and there was a lot of laughter and hugging going on. We were back home by noon, with homework and chores to do. The boys were back to squabbling over their messy room and discussing their favorite Foo Fighters songs. I felt a sense of relief over the normalcy of it all.
Later that night, when Olinga hugged me goodnight, he thanked me so sincerely for his ceremony. He seemed more mature, more grounded. I got choked up thinking about how there had been no guarantees that I'd survive cancer to see him turn 15 and take such a significant step.
Since then, several people have asked me if we followed a template of some sort as we put together the celebration. We didn't. My best advice: Focus on bringing your family and community together and ground the experience in love. That's the launching pad and safe haven every child needs to survive in this world. And for that matter, every human.
Keep fighting the fight, Liz. We're all rooting for you and your beautiful family!
What do you believe? We believe in you.
Liz Dwyer is a Los Angeles-based editor and writer who believes in racial and educational justice, running marathons, and fangirling about Depeche Mode. She grew up in the Chicagoland area with a Black mom and white dad and became a vegetarian to prove to Nation of Islam members that she isn't half a devil. You can find her on Twitter @losangelista.