Hair Revelations from Mash-Up American Ladies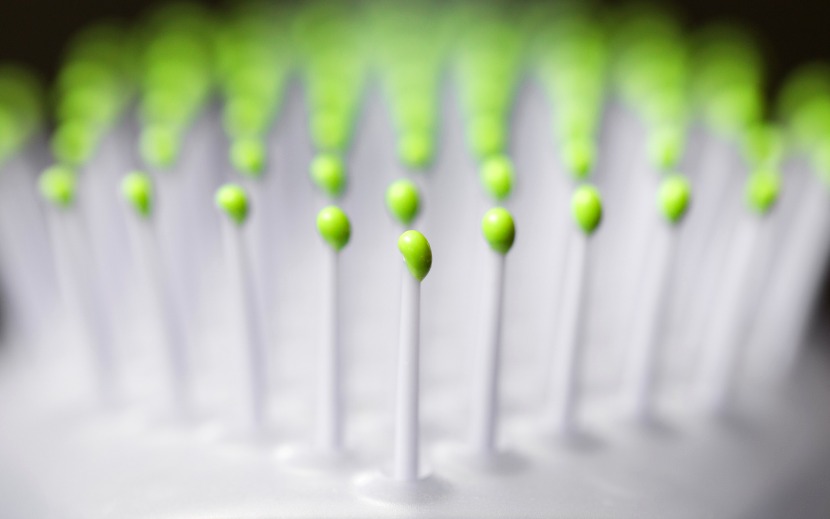 Anime-girl bangs. A Jew fro. Frizzy Latina curls. South Asian eyebrows. Or for Mash-Up women, some combination of all of the above, or none.
Hair is a big deal to most women, but when it's complicated and unmanageable — err, unique! Irrepressible! — it can feel like everything that is challenging and confusing about being multicultural, multiracial, and multiethnic is being expressed by dead follicles on the top of your head. But you're not alone! Let's talk about our hair.
Here, we'll start.
Rebecca, Salvadoran-Jewish-American
My mom used to wake me up in the morning with a song from her childhood that went like this: "Despeinada, ha ha ha, Despeinada ha ha ha" (OMG, I FOUND IT ON THE INTERNET). Just to be clear, every morning of my childhood, my mom woke me up in the morning with a song about my hair being unbrushed and messy. So I brushed it. And I couldn't figure out why my hair got so poofy. Plus, I grew up Jewish in LA and there were a lot of blowouts on the Bat Mitzvah circuit. I couldn't understand why my hair didn't just lie flat like everyone else's. And then junior year in college my BFF Megha (who has her own hair situation to tend to, see below) staged an intervention. She was like: You have curly hair. Don't ever brush it except in the shower and use some defrizz product after.
Needless to say, whenever I am with my mom or either of my grandmothers, they still tell me to brush my hair. But my curly big hair is totally my signature move now.
Amy, Korean-American
I have an enormously high forehead and look great with bangs, but I have always had a hangup about being an Asian girl with bangs. There's something a little too anime-character-fresh-off-the-boat-Asian-schoolgirl about it for me to embrace it. Also, my mom cut my hair for most of my life, so my bangs kind of blew.
I'm now 35 years old and the only thing that helped me get over my lifelong hangup about my giant forehead needing bangs was going half bald (okay not really but my hairline receded and my forehead got EVEN BIGGER) after having a baby. In order to deal with the hair loss and hide the fuzzy hairline that came after baby, I finally committed to bangs — and they look and feel great. I've even been on TV with bangs! Bang trims are now a regular part of existence. I'm no longer afraid of being an Asian stereotype — I'm guessing growing up and becoming a mom had something to do with it. And I get to say "bang" all the time now, and that's always fun.
Jenny Ufford, Irish-Puerto-Rican-American
I have curly hair, and I don't like it. If my spiral curls were looser, wavier, and less springy, I think I could enjoy them, but I just never learned to embrace what I have. I got my hair from my Irish father who offered no advice on how to maintain it. My Puerto Rican mother — who SHOULD know how to deal with curly hair — had no idea how to deal with it. She had me brush my curls with a huge paddle brush that turned my hair into a frizzy mess. If I flipped my hair over and gave it a good brushing, it could fill a doorway. Through most of high school, I constantly wore my hair pulled my hair halfway through an elastic; a limp mound that just hung there like a nest.
A few years ago, I took myself to Devachan Salon in Soho — the mecca for curly girls — figuring they'd be able to teach me how to care for and style my hair once and for all. Partway through my appointment, I realized the stylist was confirming what I knew but didn't and still don't want to admit: I can't make my curls behave the way I want them to. I'm supposed to understand the curls I have, work with them and embrace and love them. [Editor's note: If we applied this philosophy to our unruly Mash-Up families, we'd probs put an entire generation of therapists out of business.] I now wear my hair down (sometimes) and think it looks okay (sometimes), but I'm still not there yet.
If my husband and I ever have kids with curls we have already decided on our plan of attack. The girl will be taught to air-dry her hair and to use a diffuser while the boy's game plan is to keep his hair short. We all know Justin Timberlake looked better with short hair than with that Top Ramen mess he had back in *NSYNC.
Megha Ralapati, Indian-American
Hair! I have a lot of it, and it's taken me years to come to come to terms with it, figure it out, and finally embrace it. I had stick straight hair as a child, and one day when I was 13, after a shower, my hair dried…curly! It changed almost overnight. A burst of hormones, I suppose. It's been this way ever since. After combating the curls as a teenager with a blow dryer, flat iron, actual iron, and other ridiculous tools (ahem, rolling pin) trying to straighten it out, I finally gave up in my twenties and discovered that when left alone, my hair can be amazingly fun and unpredictable: curly, wavy, and straight, if I want it. I finally have grown to appreciate the wavy, curly mess that it is.
My relentless eyebrows, on the other hand, are a different story.
Ana Monroe Fitzner, Panamanian-American
My mother was afraid that her children would inherit either her Latina Afro or my father's super thin, wispy white man hair. My brother and I got a pleasant mixture of both, but when I was a kid in the '80s, I thought that when I grew up I would use a pick to comb my hair like my mom did. She had a bright red plastic one she would carry in her Pierre Cardin handbag and use to round out her curls when the car headrest made them go flat. I remember watching her use that pick and being so excited to puff up my hair like hers when I grew up. It was disappointing when I finally had to realize my hair would never curl; that I would, in fact, never get to roll it backwards around TAB cans and blow it out. [Editor's note: TAB.]
Around age 14 I had to accept that my hair was so flat it would defy the hottest curlers and most permanent perms, not just until I woke up one day magically transformed into a WOMAN, but, indeed, forever. I guess you can file mine under: Hair Baggage. Because not having hair I could use a pick in actually makes me feel conflicted about what it means to be a real, grown-up woman.
Kiki McDaniel, Cuban-American
As the daughter of a Cuban hairstylist, my hair has always been a point of contention between me and my father. I would make an appointment at his salon. Yes, I had to make an appointment to see my own dad. I'd sit in his chair and ask for half an inch off the bottom, and he'd cut it however he wanted. I'd cry, he'd yell. And for some reason still unbeknownst to both of us, I'd go back again and again and we'd repeat the masochistic cycle.
Until the hair tragedy of '94, that is. I made an appointment, sat in his chair, explained my half an inch off the bottom desire, and sat there innocently (read: stupidly), thinking: "This time he'll listen." Of course, he didn't. Instead, my father chopped my long, highlighted (my dad used to "naturally" highlight my hair by taking a cotton ball, dipping it in chamomile tea, running it over my dark brown hair, and then letting me play in the sun) hair into a bob.
A BOB. You're talking about a Hispanic girl who was born with more hair on her head than a Pomeranian. I went from long thick luscious locks to an impenetrable helmet of hair. Not to mention this happened at a very crucial age. You don't make intentional drastic changes to your physical appearance at age ten. There was no break-up to blame Bob on, no "I'm trying something new." Nothing. Just trauma. For the rest of my life, apparently, because I have never had short hair again, nor have I sat in my dad's chair again. Except for an occasional blow out. Don't judge me, they're free! I give strongly worded talks, with many hand gestures and warnings, to whomever is cutting my hair these days and haven't had an incident since. Apparently when it's not your dad, stylists tend to listen to what you want. Who knew?! My hair — granted, I'm pregnant right now, so it's growing faster than my belly — is down to my lower back, and although people keep asking if I'm gonna "mom cut" it after the baby, I'm pretty sure I know what the answer is.
Jessica Alpert, Salvadoran-Jewish-American
I call myself a Jewtina. I grew up in Houston with two Jewish parents— a father from New Jersey and a mother from El Salvador. All my friends were Christian and I once asked my mom if I could wear a cross to school because "it looked cute." I was forced to deal with my otherness quite early on…say age 6. My friends asked me why I killed Jesus. Needless to say, I learned a lot from that early education. First and foremost, learn your biblical history very well. Be the smartest you can be. And pick your battles.
Teenagers have ridiculous priorities, so of course my hair jumped to the top of the list (along with college and getting the hell out of the Lone Star State). My straightener became my best friend. I used bands and headscarves to cover the frizz and ultimately I achieved my goal: looking just like everyone else. Don't groan—you know how this goes. Luckily, I snapped out of it. But it took me 33 years to embrace the curl.
Team Mash-Up is the brain trust of smart minds and savvy creators, that builds all the cool stuff you see here.