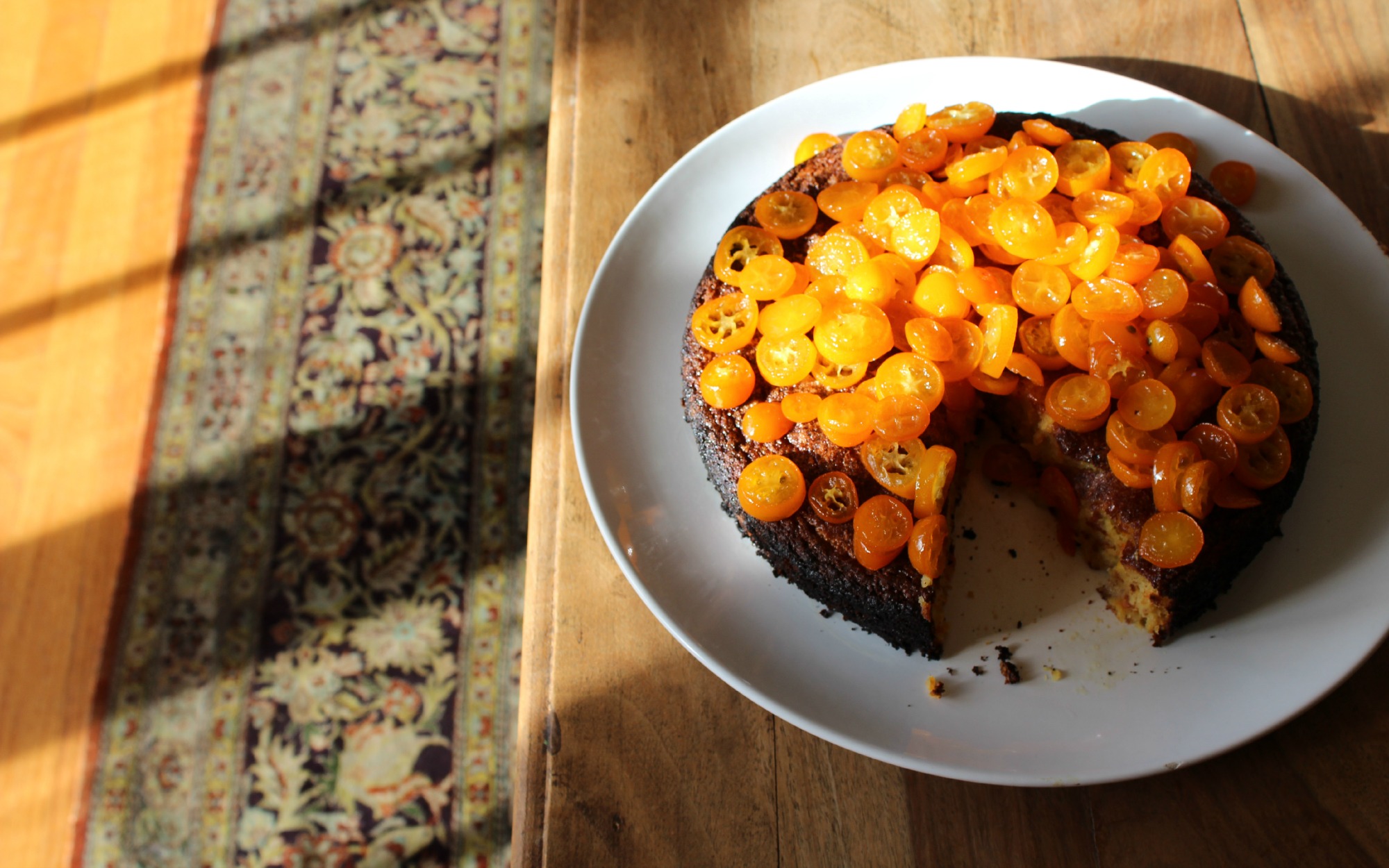 Happy Persian New Year, Mash-Ups! To celebrate the first of spring, Tannaz Sassooni, our dear Iranian-Jewish-American friend and founder of the food blog All Kinds of Yum, shared her Vietnamese-inspired and deliciously mashy addition to her haftsin table: a flourless orange almond cake good for celebrating Nowruz, Passover, Tet, or Tuesday afternoon. Nowruz Mobarak! Now let's go jump over a fire.
I celebrate New Years three times each year: on January 1, on Rosh Hashanah, and on Nowruz, the Persian New Year. This year, I added a fourth: I was lucky enough to be in Vietnam for Tet, the Lunar New Year.
With Nowruz fast approaching, my mind keeps drifting back to Vietnam. Everywhere I went, I saw kumquat trees. The golden fruits represent prosperity and good luck, so every home, museum, and shop seemed to have at least one on display. One of my favorite sights was seeing motorbike after motorbike with an entire tree (or ten) propped teeteringly on the back as it revved through Vietnam's teeming traffic.
Here in Echo Park, thousands of miles from Southeast Asia, kumquats are in season and abundant. So to celebrate Nowruz, I decided to pile little sunshiney pinwheel slices on top of a Passover cake scented with orange blossom water, bringing a little of the Lunar New Year into my Persian New Year celebration.
A haftsin Nowruz table traditionally features apple as the main fruit, but preparing a sweet citrus cake for New Years is not entirely farfetched. The mahi, or fish, in the traditional Nowruz meal of sabzi polo mahi is often prepared with Seville oranges or other citrus. And the orange blossoms that scent the cake are known by the lovely name of bahar narenj in Persian: "spring orange." So what better way to mark the first day of spring than with a cake redolent of the fragrance of spring citrus?
I adapted my orange cake recipe from my very favorite cookbook, Claudia Roden's Book of Jewish Food. Get ready to declare this Judeo-Spanish Passover cake with a Vietnamese-inspired topping from a Chinese holiday for your Persian New Year table the new classic American Mash-Up.
Nowruz Mobarak (or Chúc Mừng Năm Mới). However you say it, Happy New Year!
An earlier version of this essay appeared in All Kinds of Yum.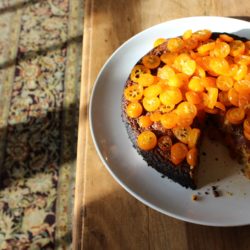 Tannaz's Orange Almond Cake With Candied Kumquats
A Vietnamese-inspired and deliciously mashy addition to any Persian haftsin table: a flourless orange almond cake good for celebrating Nowruz, Passover, Tet, or Tuesday afternoon.
Ingredients
Ingredients for the Cake
2

oranges

I used one blood orange, one navel

6-10

kumquats

5

eggs

separated

1

cup

sugar

2

tbsp

orange blossom water

1

tsp

baking powder

1/2

tsp

salt

2

cups

almond meal
Ingredients for Candied Kumquats
3/4

cup

sugar

1/2

cup

water

Pinch

ground saffron

2

cups

kumquats

sliced into thick rounds, seeds removed
Instructions
For the Cake
Wash the oranges and kumquats, and boil them whole in a pot of water for about 1 1/2 hours, or until they are very soft.

Once they're cool enough to touch, cut them open and remove seeds, and puree in a food processor.

Preheat oven to 325F. In a large bowl, whip egg whites until they form soft peaks.

In another large bowl, combine egg yolks, sugar, orange mixture, orange blossom water, baking powder, and salt.

Add almond meal, and stir to combine.

Gently fold egg whites into batter.

Oil bottom and sides of a 9-inch springform pan, and dust with more almond meal.

Pour batter into pan, and bake for 45 minutes.
For the Candied Kumquats
While the cake bakes, prepare the kumquats: In a small saucepan, combine sugar, water, and saffron and bring to a boil.

Add kumquats, bring back to a boil, then lower heat to medium.

Simmer until kumquats are barely translucent, about 7 minutes.
To serve, use a slotted spoon to pour kumquats over cake, then a non-slotted spoon to pour the remaining glaze over cake and kumquats. Enjoy!
Born in Tehran to a Jewish family, Tannaz has lived in Los Angeles since age one. In her downtime from being an animation technical director, she created her blog All Kinds of Yum as a home for her endless food stories. She's working on a regional Iranian Jewish cookbook.