Grace Lee on Bringing a Food Journey to Film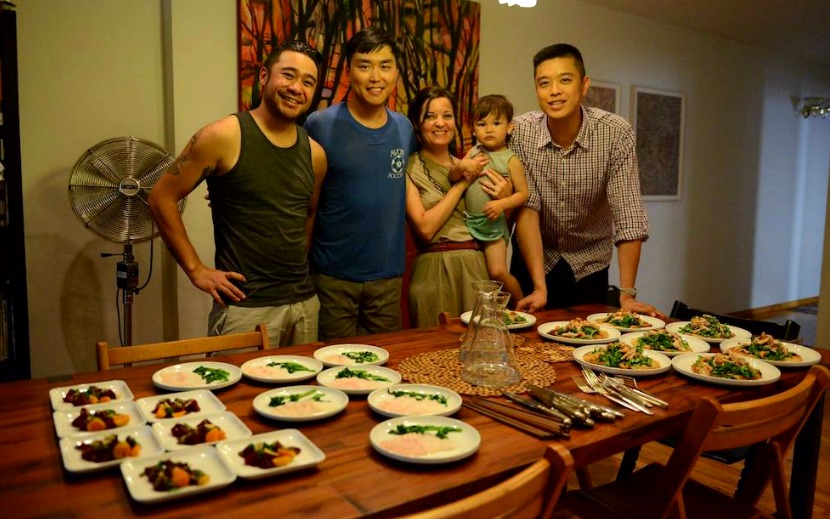 As a filmmaker, Grace Lee has explored, among other things, zombie subculture, currywurst in Berlin, the ubiquity of her name and the legacy of this American revolutionary. For her latest project, now airing on PBS through early 2016, the Midwestern-born Korean-American director hit the road to explore Asian American identity through, what else? Food, and how it's shared. The L.A.-based Lee sat down with The Mash-Up Americans to talk about Off the Menu: Asian America and food traditions in her household. Oh, and one of her all-time favorite mashy food combos? Peanut butter and strawberry-filled mochi in L.A.'s Little Tokyo. (We agree, it is delicious.)

Where did you grow up?
I was born and raised in Columbia, Missouri. My parents came separately to the U.S. from Korea in the early 60s. They met in Chicago and got married.
What was it like growing up in Missouri?
It was a pretty typical Midwestern upbringing for children of immigrants, sort of having one's feet in two worlds. We had a pretty strong Korean immigrant community — it wasn't big but everybody knew each other. There were probably 10 Korean families, supplemented with hundreds of international students at the University of Missouri, where my dad taught.
My parents were very sociable, and because we had a relatively large house, they would always be inviting people over, so I was very used to having a lot of Korean people around me.
Did you speak Korean at home?
I tried. My parents spoke Korean to each other, and my sister and I were not very good about it. [Editor's Note: You are not alone, Grace.] My mom and dad actually helped start a Korean language school on weekends, so we had to go to that, but I wasn't a very diligent Korean student. I did receive a baseline understanding of it, so when I eventually lived in Korea, it came pretty quickly.
How did you get your start in filmmaking?
I was always interested in storytelling and writing. Throughout high school and college, I thought I was going to be a journalist, but then I worked at a newspaper and realized the daily journalist grind was not for me. After college, I lived in Korea for a couple of years and it was while I was volunteering at this organization that I started to work on a documentary with a friend and kind of had an epiphany. I realized there are other ways to tell stories and tried to learn everything I could about filmmaking and that's how it started.
Like some of your other films, Off the Menu is about cultural identity. How did the idea for it come about?
I made another film many years ago called The Grace Lee Project. CAAM (The Center for Asian America Media) really liked the tone and the approach, which was kind of a humorous quirky exploration into Asian American, especially female, identity. They asked, do you have any ideas of how we can look into this unwieldy topic of Asian America? And I immediately said, we should look into food.
We're glad you did. So why food in particular?
I'm personally interested in food and food-related stories but I knew food would be a way to explore so many other things, whether it's culture, space, family or tradition. The idea really stemmed from, how can we explore this idea of an evolving Asian America in a way that was accessible and of interest to a wide audience? Everyone is talking about food on every level these days.
And taking photos of it, too.
You may not have the language but you can understand the flavors.
In some ways, it's one of the most visceral ways to connect to a culture, especially if you're further down from the old country. You may not have the language but you can understand the flavors.
That's one of the hallmarks of being Asian American — we may not have as direct a connection to Asia or wherever your family's country of origin may be, but it's something that gets passed down through stories, through recipes or even practices in your family.
Can we understand a culture through its food?
It's one of the easiest, most accessible ways to access a culture. But I guess the point of making the film was more than just the food: there's usually human beings behind that food. That's what I'm ultimately more interested in learning about.
So Off the Menu takes us to four states: Texas, New York, Wisconsin and Hawaii. How'd you pick the people and locations you featured?
My goal was to try and be as inclusive as possible within the time that we had. I definitely wasn't interested in making a Food Network or cooking or travel show, but really exploring the people and the characters in the story. I did a wide casting call and research. I knew I wanted a Midwest story, maybe a Southern one and a Hawaii story, because Hawaii is such a unique place, where Asian Pacific Islanders are the majority.
One food vignette that stuck out to me was the Korean sushi chefs in Texas coming up with new combinations in their test kitchen, like rolls topped with crushed Flamin' Hot Cheetos. THAT's different.
The surprising thing is how much they were thinking about their audience. The Texas segment really became about entrepreneurship and forging new ground and taking an Asian product like sushi or tofu and figuring out how it becomes a blend with the different regions and cultures that are there.
Were you surprised by anything?
in Hawaii, I had no idea what a fish pond was, or this system set up by native Hawaiians centuries ago that's about sustainability for the island. And going to the Sikh temple in Oak Creek, Wisconsin was really kind of a special experience to meet everybody and feel so welcome. Even though I have no exposure to Sikh culture, it felt very familiar to me, especially in the Midwest, in a place where it's a gathering place of the community.
Going in, I knew that this journey would reveal something about Asian America. I didn't set out to tell you what Asian America is. I feel like we go on this journey with the audience to see the breadth and diversity of who and what Asian America is.
Including the shifting parameters of food "authenticity."
Going in, I knew that this journey would reveal something about Asian America.
I think that's an individual choice. If you want to be the person who gets to define what's real or pure, go ahead. For me, I really appreciate what Jonathan Wu [Editor's Note: Pictured above, second from left] and the sushi guys in the test kitchen are doing because their culture is not something that's static, it's constantly changing, it's constantly adapting, they're constantly improvising. That's sort of the hallmark of the Asian American experience, or the Mashup-American experience. I feel like they're being authentic to who they are in this moment. [Editor's Note: See more on this subject here.]
A lot of people don't even know what Asian American — that concept — means. We're constantly defining it ourselves.
Not to mention, the food in the film looked delicious.
The samosas in Oak Creek — my producer said she's never had such a flaky crust before. And Jonathan Wu's Fong Tu egg roll was pretty special, too.
What is your comfort food?
When I'm traveling for a long time and I need to have some Korean food, it's doenjang-jjigae (fermented soybean paste stew).
What's it like going back home now?
Iowa is even less diverse than Missouri but I can always find incredible Mexican or Vietnamese food there.
It's a different place than when I grew up. Having been back to the Midwest over the years, it's incredible what the influx of immigration does. Incredible Mexican food, Vietnamese food. Iowa is even less diverse than Missouri but I can always find incredible Mexican or Vietnamese food there. These are the two things I eat all the time in Los Angeles, and it was great.
I remember the same year I was in Iowa was the year of "Gangnam Style." That was playing on Top 40 radio as I was driving around; it was such a weird disconnect for me. The familiar Midwestern landscape and here's "Gangnam Style" just playing on this regular FM Top 40 radio.
You have a part-Korean, part-Caucasian son who is 8. What does he identity himself as?
As Korean. I think he's just seen too many of my projects. He calls himself Asian American. And he loves Asian food. Kimbap is his favorite food.
Where do you feel most at home?
I'm pretty comfortable in Los Angeles. I like it here.
Editor's Note: CAAM and KQED served as co-producers of Off the Menu.
Food stories are the best. Read more here:
Chinese Spaghetti: AKA, How Chinese Restauranteurs Got People to Eat Ja-Jang-Myun
Na Young Ma: She Bakes French, Cooks Korean
Want more like this? Sign up for weekly Mash­Up delights.
Suevon is a D.C.-area raised Korean American living in Los Angeles. A freelance journalist and fill-in editor at The Mash-up Americans, she is a fan of outdoor spaces, hikes and food tours. You can find her @suevlee.