The best thing about living a Mash-Up life is combining our favorite things to make innovative deliciousness. Matzo ball soup and cilantro? Done! Cornbread and Chinese sausage? Duh. Chinese tea eggs are right up our alley. Available in every 711 in China, they haven't quite hit the shelves of bodegas in the U.S., but it's only a matter of time. While you wait, cook Taiwanese-Chinese Mash-Up Isadora Tang's Aunt's recipe for tea eggs to get in on the tasty.
In my family, we eat tea eggs whenever someone feels like going out of their way to make them — you know, like homemade muffins or waffles or some kind of white person equivalent. They go hand in hand with mah jong and weekends. The thing is, Chinese people love eggs. We love them raw in sauces for hot pot, fried for breakfast, scrambled in with rice, brined and gelatinized, salted — you name it. Given our love for eggs and our love for tea, tea eggs are just really a natural outcome of the culture. My aunt, Chung Hui Lu, better known to me as Aunt #4, is the best chef I know. She lives in LA and is also the family keeper of all knowledge. Here's her recipe for tea eggs. Cook, peel, and enjoy.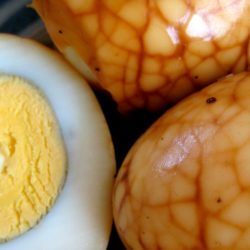 Aunt #4's Chinese Tea Eggs
Marbled on the outside, delicious all around. Serve alongside a hefty portion of mah jong.
Ingredients
6

black tea bags

10

eggs

parboiled for about 5 minutes, cooled

salt

2

whole star anise

2

tbsp

soy sauce
Instructions
Softly crack the shells of your parboiled eggs with the back of a spoon, so that they are cracked all over, but do not peel the shell from the eggs.

Place the eggs and tea bags in a pot of water.

Add a pinch of salt and the star anise and soy sauce.

When the water boils turn the heat to low and simmer for 30 minutes.

Then turn off the heat and let the eggs sit until they are cold.

Refrigerate and enjoy!
Isadora is a Lead Inventor at What If Innovation, where she helps clients disrupt established conventions. Previously, Isadora was a strategy consultant with BCG, as well as co-founder of MyLu Foods, a social enterprise working towards affordable nutrition. Isadora has an MBA from Yale and a BA from NYU.