Mash-Up Round-Up: Food In The Whitest City In America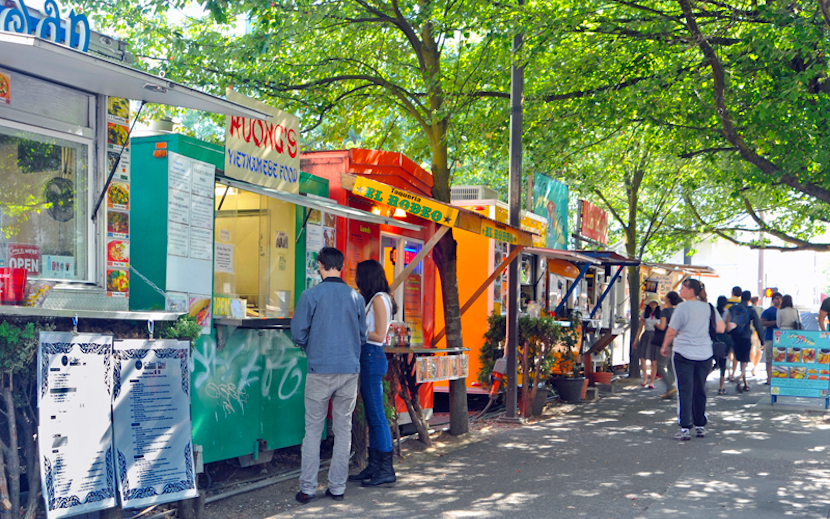 The week of April 28, 2018 was getting in touch with our polyester bride; looking out for R.O.U.S.'s in Brooklyn; and grateful that Hank Azaria addressed the Apu issue. Thanks for listening, Hank.
We don't know about you, but we are women who *definitely* have it all!
Mash-Ups In The News:
The Roots Of Kanye's Galling Love For Donald Trump
"I'm so appalled, Spalding ball / Balding Donald Trump taking dollars from y'all."
It's time to accept the truth, Kanye West legitimately thinks of Trump as his spiritual complement — they're both dragon energies, after all. There's a lot to unpack when it comes to their love affair, but whether or not Kanye fancies himself a new Black Donald Trump, we've already got a new, better Kanye.
via The New Yorker
'It's Puerto Rican Because I Made it'
Von Diaz's cookbook/memoir Coconuts & Collards is about as mash-up as it gets — exploring the complex ways history and agriculture have shaped the Puerto Rico's food, and how she found a way to "blend two distinct cultures in a way that felt true to her own life."
via Bon Appétit
A Lynching Memorial Is Opening, And The Country Has Never Seen Anything Like It
You begin with columns meeting you at eye-level — like headstones, they are etched with the names of the lynching victims, or just simply "unknown." As you continue to walk, the columns ascend above you, dangling. You're now in the position of the spectators who stood below the bodies and watched. The National Memorial for Peace and Justice is dedicated to the victims of racism and oppression in our country, and it demands a reckoning that cannot be ignored.
via New York Times
Chau Down: A Portland Food Diary
Korean tasting menus, Thai chilies, beef tartare "shrouded entirely by a beet chip," ice cream made to look like potato skins, and lots and lots of beer. Join Danny Chau and explore the diverse restaurants of the whitest major city in America.
via The Ringer
"Being a queer black woman in America, someone who has been in relationships with both men and women – I consider myself to be a free-ass motherfucker… I may make some mistakes. I may have to learn on the go, but I'm open to this journey."
From actress to pop anomaly, Janelle Monáe is still learning about who she is, and she doesn't care what you think.
via Rolling Stone
The Underrated Pleasures Of Eastern European Dumplings
Ukrainian cuisine isn't all about dumplings and potatoes, but oh my god they're just so good. Varenyky made with homemade cheese curd, meat-filled pelmeni, folded manti of Central Asia (mashy recipe included), and Georgian khinkali — indulge in the culture crossing love of meat stuff wrapped in dough stuff.
via The New Yorker
A New Generation Of Therapists Is Fighting Asian American Mental Health Stigma
Time to reread this important article. When trying to discuss mental illness, many Asian Americans get shot down: "You just need to eat." "You're just sad." Mental illness still faces a heavy stigma, but psychiatrists are exploring the importance of educating the family while treating the patient, and allowing people to speak in their native language to express how they feel.
via Huffington Post
How The Border Patrol Faked Statistics Of Assaults Against Agents
If someone throws five water bottles at a Border Patrol officer, does that count as one assault, or five? What if there are two assaulters? In this case, the stats do lie. A new way of counting assaults has made it seem like the Border Patrol is under attack, reversing an actual downward trend, and advancing some familiar political agendas.
via The Intercept
Germans Of All Faiths 'Wear A Kippa' Against Anti-Semitism
After the shock of an anti-Semitic attack on two men wearing kippas, A German Jewish leader warned Jewish men against wearing the head covering in public. But the next day, thousands of people from across Germany, and of all different faiths, marched in solidarity while wearing kippas.
via CNN
Team Mash-Up is the brain trust of smart minds and savvy creators, that builds all the cool stuff you see here.