Mash-Up Weddings: Hitha & Seth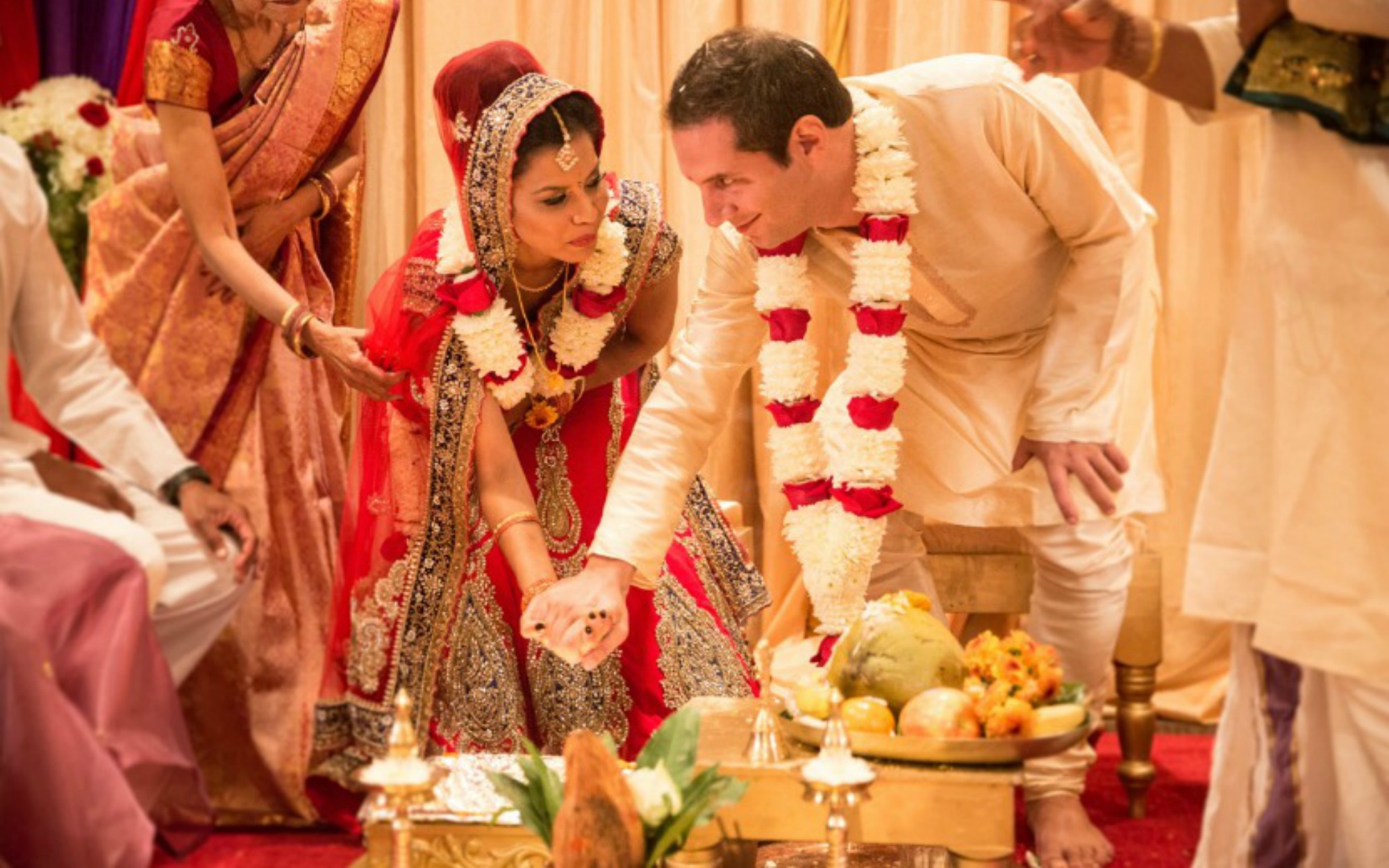 When it comes to Mash-Up Weddings, all you need is love. And planning. And communication. Oh, and mutual respect for differing cultures. And parents. And traditions. And bilingual priests. Maybe a translator? And, ultimately, a willingness to make a celebration and a relationship and a future all your own.
And that can be daunting! So we're thrilled to share the second in our series of Mash-Up Wedding photo essays, to provide inspiration and ideas for your own celebration. Here are our dear Mash-Ups Hitha Herzog and Seth Herzog. Hitha is first-generation Indian-American whose family hails from Hyderabad, India, and he grew up in Albuquerque, New Mexico. Seth is a third-generation Jewish-American who grew up in Princeton, N.J. They had two wedding ceremonies in New York City, where they met and fell in love. One was officiated by a Hindu priest, and one by a Jewish friend, who was ordained online.
Let them show you how a Mash-Up Wedding is done. And to read more about their Mash-Up story, check out Hitha's essay on her journey to Hind-Jewism here.
The Happy Couple: Hitha and Seth
Friends Kay Unger and David Rubin hosted the couple's engagement party in their Soho home. Guests dined and drank while jamming to music from a string quartet from Julliard. It was fabulous.
But let's get on to the wedding!
Gouri Puja
The first event of the wedding weekend was a gouri puja, or the lighting of the lamp for Ganesha, the Hindu deity and remover of obstacles. It started at 8:50 a.m. Timing was incredibly important: the priest and Hitha's mother had chosen it as an auspicious start time that was in line with the astrological calendar.
Baraat
While Hitha was getting ready to come downstairs for the ceremony, Seth partook in a baarat where his friends and family lead him to Hitha's family to meet and be received by them.
Garland Exchange
The official ceremony began at 10:42 a.m. with the jeelakara belum, also known as the "exchanging of the garlands." This took place under the mandap.
Thalambralu
The thalambralu is also known as the "holding hand ritual" where a fire is lit under the mandap and the groom signifies the start of a new household.
Sapta Padi
Next, Hitha and Seth took part in the sapta padi. This was the longest part of the ceremony, but most significant: it symbolizes the seven steps and vows for the marriage.
Now to the Chuppah
At 6:00pm, Seth and Hitha joined together under the chuppah, lovingly made from recycled wood and a tallit that had been in Seth's family for generations. The flowers on the poles were the same flowers on the mandap.
Seth and Hitha elected to have their friend Adam officiate the ceremony instead of a rabbi. It was filled with funny readings from friends and acoustic versions of Beyonce and Violent Femmes.
Stepping on the Glass
At the end of the Jewish ceremony, Seth stepped on a glass to signify the splitting of the souls, rejoined again under the chuppah.
Hava Nagila!
The reception continued with the same joyous and humorous flavor as the ceremony did. To top it off, there was, of course, a 10-minute version of hora, which Seth and Hitha danced with their friends and family, Hindu and Jewish alike. Dancing: The universal mash-up. Congratulations to the happy couple!
Vendors
Engagement Party Food: Sarah Simmons
Event Planning: Riri Patel of TanaRi Events
Flowers: Mayuri Parikh from Mayuri's Flowers
Music: Underground Horns, DJ Cosmo Baker
Location: The Soho Grand
For more Mash-Up wedding awesomeness and advice:
Mash-Up Weddings: Ruch & Sarah
Mazel Tov! You're Engaged! Now What?
Saying Grace: Staying True to Who You Are
Do you have a Mash-Up Wedding you'd like to share? Email us at yo@mashupamericans.com and you could be featured next!
Hitha Herzog is an Indian-American Mash-Up and investigative journalist who, as a proud Hind-Jew, can make a mean brisket — and sambar. She and her husband, Seth Herzog, live in New York. You can follow her tweets @HithaHerzog and her work at hithaprabhakar.com.