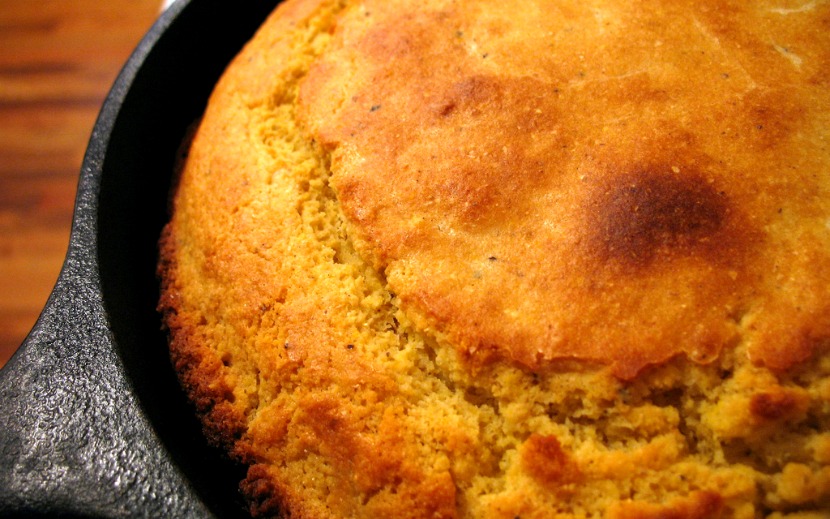 Thanksgiving is the ultimate Mash-Up holiday. It is our holiday. And on our holidays, we feast. This year, The Mash-Up Americans provide for you a complete holiday menu, including a Puerto Rican-inspired guava turkey with Layla Bermeo's mama's jalapeño cornbread stuffing, recipe below. [Editor's note: Layla's mama, Margarita, is Amy's mama-in-law!] Serve with Indian-spiced cilantro green beans and save space for a straight-from-the-South bourbon pecan pie. Guava turkey not your jam? Try our Chinatown-inspired soy-seasoned turkey, with sticky rice and Chinese sausage stuffing or a cornbread and Sriracha dressing. Eat on, Mash-Ups. Eat on.
Growing up in Wichita, Kan., we usually had our Thanksgiving dinner following a hot, humid summer and a mild fall. The holiday provided a much-needed warm meal just before the air got cold and we started praying for snow days from St. Jude Catholic School. Mama's Mexican spices added an extra layer of warmth — she spiked the soup with cumin, seasoned the potatoes with chili powder, and most importantly, cooked the cornbread dressing with jalapeños.
In its potent combination of sweet and spicy flavors, this Tex-Mex version of Turkey Day stuffing was a staple and family favorite, multitasking as a side dish, dessert, and next day entrée. I was nearly 30 years old when I visited Texas for the first time. I drove across the state and everywhere I went, I saw Mama's music and mannerisms, which she had unwittingly brought to the Midwest when she left her hometown of Sinton, Texas as a teenager in the 1970s. And I also saw cornbread. With jalapeños!
So my mother was not the sole inventor of jalapeño cornbread? How could this be?!
Although shocked at this discovery, I never saw the bricks of jalapeño cornbread stacked all over Texas as a challenge to Mama's originality. This is a woman who has always favored "delicious" and "nutritious" over "traditional" or "authentic." Both self taught and professionally trained, she treats her kitchen like a laboratory where she constantly experiments with new ingredients and techniques. A few years ago, she spent months figuring out the perfect ratio of whole wheat flour to white flour for tortillas, and if you're lucky enough to get your hands on them today, they'll also have flax and fennel seeds. In the spirit of her continuously evolving style of cooking, she has recently added sautéed vegetables, lemon juice, and even a little ginger to her beloved jalapeño cornbread dressing. Enjoy, and in homage to Margarita Bermeo, innovate!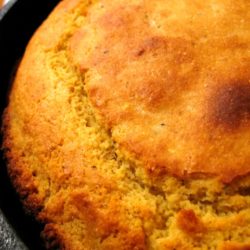 Margarita's Thanksgiving Jalapeño Cornbread Dressing
Does your family say dressing or stuffing? Either way, your tastebuds will say "!Delicioso!" to this Tex-Mex version of a Turkey Day staple.
Ingredients
Ingredients for all the Jalapeño Veggie Goodness going into your Stuffing
6

jalapeños

veins and seeds removed, minced

1

large red bell pepper

sliced thing

1

green pepper

sliced thin

1

head of garlic

smashed with a pinch of salt (if you freeze it first, it's easier to smash)

7

scallions

chopped or 1 medium onion, chopped

l

can of whole corn

thoroughly drained, or 16 oz. of frozen

1

tablespoon

ginger

minced

3

tablespoons

neutral oil

1

handful fresh sage leaves

chiffonade

32

oz.

vegetable stock
Ingredients for the Cornbread
4

cups

yellow corn meal

4

cups

all purpose flour or bread flour

4

tablespoons

of sugar

5

tablespoons

of baking powder

1

tablespoon

and 1 teaspoon of salt

4

cups

of milk

2

lemons

zest and juice

4

large eggs

1

cup

of neutral oil
Instructions
Veggie Prep
Reserve the sage and vegetable stock.

Sauté the remaining vegetables in a large, very clean pan with the oil, and let rest while you make the cornbread.
Making the Cornbread
Preheat oven to 425°F.

Combine all dry ingredients and mix together thoroughly.

Combine wet ingredients in a larger bowl and mix together thoroughly.

Slowly add dry ingredients to wet, mixing thoroughly. Check at 45 minutes. If it is getting too dark but the inside is still uncooked, lower temp to 375°F until it is baked through, about 1 hour. Let cool for 1 hour.
Making the Stuffing
When you are ready to bake the stuffing/dressing, combine the cornbread, sautéed veggies, vegetable stock, and sage, mixing well.

Add to oiled pans and bake at 375°F until the top is nicely browned and crunchy, about 30 minutes.
Layla is Mexican-American and Colombian, and speaks fluent grad student. She is working on her Ph.D. in art history and spends most of her time trying to achieve a "Kardashian-Librarian" fashion style. She hates weather, ice cream, and movies with too much plot. She loves Mexico, learning about American Indian culture, and really spicy vegetarian food.