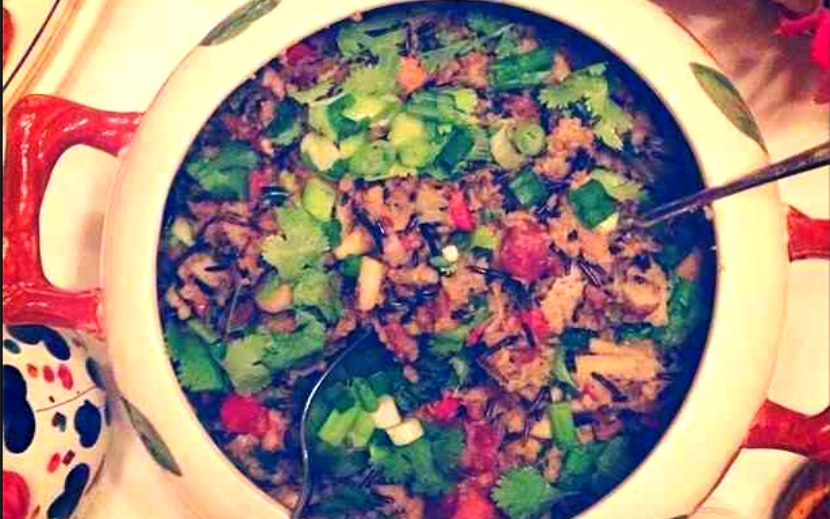 Our dear Ukranian-Russian-Polish-German-Jewish-American Mash-Up Natasha Case and Chinese-Filipina-Spanish-Portuguese-American Mash-Up Freya Estreller, founders of COOLHAUS and Ludlows Cocktail Co., shared this very mashy cornbread and Sriracha stuffing recipe with us, which blends Chinese and Filipino flavors with down-home American. It's a staple from their Mash-Up holiday table. "My grandpa claims he 'doesn't eat Chinese food' but he couldn't stop eating the stuffing. His cheeks were so full of it he could barely breathe," says Natasha. We had to have the recipe.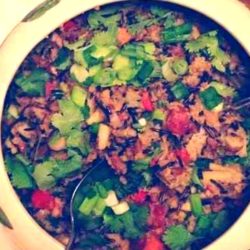 Freya and Natasha's Cornbread Sticky Rice Stuffing
This fusion stuffing mixes elements of traditional American with Asian ingredients and that most mash-up of all condiments, Sriracha. We can hardly wait for Thanksgiving to make it again.
Ingredients
1

box cornbread stuffing

1

cup

black rice

cooked al dente

3

Chinese sausage links diced

2

large carrots diced

1

large red bell pepper diced

1

cup

chopped black mushrooms

1

cup

chopped roasted chestnuts

(TJ's sells them pre-cooked)

1/2

cup

chopped green onion

1/2

cup

chopped cilantro

1/2

cup

white wine

3

cups

water + 1/2 cup water

1

tbsp

soy sauce

1/2

tbsp

mirin

1/2

tbsp

sherry vinegar

1

tbsp

salted butter + 4 tbsp butter

1

tbsp

olive oil

kosher salt, pepper, and Sriracha to taste
Instructions
Cook black rice per instructions (usually 1 C rice to 3.5 cup boiling salted water for 35 minutes covered on low-medium heat).

In a large saute pan on medium-high heat, cook Chinese sausage in 1 tablespoon of butter and 1 tablespoon of olive oil for 3-5 minutes or until fragrant and light brown.

Add carrots, red bell pepper, chestnuts, mushrooms to pan and cook on medium heat for about 3-5 minutes.

Add mirin, soy sauce, sherry vinegar to pan, stir and cover on low heat.

Start making cornbread stuffing per its instructions (usually 4 tablespoons of butter on medium-high heat in large sauté pan, add cornbread then add 3 cups water + box seasoning and stir until cornbread fully coated).

Fold cornbread stuffing and black rice into Chinese sausage vegetable pan.

Add 1/2 cup wine and 1/2 cup water and cook on medium-high heat for 3-5 minutes.

Add salt and pepper to taste.

Top with cilantro, green onion and squeeze of Sriracha when ready to serve.

Enjoy!
Natasha Case and Freya Estreller launched COOLHAUS ice cream in 2009 at the Coachella Music Festival from a renovated postal truck. They now have 12 ice cream trucks, 2 shops, and a product line sold at 2,500+ stores nationwide. Freya recently launched Ludlows Cocktail Co., a start-up crafting all-natural, innovative spirited products.