Micah Wexler: On Jewish Soul Food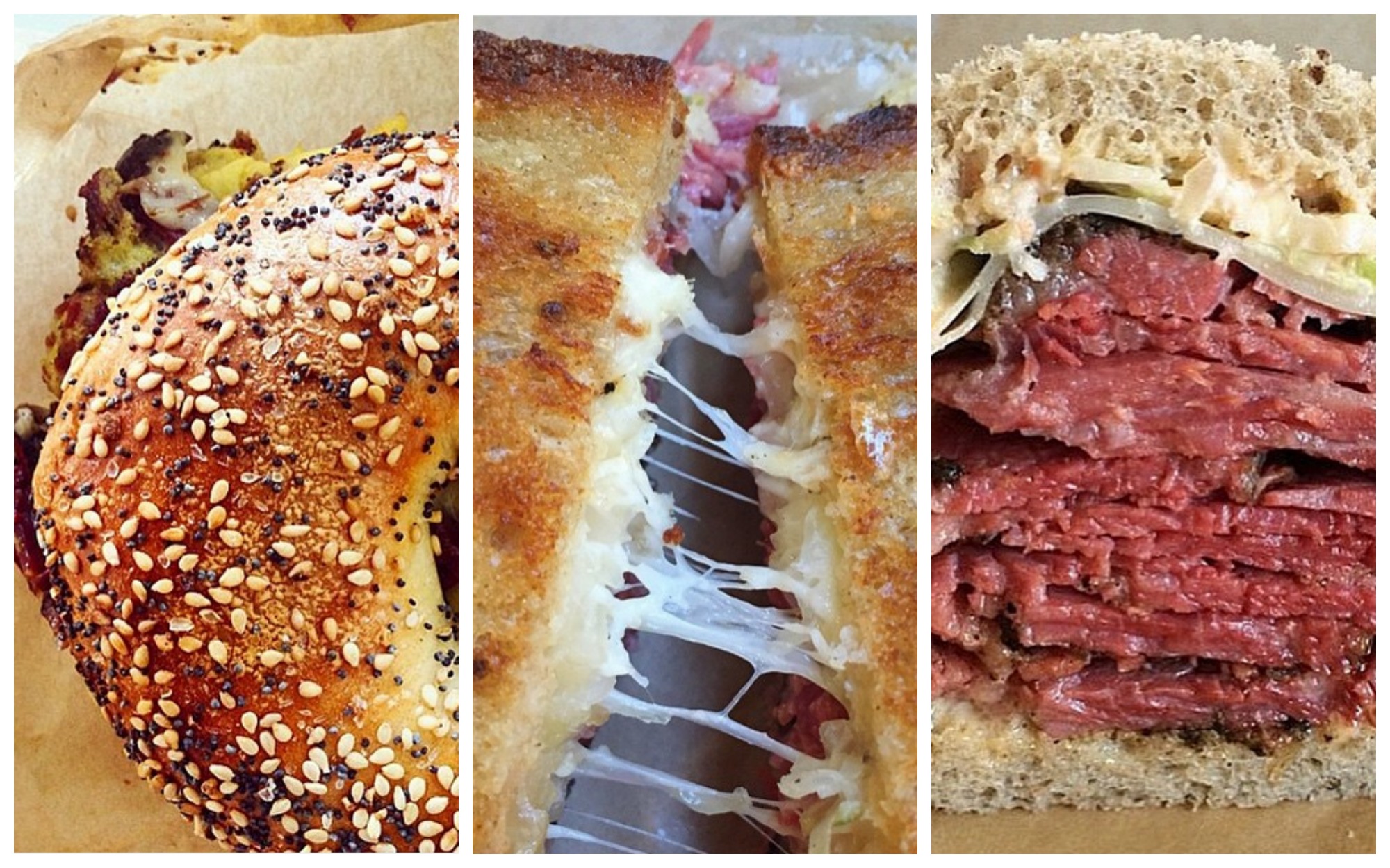 As part of a new series of interviews exploring food and identity, The Mash-Up Americans is talking to chefs, food writers, and industry veterans about why food matters, and why it matters so much.
Today we're talking to Micah Wexler, the brains, the chef, and the soul behind Wexler's Deli in his native Los Angeles. After a career working at fine dining restaurants such as Craft and Le Atelier Joel Robuchon, Micah came home to open a restaurant serving his take on traditional Jewish delicatessen. In other words, Jewish soul food. Read on.
Tell us a little bit about your background.
I grew up in a traditional Jewish family in the Los Angeles area.
Talk to us about Jewish soul food. What does that mean to you?
To me it's pretty simple. I think of Jewish soul food as my grandmothers' cooking and to some extent my mom's. My mom cooks food from all different cultures, but when she cooks traditional Jewish food for the holidays it's awesome. Both of my grandmothers were great cooks. Jewish soul food encompasses the memories of growing up and being in their kitchens and cooking with them. When we would go visit my grandmother in West Hollywood, I would be able to smell her apartment from down the street, and when we were walking in I would already know what she was making. Smells are very powerful memories.
That's really at the heart of what informs my Jewish soul food. There are times when I do that stuff very traditionally and there are other times where I do riffs on it and modern takes on it, but I'm a big believer in the notion that food has to come from a point of inspiration and soul. When you have intellectual food, where a chef tries to put two unlikely things together in order to arrive at a certain cool factor, it may end up being cool but it's not going to have any soul; you can taste that in the food. Whether I'm cooking at a fine dining restaurant or a deli, everything is attached to memory and feeling and soul.
How does your Jewishness inform how you cook?
Of course there are recipes, but when I used to cook with my mom and my grandmothers, they never measured or went straight off a recipe card. They cooked from touch and feeling and put a lot of themselves into the food. I really try and cook like that in my professional life. I'll taste things 30 times before I think they're just right and I'm inspired by childhood memories and things that I ate growing up. The challenge is how I interpret that into recipes so that others can follow them and how I teach a cook to learn the touch and soul of cooking.
How did you get into cooking professionally?
Growing up I always knew I belonged in the kitchen. After acquiring a degree from Cornell University's School of Hotel Administration I was employed at a number of high-profile restaurants dotting America and Europe, such as Le Atelier Joel Robuchon in New York. After a dozen years working in others' kitchens, in March 2011 I opened my first restaurant, Mezze, the "Middle Eastern-influenced New American restaurant" located in Los Angeles. Unfortunately, in October 2012, Mezze was forced to close due to ongoing problems with a neighboring construction site. However, shortly thereafter, the folks at Los Angeles' Grand Central Market, came to me with the idea of opening a deli.
Why did you want to do a deli?
Well, I spent many of my days growing up eating at delis, so they had always been a large part of my upbringing. I've worked in fine dining since I was 15, but I've always had an appreciation for the craftsmanship that goes into a truly good Jewish deli. Wexler's Deli is based on my taste memory growing up as a Jewish kid in L.A., so the sights and smells and sounds of all that go into my food.
I remember watching my mom and grandmothers getting ready for the big Jewish holidays.
What is your first food memory?
My passion for food has been with me for as long as I can remember; it's like my fingers, they've just always been a part of me. When I was a kid I was always cooking with my grandmothers, my mom, and my dad. I remember watching my mom and grandmothers getting ready for the big Jewish holidays. They would be cooking nonstop for days, pouring their souls into the food. My excitement around that would build for weeks and it has become a big part of how I cook today.
What's your comfort food?
Soup. I love to cook soup and I love to eat it. A lot of different soups are comfort food to me; matzah ball and roast duck noodle soup are probably my top two. [Editor's note: Jewish and Chinese. This makes sense to us.]
Ever tempted to cook, like, Thai food?
Absolutely. At some point or another I've attempted to cook just about any cuisine. Thai food was actually a big part of growing up for me in L.A. When I was a kid our local Thai restaurant had a Thai market next to it so my parents would take me by the market after our dinner and the people who owned it would tell me how to make the dishes we just ate and sell me the ingredients to do them.
Nostalgia runs strongly through Wexler's Deli. Does that reflect a shift in your life?
It may be more obvious to some people at Wexler's but Mezze was a deeply nostalgic restaurant as well. So much of the food there was based on the food I grew up eating. I've always cooked from taste memory. To me the best food has to have starting point of inspiration. My childhood to some extent is mine.
You need more food for thought, don't you. Check these out:
Chino: On Empanadas and Hip Hop
Chinese Spaghetti: AKA, How Chinese Restauranteurs Got People to Eat Ja-Jang-Myun
Amy is co-founder and editorial director of The Mash-Up Americans. She specializes in getting people to tell stories they never expected to share. She's mom to two Korean-Colombian-Mexican-American kids, aka The Future of America. You can follow her @awesomechoi and find her in Brooklyn.