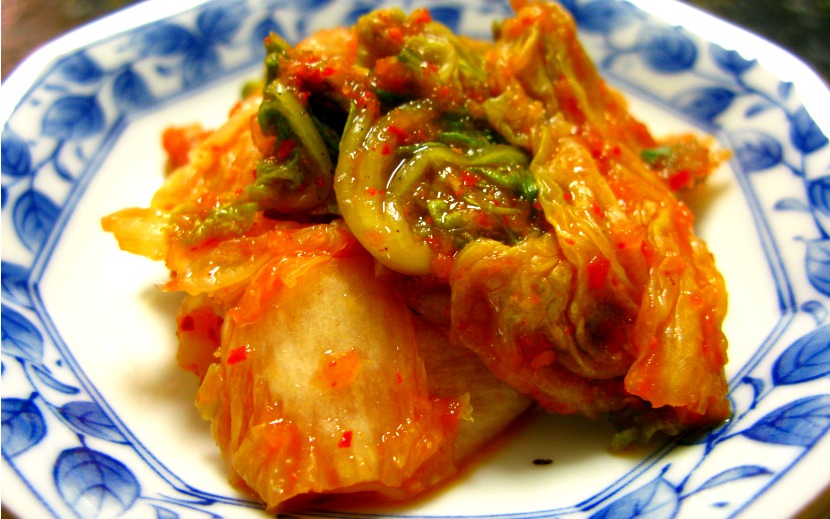 Food is our bridge to our identities, old world and new American alike. But what happens to our food when it is influenced by so many others? Is Jewish food still Jewish when seasoned with Greek spices? Eaten with Korean jeokkaraks? How rooted are we in our rich food cultures, when the flavors change with each generation? Our Jewish-American Mash-Up Amy Feldman tackles these questions, and more. Hint: The answer is deliciousness.
You want a recipe for Amy's Kimchi Matzah Brei, don't you? You do.
The case of kimchi arrived in a giant box, leaky and stinking so badly that the doormen's eyebrows rose with questions that they were too discreet to ask. I'd ordered it online from an artisanal kimchi maker in Brooklyn one night, well past midnight. It hadn't occurred to me that the continuing fermentation of the cabbage would cause the bottles to leak when I'd decided that I absolutely, positively had to have a case of it.
Passover was approaching, so I considered pairing the kimchi with gefilte fish — is kimchi maror?, I wondered — allowing it to take the place of the traditional horseradish. I learned later that Rabbi Angela Warnick Buchdahl, who was born in Seoul and is the first Asian-American to be ordained as a rabbi, had written a beautiful essay in Sh'ma about kimchi on the seder plate and how her mother had chosen to do just that.
Unlike the rabbi, the Jewish food I'd grown up with in the suburbs of New Jersey was the Ashkenazi food that's more typical in the United States: kugel and kneidlach, blintzes and latkes, and, of course, bagels and lox. This was the stuff that passed down from mothers to daughters, ad infinitum. My grandmother made the clunkers of kneidlach, rather than the soft, floaty matzah balls, and I grew up with the savory kugel of egg noodles, farmer cheese and butter, rather than the raisin-and-sugar confections served at friends' holiday gatherings.
But even growing up in the Seventies, we ate far more than just Jewish food. My mother had a wider repertoire in the kitchen than most women of her generation, so one night we'd have cheese rarebit; the next would be stir-fried chicken in the ever-popular wok. Following were desserts that could only have been invented in the Seventies, like gumdrop cookies and crème de menthe pears. And because she ran an all-volunteer catering service at the synagogue, I also spent afternoons folding filo dough into cheese pastries by the hundreds, and test-driving recipes that might or might not work. I left home with instructions for how to make chocolate chip coffee cake, heavy with sour cream and brown sugar, and stuffed mushrooms — and a strong belief in the art of using whatever was on hand.
When I landed in Chicago for college, my cooking exploded with previously unknown flavors. I waitressed at a Japanese restaurant, where the sushi chef prepared dinner for employees after work each night. I always hoped our meal would be eel with dark, sweet sauce and rice. Later, I lived around the corner from a Korean restaurant, where I stopped for bibimbap on the way home from work and discovered the joys of fermented cabbage for the first time.
Each time I traveled — to Thailand, India, Ecuador, South Africa, and elsewhere — I searched out new recipes and ingredients. In Israel, I discovered pomelos, the larger, sweeter cousin to the grapefruit. In Mexico, I took a cooking class where four of us huddled in the chef's home with our cutting boards, making nopales tacos and drinking mezcal. And after returning from South Africa, I was determined to recreate the pumpkin mash exactly as I'd eaten it one night at Wandie's in Soweto.
Today, my small, urban kitchen is stocked with polenta and amaranth, preserved lemons, pomegranate molasses, and homemade salsa. I love to cook, and I often make up recipes as I go along, a bissel of this, and a bissel of that. I still love the Jewish food I grew up with. But is what I cook Jewish food still? What constitutes Jewish food anyway?
Jewish food reflects the different host countries where we've lived for generations.
Jewish food isn't one food, after all, but many, reflecting the different host countries where we've lived for generations. My ancestors fled from Lithuania and Ukraine, depending where those countries' borders were at the time, and landed in Argentina, Israel and South Africa, as well as the United States, incorporating new languages and new foods along the way. Other Jewish families have come from Iran and Egypt, Portugal and Greece, bringing with them foods that are far different than the ones that I grew up with.
Claudia Roden, whose cookbook on Jewish cooking came out in 1996, was the first to excavate the overlooked recipes of Jewish communities in Egypt (where she's from), Iraq and elsewhere for an American readership. I've cooked from her book so often over the years that the pages are stained with old meals. When I make her loubia, a black-eyed pea stew served by Egyptian Jews on Rosh Hashanah, in the dead of winter, I wonder about its unknown relationship to the Hoppin' John eaten by American Southerners for good luck on New Year's Day. Just as I wonder sometimes whether the Jewish version of sweet-and-sour cabbage is related somehow to the Korean kimchi, and if perhaps that's why it seems so familiar to me.
The reality may be simply that I'm a typical third-generation American: The foods that my ancestors brought, lovingly, to this country, along with their brass samovars and hopes for the future, have melded with the foods of my friends, my cities, and my favorite cookbooks. And yet still, when I want comfort food, there are few better things to me (lactose-intolerance be damned) than kugel, the mix of eggy noodles and cheese, browned and crunchy around the edges.
As for the kimchi matzah brei, it is my kind of Jewish cooking. And it's pretty darned good Sunday brunch fare. And I think that my Grandma Rose, who once famously served Chinese food rather than turkey for Thanksgiving, would have appreciated it.
Who's ready for brunch? Here's Amy's recipe for Kimchi Matzah Brei.
Hungry for more? Nibble on these stories:
Micah Wexler: On Jewish Soul Food
Gift Guide: 6 Classic Cookbook Ideas
Amy Feldman is a New York-based writer and journalist. Her grandparents (on one side) and great-grandparents (on the other) came to America with the large wave of Jewish immigrants in the early 1900s. She's written for Barron's, Businessweek, Tablet and other publications. Connect with her on Twitter @amyfeldman.