Mash-Up Spotlight: Amy Chen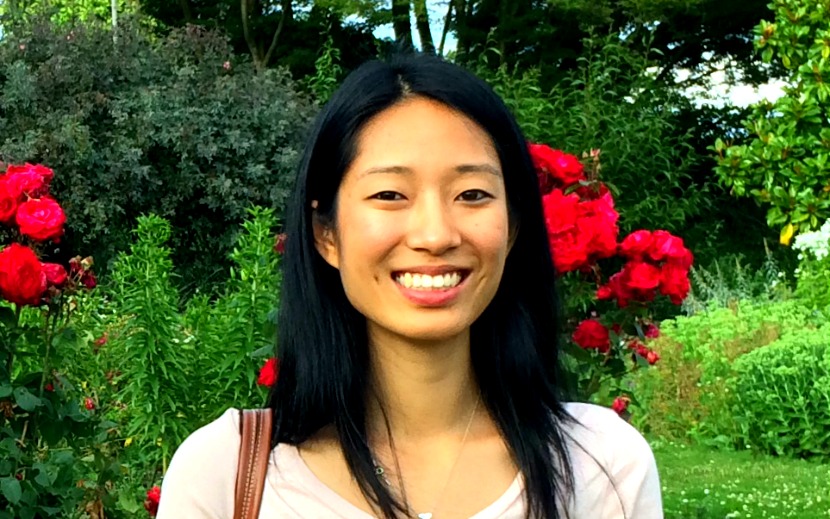 New Feature on the site! We're featuring you, the most wonderful members of our Mash-Up community. We're so grateful for your smarts and your support. Get to know each other, Mash-Ups.
Who are you?
I'm Amy Chen, a Taiwanese-American woman. I'm a fan of: payphones, sidewalks, noodle shops, coffee shops, stationery, and skyline silhouettes. I like playing field hockey. I love walking around the city.
How do you mash up?
When I'm sick, I'm just as likely to crave chicken noodle soup as I am congee with rou song. When I want comfort food, I'd be happy with Taiwanese-style beef noodle soup, French fries with ketchup, or a warm chocolate chip cookie. I beat eggs with chopsticks – I thought everyone did that until I realized in middle school home ec class that people use whisks. I create Chinglish gerunds when speaking with my parents (ex: kaui yi dian-ing = hurrying up). And I'm offended at the cost of Asian-style snacks like roasted salted seaweed in places like Whole Foods. What? You can get that at the Asian grocery for half the price!
What's your day job?
I work in media, tech, and higher ed. My organization, NYC Media Lab, is a membership consortium of media and tech companies and the universities in NYC. Some key areas we're interested in are virtual reality, video, and data analytics.
What's your passion?
I'm passionate about urban progress. I never formally studied it, but the NYC Urban Fellows Program put me on a new path for exploring my interests in public service. Through running a technology design competition for payphones (yes, payphones!), I discovered new interests that relate public service to urban planning, infrastructure and buildings, interaction design and technology innovation. The competition opened my eyes to the civic tech space where people from all sectors are committed to integrating technology and data-driven solutions to urban infrastructure to make cities more resilient, safe, and livable. Now, whenever I see a payphone, I think "this could be something better, something more beautiful and useful."
What's the best mash-up moment you've had in recent memory?
I'm five months into my 2015 resolution, which was try a new spice, herb or ingredient every month. So far, the lineup has been: za'atar, smoked paprika, thyme, coriander and turmeric. Growing up, my family kitchen had traditional Asian spices and ingredients like soy sauce, ginger, scallion and garlic and that's all I knew how to cook with. I decided this year to experiment. I'm still deciding what June will be!
My parents always told me that going to bed with wet hair will give you a cold. So I never did that. I realized in college that lots of people do it, but I still don't do it.
You can find Amy on Twitter: @iamamychen
More on the NYC Media Lab.
If you don't know what a payphone is, this.
Team Mash-Up is the brain trust of smart minds and savvy creators, that builds all the cool stuff you see here.