Podcast Ep 21: Nina Garcia Is Not Judging You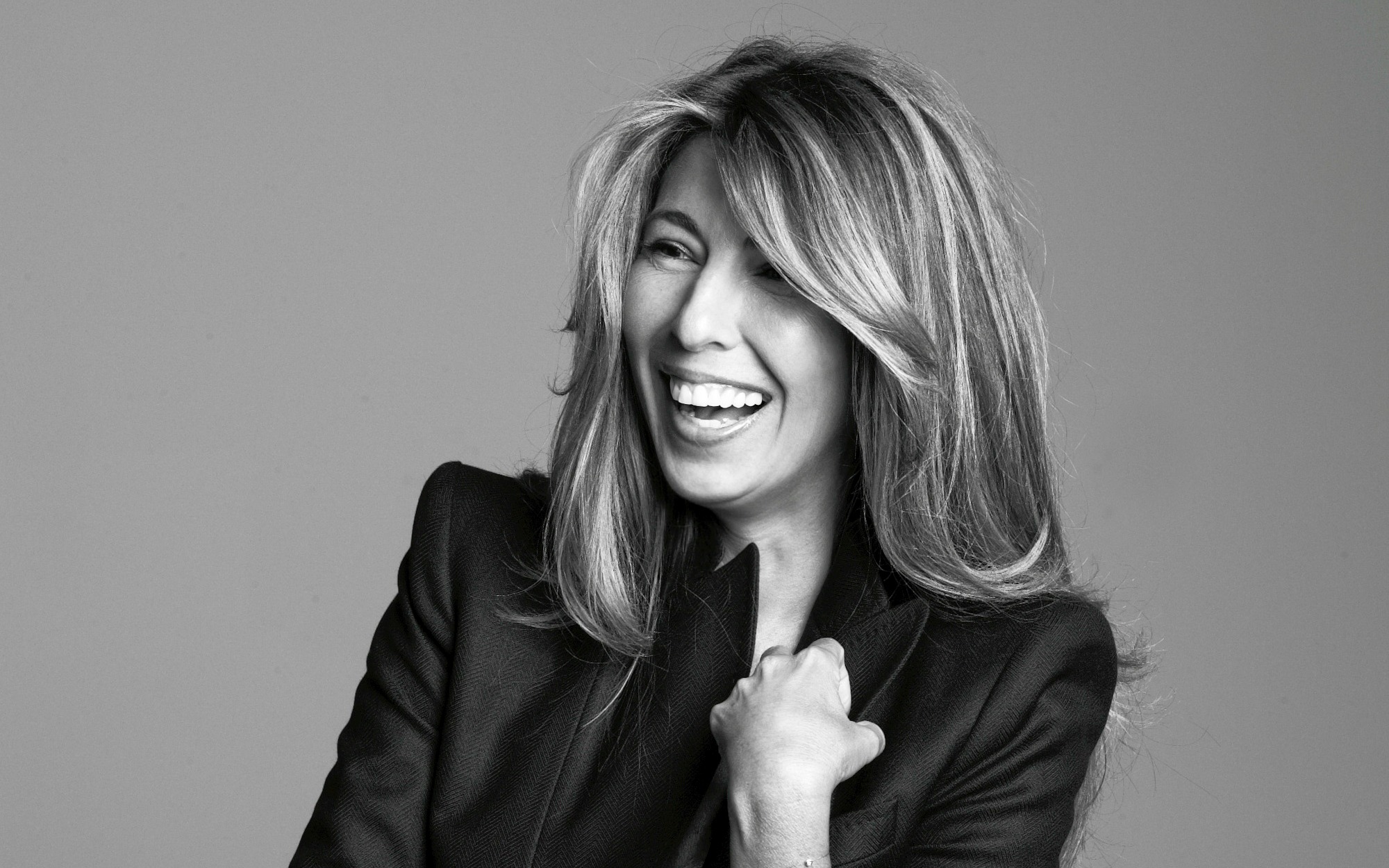 Nina Garcia, Colombian-American star of Project Runway, fashion icon, and creative director of Marie Claire, dishes on the best place to eat Colombian food in New York (hint: it MAY be her house), why she almost said no to Project Runway, and how being an immigrant drives her success.
Nina Garcia on how being an immigrant shaped her creatively:
Growing up in Colombia gave me a very different perspective. When I started in fashion, it was that different perspective that really helped me because I saw beauty through a different lens that wasn't so homogeneous. My idea of beauty maybe is not as perfect or is not as pristine or maybe it was more colorful….
Our Nina Garcia inspired Spotify playlist!
Below is a transcript of the conversation between Garcia and Mash-Up co-founder Amy. It's been edited for length and clarity.
Nina Garcia, how do you mash up?
God. My favorite way to mash-up is really with fashion, because I'll mix day and evening or I'll mix something classic with something modern or I'll wear something funky with something classic. That's how I like to mash-up. I'm also very Colombian, very American. My kids want to be American. I really enforce the Colombian. I'm really a Mash-Up.
What brought you to the U.S.?
The situation in Colombia was really bad back then. There was a lot of kidnappings, there was a lot of drug trafficking. Colombia was going through a very bad period.My parents decided to send me to boarding school, and I came here to an all girls in Massachusetts.
There's been really great news that's come out of Colombia recently. How does that feel for you as a Colombian-American?
It was a very joyous moment for me because I've seen what it's done to our country. I've seen what it's done to my family. My sister had to move from Colombia for a long period of time. I lived here. My sister lived here. My parents were there. We had to go back and forth. For the country, we also felt it. There were worse stories than ours. People died. People were destitute. People were killed. There was so much anger. There was so much that could not be forgiven from either side. This is a very big moment for our country because it's about forgiveness and moving forward. You have to forgive.
Tell us what it was like growing up in Baranquilla.
It was a wonderful childhood that I had really because Baranquilla is on the northeastern tip of Colombia, with very close proximity to the United States or to Florida. It was also the industrial port of Colombia. A lot of things came through. We had it first. We got it first. The first VCR. The first. We were the first to get the movies. We were the first to get the magazines. It all came through us first so we felt very privileged in that sense. It was also a city full of color, of music, of carnival, of happiness.
How do you experience fashion differently than you might have if you had grown up anywhere else?
I always say that the background of growing up in Colombia gave me a very different perspective. When I started in the fashion business, it was that different perspective that really helped me because I saw beauty through a different lens that wasn't so homogeneous. My idea of beauty maybe is not as perfect or is not as pristine or maybe it was more colorful. When you're an outsider and you haven't grown up in the States, there's some things that you really that when you live here, you might take for granted.
Why fashion? As a bright, creative, driven person, for you, what was the thing that was like, "I'm going to direct my energies here."
It's nothing that I can pinpoint but I knew from very early on that's what I wanted to do. I thought I wanted to be a designer. If you gave me a piece of paper at the age of 6, all I would do was doodle collections. I would make dresses. I would just draw. That's all I wanted to do. I wanted to be in my mom's closet. She kept it locked and I was like, "Why is she locking me out," which made me even … Gave me more desire to be in there. I was a child that all I wanted to do was draw and paint and do and I would pore over magazines and look at the fashion and then want to translate it into my own. For a long time I thought I wanted to be a designer. Later on in life I just made a turn and came into journalism, to fashion journalism, but it was unexplainable. I can't explain it. That's what I wanted to do.
Do you still travel back to Colombia?
We got at least twice a year. I feel it's really important for my kids to get as much time down there as they can because those are their roots and I would hate for them to grow up without that connection. I'm very proud of my roots. Yes, I'm also very proud to be American but I am also have always been very proud to be Colombian. I mean it from the bottom of my heart. When I came to this country, that's what gave me the strength, that's what filled me with strength and gave me a different perspective. What really fueled me with strength was the fact that I was different. That I brought something different to the table and that my culture was different. I want them to feel a little bit of that.
We're children of immigrants. And we think, how do we keep our kids hungry? How do we give them that immigrant mindset that drives us and challenges us and gifts us with resilience, how do you keep that going? Because the goal is always, of course, to make your kids as happy and comfortable as they can. What if they're not hungry enough?
Listen, I'm trying to figure that out as well with my kids. I think it is really a lot about family and a lot about tradition and a lot about, I don't know, values. We just can't lose that. We just really can't.
Does your husband ever feel left out of all the Colombianess?
No, he loves it. I think he secretly would want to be Colombian. He's even asked me, "How do I get a Colombian passport?" I don't know. I'm sure you can. You're married to a Colombian. There must be some step that you could take but we first we have to start with you speaking Spanish.
Are you an American citizen?
Yes. I did become an American citizen. It was not without some internal struggles because I was married and I think 9 years down the road my husband was like, "You might want to get an American passport," because we're having a lot of hard time getting a visa for you anytime you want to travel. Because I still was very holding to my Colombian and not that I couldn't have 2 passports. I can have 2 passports but internally I was, "I don't know if I could just be American all of a sudden." I did. It was fine and I know that I can be a Mash-Up. I'm Colombian and I have a Colombian passport and I have an American passport. There was that defining moment that I had to make the decision, I would always be like, "I could wait another year. I have a green card. We can wait." When I had my kids it really all of a sudden sunk in. My kids are a mix. I might have not been born here but I am a mix and we are an American family.
Let's talk about your kid's names. Alexander and Lucas. I have an Alejandro. You don't have an Alejandro.
No. My married last name is not Garcia. My kid was not going to be Alejandro Garcia. He was going to be Alejandro Conrad. That was going to be weird! I needed to do something that sounded right. Alex can sound American. Can sound Colombian. The same with Lucas. There's a little bit of a different pronunciation. At least we're not giving them any weird names like, I don't know, Orange.
Green Bean. I was about to say another fruit but I won't to call a specific person. Let's do some speed round! What is your comfort food?
My comfort food is chocolate, unfortunately. I run around this place asking all the editors, "Do you have a chocolate? By any chance, did you get any chocolate?"
What is always in your fridge?
Ice. I love ice. I grew up in the coast. Water with ice. Ice was a very big luxury. My husband's like, "Well, why can't you have water without ice? Do you really need to bring the cup of ice?" I'm like, "Yes. I need the ice." Look. Ice. This water has ice.
What's your Starbucks name?
Nina.
Do people recognize you in Starbucks? Do they get nervous?
Yes, they do sometimes. I don't know. People always think that I'm judging what they're wearing and I'm really not. I am not looking.
Did you ever think that this would be how your career turned?
I didn't even think I wanted to be in the show. I really fought for a long time because I wanted to be an editor. That was what I wanted to do and I was pretty fixated wit.h I want to be an editor. That was my goal. When the producers came to pitch the show to me, I was, "No, I'm really not interested. I don't think this is a good idea. I'm never going to get invited to another show. I'll be fired. God knows what will happen. This is such a cliquey industry." Fortunately, I did say yes and it was a lesson in life to really take the opportunities as they're presented. You have to say yes.
We're in your ears, yo. Subscribe!
Listen to "Nina Garcia Is Not Judging You" and subscribe to our podcast on iTunes or on your favorite audio app like Stitcher or TuneIn. Or just keep coming right back here.
This podcast is produced by American Public Media and Southern California Public Radio, KPCC. It is supported in part by an award from the National Endowment for the Arts. To find out more about how the NEA grants impact individuals and communities, visit www.arts.gov.
Team Mash-Up is the brain trust of smart minds and savvy creators, that builds all the cool stuff you see here.