Mash-Up Round-Up: Golden Toilets + Small-Penised Sculptures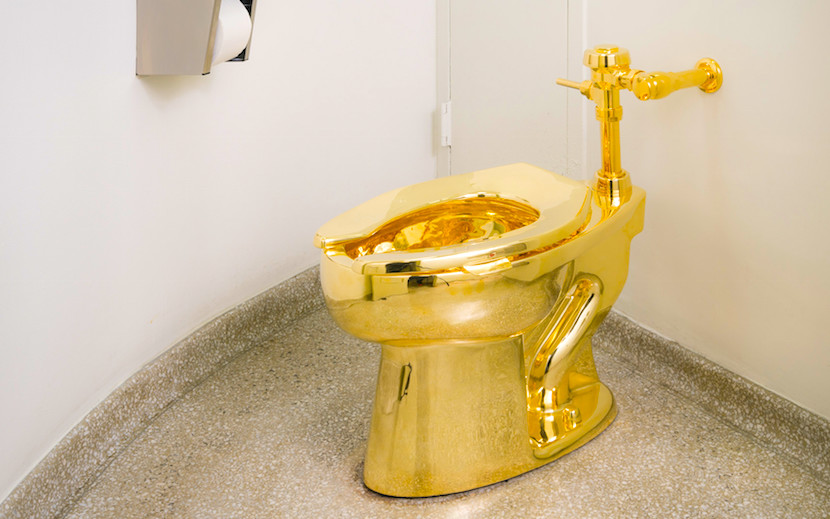 The week of January 27, 2018 was reflecting on how Fox News would describe the Oscar nominees; enjoying Reba's reign over KFC; and standing up and clapping for this cow who ran off to live with wild bison. Live your best life, cow.
Also, Nutella discounts have created grocery store riots in France. It's the first time we've ever felt French, tbh.
Mash-Ups In The News:
Can Planet Earth Feed 10 Billion People? 
Today, there are about 7.6 billion people living on Earth. By 2050, there will be close to 10 billion, and if we don't make huge changes in our consumption and sustainability, our children and future generations may suffer the consequences. The question is, what kinds of actions should we be taking? And what kind of world do we want to leave behind?
via Atlantic
9 Activists Face Federal Charges After Leaving Water In The Desert For Migrants
Helping to save human lives shouldn't be illegal. While we call that common sense, nine members of the group No More Deaths were charged with federal crimes for doing just that. We're locking up humanitarians now.
via The Intercept
Does Speaking Spanish Make You Latino?
Are cultures and identities made of languages? Are Latinos who speak Spanglish, English, or even Korean just "Latinos by name"? Each generation makes choices about how they express and hold onto their identity, and while language can be a powerful connector, shared experiences, traditions and stories could be just as defining.
via Chicago Tribune
The We Love You project is a remarkable photo series of 1,000 portraits featuring Black males of all ages, just being. It's a reminder of how important it is for all of us to have our humanness, in all its forms, represented.
via Google
Why Ancient Greek Sculptures Have Small Penises 
Admit it. You've wondered about this too. You might have convinced yourself their members suffered the fate of ancient noses, but really it's just a matter of changing cultural symbolism when it comes to penises! Greek male nudes represented their culture's ideals of beauty and power, so the size of their penises are pretty revealing.
via Artsy
How DNA Testing Botched My Family's Heritage, And Probably Yours Too 
DNA testing can be surprising, and even "identity-disrupting" — but the results don't always mean what you think they do. We still have a fundamental misunderstanding of what an ancestry DNA test even does, even as these tests have grown into a phenomenon. No matter what these tests might say, DNA makes up your body — but your culture and identity is still made by you.
via Gizmodo
A Sanctuary For Immigrants: Hugely Symbolic, Rarely Used
Judson Memorial Church is one of nearly 800 to join the sanctuary movement, providing safety and housing to those who face deportation. But while these churches might represent acceptance and protection, the reality is always more complicated. A sanctuary isn't just a place to hide, it should be a place that makes you feel like "a dignified human being again."
via NPR
For Love Of Country, And Each Other 
Captain Hall and Captain Franchino served our country under a policy that told them to lie about who they are and who they love, but against all odds they still managed to find love together once Don't Ask Don't Tell was overturned in 2011. This year? They got married.
via New York Times
Which Immigrants Learn English The Fastest? 
Trump thinks people from "shithole" countries can't learn English or assimilate as quickly as the those from the European countries he deems "worthy" of immigrating to the U.S. According to US census data, the fastest-learning nationalities are not from wealthy countries of origin, and include Mexico and African countries that Trump has vehemently dismissed.
via Quartz
How Francis Lam Became the Voice of America's Food Culture
Our podcast cuz Francis is one of our favorite mash-up gourmets, and his journey to becoming one of America's favorite foodie storytellers is an experience we can relate to.
via Washington Post
The White House Asked To Borrow A Van Gogh. The Guggenheim Responded Perfectly
We all wished we were the Guggenheim this week, after they presented the most brutal and fitting alternative to Trump's requested Van Gogh: A solid gold toilet titled "America" that is, yes, fully functioning and yes, thoroughly tested. A truly fitting throne for the sitting President.
via Washington Post
Team Mash-Up is the brain trust of smart minds and savvy creators, that builds all the cool stuff you see here.