Mash-Up Round-Up: Naomi Osaka Rules + Men Talk Too Much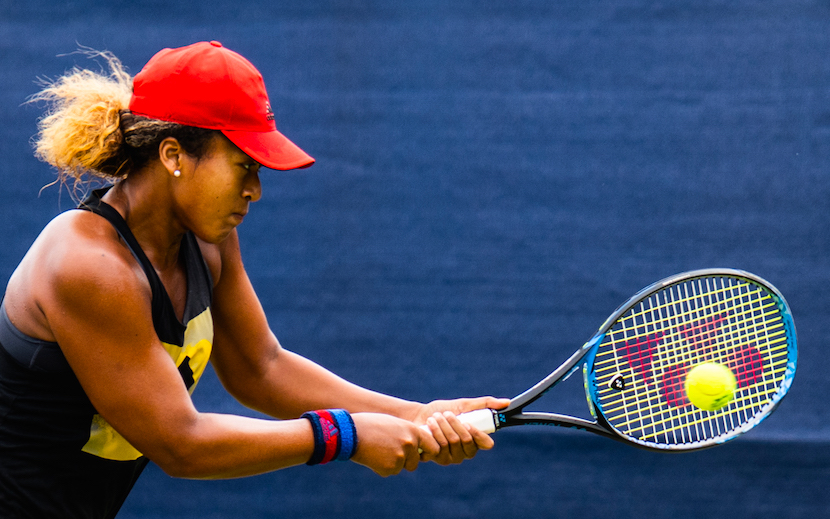 The week of September 15, 2018 is blushing alongside our new favorite Haitian-Japanese Mash-Up; being SHOCKED (not at all shocked) that men speak over women all.the.time; and the worst google of the week.
U.S. Has Highest Share of Foreign-Born Since 1910, With More Coming From Asia
The foreign-born population in the United States is at its highest point in a century, and over 40% are from Asia and 45% have college degrees. The Future is Mash-Up.
via New York Times
A Los Feliz Dry Cleaner Walks Us Through His Collection Of Celebrity Headshots
Tim Curry, Drake Bell, Sherman Hemsley, Oprah, and Barry from Storage Wars all have one thing in common: They've been to Celebrity Cleaners, the kings of celebrity headshot and signature collecting. You ever want to feel like a celeb? Bring a photo and a sharpie to their store, and you might just get added to collection.
via LA Mag
From the first "double eyelid" surgery in 1896 Japan to "The Talk's"Julie Chen, this procedure has a complicated and controversial history, meaning, and stigma around the world. Getting surgery to match South Korea's standards of beauty means you might face the condescending shaming by Americans for "trying to look white." A) What? and B) There's no way to win.
via 99 Percent Invisible
My Childhood In The Closet With My Mother's Clothing
There I was, 4 years old, decked out in my sister's prettiest dress. Women's clothes were always much more stimulating to my imagination. That summer day, in 1933, as my back was pinned to the dining room wall, my eyes spattering tears all over the pink organdy full-skirted dress, my mother beat the hell out of me and threatened every bone in my uninhibited body if I wore girls' clothes again. — Bill Cunningham
via Medium
Senator Tammy Duckworth On The Attack That Took Her Legs—And Having A Baby At 50
Senator Tammy Duckworth is a Thai-Chinese Mash-Up, a female amputee veteran with a Purple Heart, a mother who survived "geriatric pregnancy" and so so much more. She's fearless, she's the epitome of strength and perseverance, and she's the real-life hero America needs now and always.
via Vogue
The American Mango Is A Bland Disappointment
Fun fact: American mangoes suck. Don't believe us? Then you've only eaten American mangoes, and you don't know what you're missing. What you're missing BTW is Indian mangoes — the music, poetry, art, and religion-inspiring fruit, for which Indian expats will pay hundreds for the shipment of a single box.
via The Atlantic
Americans Are Shifting The Rest Of Their Identity To Match Their Politics
Are you a Democrat because you identify as Latinx, or do you identify as Latinx because you're a Democrat? A recent survey showed changes in responses regarding ethnicity, religion, and sexuality were closely associated with changes in political views.
via FiveThirtyEight
Famous Abusers Seek Easy Forgiveness. Rosh Hashanah Teaches Us Repentance Is Hard
It's hardly been a year since they were off our TVs, and they're already trying to make their triumphant comebacks. In this situation, we all could learn a little from Rosh Hashanah, which teaches that repentance is hard work, and there are no shortcuts to atonement.
via Washington Post
The Crazy Contentious History Of Taco Tuesday
Taco Tuesdays are ubiquitous. But did you know there's a whole lotta controversy about who owns the trademark to the restaurant equivalent of MCM or Casual Friday? Steven Alvaraz puts it best: "Among Mexican folks, we don't need to call it 'Taco Tuesday'; we just call it 'Tuesday.'"
Meanwhile, Taco Bell was voted Best Mexican Restaurant in the Country and we're horrified.
via Los Angeles Times
Why Stripping U.S. Citizens Of Their Passports Is A Precursor To Genocide
"It can't happen here" is a false statement. It has happened here, it is happening here, and it will happen here if we don't actively work to stop it. Jews in 1938 Germany had their passports declared invalid, exactly what we've seen begin happen to Hispanic citizens along the U.S.-Mexico border. This is happening now. Be on the right side of history and make your descendants proud.
via Harpers Bazaar
Planned Parenthood Chooses Baltimore's Health Commissioner As Its Next President
"A core principle in public health is to go where the need is…The single biggest public health catastrophe of our time is the threat to women's health and the health of our most vulnerable communities."
Dr. Leana Wen's family immigrated to the U.S. from China and relied on Medicaid, food stamps, and medical care from Planned Parenthood. And she's here to save lives, and maybe part of our soul.
via NPR
Team Mash-Up is the brain trust of smart minds and savvy creators, that builds all the cool stuff you see here.