Mash-Up Round-Up: A Proper Breakfast Sandwich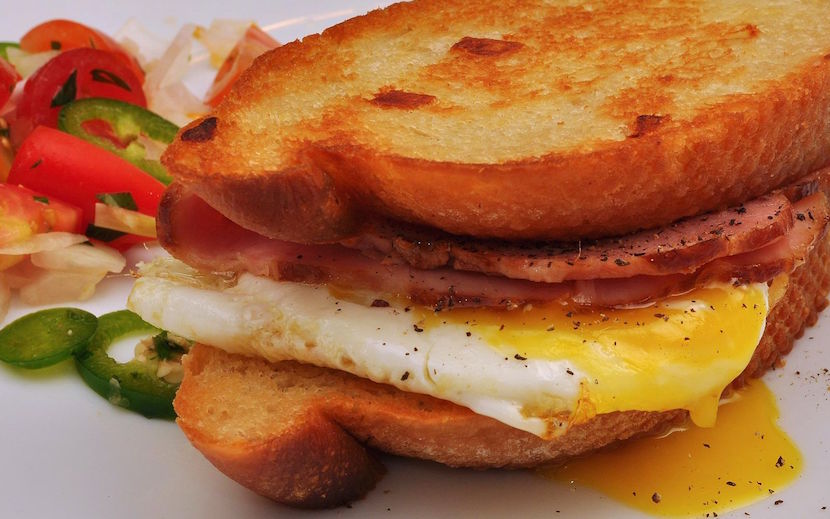 The week of February 17, 2018 was the Today Show disrespecting our girl Chloe Kim with a bad breakfast sandwich; celebrating shabbos with octogenarians at Wendy's; and bopping to Nas at the Kennedy Center. We old.
Mash-Ups In The News:
Why Can't The U.S. Treat Gun Violence As A Public-Health Problem?
The Center for Disease Control keeps track of car accidents and suicides, both of which have been drastically reduced by this study, but why is there no research on gun deaths? It all goes back to a 1996 amendment pushed by the NRA that prevents the CDC from studying these preventable deaths.
via Atlantic
A History Of Manila In 9 Dishes
We are always fascinated by the way food and travel and colonization and migration and history and general mashing up is reflected in food and spices. And Manila is at the crossroads of pretty much all of it. Pancit is a result of the noodles Chinese traders brought in the 9th century, and the the lechon and paella introduced by Spanish colonizers (and much improved upon!). Thinking of heading to Manila ASAP.
via Roads and Kingdoms
The Bittersweet Beauty Of Adam Rippon
In less than a week, Adam Rippon made history as the first openly gay American Winter Olympian, earned the U.S. team a bronze medal, and became America's sassy sweetheart. Read this incredibly moving essay from a gay man about what it means to see this extremely talented athlete be entirely and openly himself.
via Vanity Fair
New Children's Book Shatters Monolithic Depictions Of Motherhood
"Mamas work hard to care for their babies." Juniper Fitzgerald and Elise Peterson's new picture book, 'How Mamas Love Their Babies,' shows the many ways that mothers use their bodies to take care of and love their children, from hands tilling farmland to feet dancing in strip clubs. Love and security takes all forms.
via Colorlines
Defying Experts, NBC Clings To Its PyeongChang Pronunciation
We didn't realize how much we needed these Olympics and have been devouring them like crazy. However, when you tune in to NBC, you'll hear "Pyeong-Chayng" from nearly every broadcaster — despite being told by experts, including its own Korean American employees, that it should be pronounced "Pyung-Chahng." America, your America is showing.
via Washington Post
Bryan Stevenson On Well-Meaning White People
"I actually believe that we can create communities in this country where people are less burdened by our history of racial inequality. I believe it, even though I haven't seen it, and I just think that hope has real power in how you live and how you function. I don't think we're allowed, frankly, to get hopeless and beat down, and I think that's the upside to understanding this history. The more we understand the depth of that suffering, the more we understand the power of people to cope and overcome and survive—because my grandmother was the daughter of people who were enslaved, and her father was in her ear every day of her life talking about slavery, and she was in my ear, I feel the force of their strength. I really do."
Attorney Bryan Stevenson works every day to right the wrongs of mass incarceration and institutionalized racism. And he is hopeful.
via Pacific Standard
The White House's Weekly 'Immigrant Crime' Tally Includes Non-Crimes and Non-Immigrants
The Trump White House has their own version of the Mash-Up Round-Up, and just like ours, the "Immigration Crime Stories Round-Up" includes no stories about undocumented immigrants committing crimes…because there aren't any! The Trump administration has sought to push this "criminal immigrant" narrative despite extensive evidence that immigrants are much less likely to commit crimes than native-born Americans.
via Washington Post
He's The First Asian American Dancer In 'Magic Mike Live' And His Fans Are Proud Of Him
Patrick Packing is the first Asian American in "Magic Mike Live" and we're ready to drop everything for a Mash-Up party road trip to Vegas if anyone is offering. Asian audience members are leaping to their feet when Packing appears in a velvet sleeveless suit, and we've never related more.
via PRI
Team Mash-Up is the brain trust of smart minds and savvy creators, that builds all the cool stuff you see here.