Mash-Up Round-Up: Gout Makes A Comeback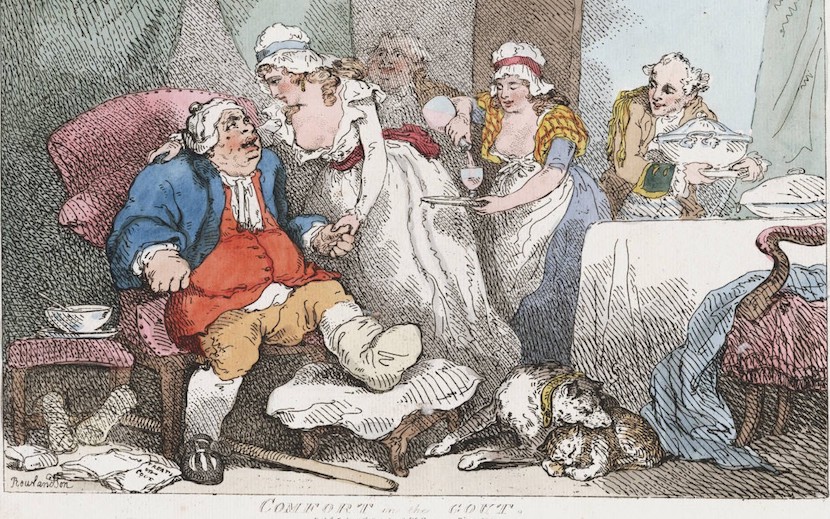 The week of January 5, 2019 was back to school for some D+D action; Bey and Jay go vegan and want us to do it too (NOPE); and god bless Ronny Chieng, international treasure. The way we do it is normal, people!!
---
Mash-Ups In The News:
Emergency Medical Responders Confront Racial Bias
EMTs are often the first line of medical care we get. And they are also human, which means that research has shown that unconscious biases affect the treatment they give. For example, they are much less likely to give Black patients pain medication than they are white patients.
via NPR
Shutdown Leaves Food, Medicine And Pay In Doubt In Indian Country
More dire than cancelled trips to national parks, Native American tribes across the country have found their functions crippled without federal funding — funding guaranteed through treaties with the U.S. government.

"The federal government owes us this: We prepaid with millions of acres of land…We don't have the right to take back that land, so we expect the federal government to fulfill its treaty and trust responsibility."
via New York Times
Why Netflix Blocked An episode Of Patriot Act From Streaming In Saudi Arabia
We know you've been bingeing Patriot Act by our very close friend Hasan Minhaj, but there's one episode that's been banned in Saudi for criticizing Crown Prince Mohammed bin Salman, AKA the person widely believed to be responsible for the murder of Washington Post journalist Jamal Khashoggi. The banned bit is still on YouTube. Let's all watch it, eh?
via VOX
A Brief History Of Cheddar Cheese
How did cheddar rise to be King Cheese? What makes cheddar cheese so distinctive from its queso brethren? What is "cheddaring"? We've got so many questions about the cheese we all take for granted, and this article has the answers.
via Saveur
The Faces Behind Transgender Troops' Struggles For Acceptance
With the uncertain fate of the ban on transgender members of the armed forces, it's essential we see and understand the lives and people who might be denied their right to serve. These are the faces of our American military.
via Smithsonian
Gout is the new American status symbol of the late 2010s, and we are … not here for it, but also happy to be off the "clean eating" train. Why gout? A rebellion against the goop-ification of the world, rising obesity rates, and, ironically, a fad diet pendulum swing that has slender keto and paleo followers packing enough fat into their diets to eat themselves into an ancient disease.
via The Cut
How Skin Care Companies Are Tackling Issues Faced By Women Of Color
It's not just offering different shades of foundation and blush — Mash-Up women and their skin have specific challenges from hyperpigmentation to pore and sebum maintenance. One common denominator? Obviously Black Don't Crack and Asian Don't Raisin but also everybody slather on that sunscreen, k?
via New York Times
Finding Chinese Food, And Home, In Nashville
"For my family, love has always been like playing a game of catch in the dark. We all reach out to each other in our own ways, but we stumble over our words, groping for meaning in the space between our cultures."

Frank Shyong, one of our Mash-Ups To Know, says all the words.
via Los Angeles Times
What To Know About Surviving R. Kelly 
This stunning documentary detailing the abuse allegations against the singer questions why, with decades of evidence and reporting, R. Kelly's popularity and music sales remain relatively unscathed. We're not big into trigger warnings, but … major trigger warning here.
via The Cut
All Hail Our Historic New Congressional Class 

Onward.
via Refinery 29
Team Mash-Up is the brain trust of smart minds and savvy creators, that builds all the cool stuff you see here.