Mash-Up Round-Up: Rise of the Asian Mean Girl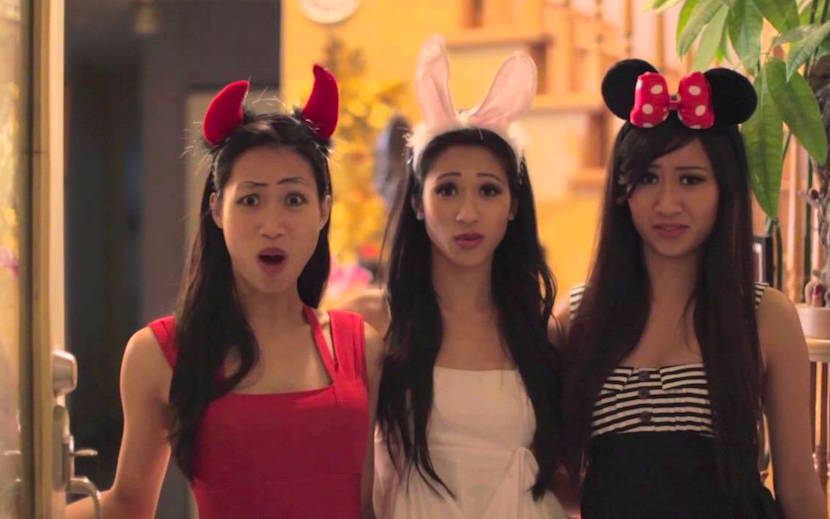 The week of May 5, 2018 was the black delegation trades Kanye for Michelle Wolf; our concise thoughts on the redistribution of sex; and getting rich and not apologizing for it. C.R.E.A.M.
The Rise of the Asian Mean Girl
Hollywood's typical Mean Girl™ is the blonde, blue-eyed manipulator, always ready with those biting one-liners. But there's a new mean girl in town, and she's trading in her books and glasses for high heels and that slow-mo hallway strut. It's the rise of the Asian mean girl.
via Teen Vogue
The peanut has been around the world and back, from the Bolivian Andes to the state of Georgia. The South holds the peanut monopoly in the U.S. and they take goobers to the next level. Have you ever had a boiled peanut? Did you even know that's a thing? Peanuts are a way of life, and there's so much more to learn about them.
via Bitter Southerner
Americans Are A Lonely Lot, And Young People Bear The Heaviest Burden
Loneliness has basically become the new status quo in America, and our younger generations are feeling more alone and left out than anyone else. Loneliness can kill, and a lack of social connection is now considered a social determinant of health. We should be worried that it's infecting our kids so early in life.
via NPR
When Ted Ngoy arrived in California, he had never eaten a donut. Ten years later, Ted was "The Donut King," living the American Dream and making $100,000 a month with his donut shop empire — until he completely disappeared. Join Sporkful on their quest, exploring the world Ted the Donut King built, and their efforts to find the king himself.
via Sporkful
In 1931, Zora Neale Hurston sought to publish the story of Cudjo Lewis, the final slave-ship survivor. Her book has waited in a vault to see the light of day, and now Lewis's story will be heard — nearly 80 years after it was told.
via Vulture
A Search For The Native Children Who Died on 'Outings' In Pennsylvania
Libbie Standing was one of thousands of missing Native children who died after being "taken into government custody." Used as cheap labor under the guise of "cultural immersion" and "assimilation," people are awakening to the truth behind Indian Boarding Schools, and now they're demanding answers. Sarah Eagle Heart educated us on boarding schools on our podcast not long ago.
via Philly
How Ferrero Rocher Became A Status Symbol For Immigrant Families
Eating a Ferrero Rocher is a religious experience, but for immigrant families it was also a part of the American Experience, a symbol of "the good life" and decadence. The box of gold (aluminum) foiled hazelnut balls was a sign you had "made it." You want to impress at your next Mash-Up dinner party? Bring a box of these creamy and crunchy beauties (the 24 pack, of course) and enjoy your new life-long friends.
via Thrillist
Uber's Head of Diversity On The Big Mistake When Thinking About Inclusion
Bo Young Lee, Uber's new chief diversity officer, is challenging you to rethink how you think about inclusion. We often start by asking "How do they think?" rather than looking inward and asking "How am I thinking?" Question your norms, consider your POV, and take into account your cultural orientation. We all have our own biases and default positions, and acknowledging that is when real change can occur.
via Quartz
America Is More Diverse Than Ever — But Still Segregated
By 2044, the minorities of the United States will likely become the majority. But given how segregated we are now, we might hardly notice a difference. The Washington Post analyzed census data from 1990, 2000, 2010, and 2016, and their maps show how groups are separated, and which areas are the most diverse. Who our neighbors are can change our daily lives and lived experiences, so understanding who lives where is essential to understanding the unseen boundaries that still divide us.
via Washington Post
'I'm Not A Hero,' Says James Shaw Jr., Acclaimed As Hero Of Waffle House Attack
"I did that completely out of a selfish act. I was completely doing it just to save myself. Now, me doing that, I did save other people. But I don't want people to think that I was the Terminator, or Superman or anybody like that. It was just, I figured if I was going to die, he was going to have to work for it."
Last month, James Shaw Jr. saved dozens of lives when he single-handedly disarmed an active shooter at a Waffle House — and he did it without a gun. If that weren't enough, Shaw has also started a Go Fund Me page to benefit the families of the attack's victims.
via NPR
Team Mash-Up is the brain trust of smart minds and savvy creators, that builds all the cool stuff you see here.