Reimagining The "Ethnic" Aisle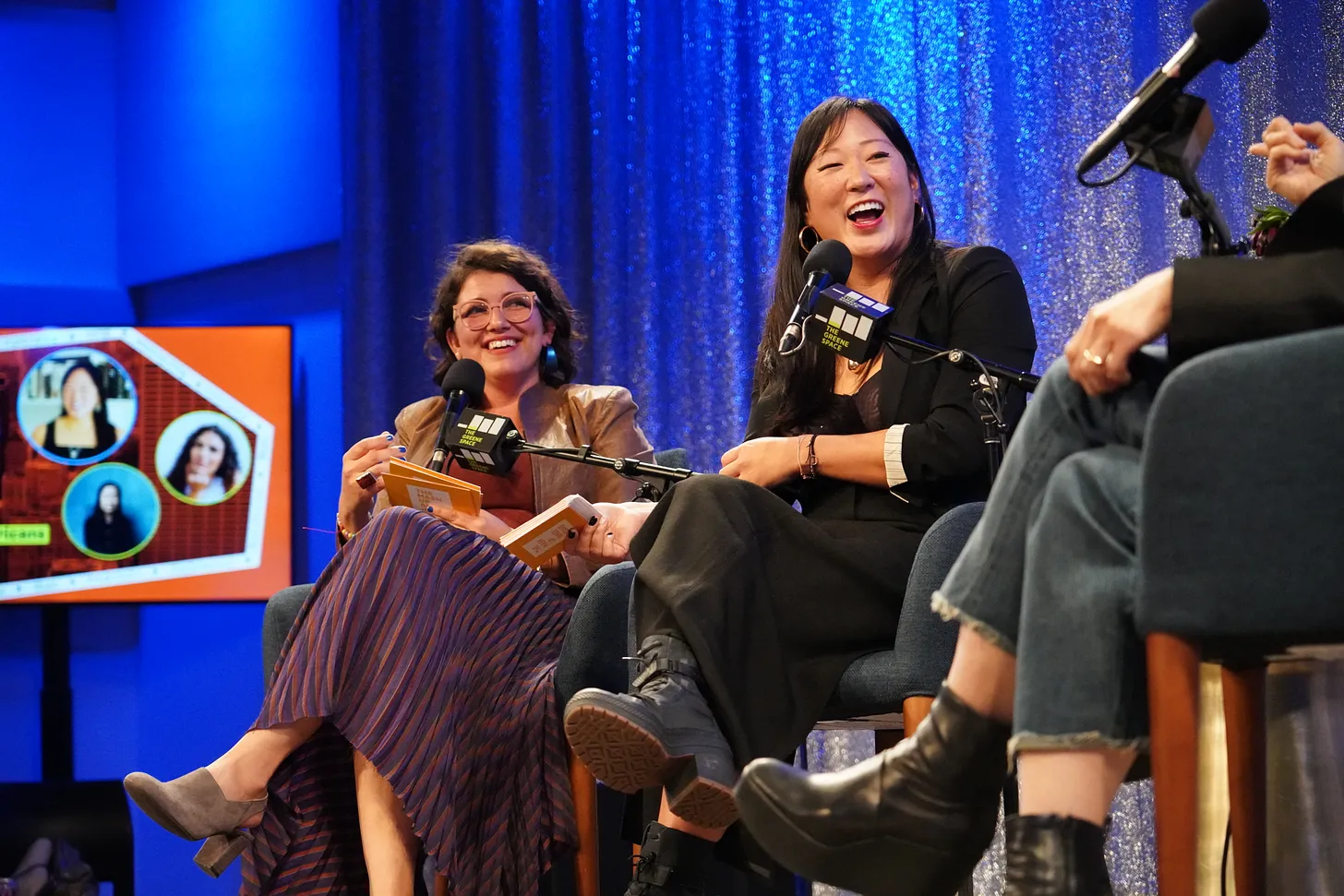 This Week In Mash-Up America
The week of November 11, 2023 was getting excited for our Ethnic Aisle event at WNYC's The Greene Space on November 16. In the second installment of our residency, we'll sit down with Jaeki Cho, the face of Righteous Eats, and League of Kitchens founder Lisa Kyung Gross to rethink American food, explore what makes an item "ethnic," examine what hospitality means, and create the culture of the future, starting with what's on our plates.

Tickets include access to a League of Kitchens "mash-up" market featuring a spice demo from Burlap & Barrel, beer tastings with Harlem Blue, hot dogs from Chaat Dog, rice dishes from Terenga, and dishes from Uzbekistan and Indonesia!
The Mash-Up Americans:

Love Hard And Set Boundaries With Dr. Pooja Lakshmin

Where there are boundaries, there's also healing, love, grief, and acceptance, explains Dr. Pooja Lakshmin — but getting there is often a painful, awkward journey. The board-certified psychiatrist and bestselling author joins Amy and Rebecca to talk about boundary-setting as self-liberation, fake vs. real self-care, and the endless mash-up guilt that comes with saying no.

Here's a cheat sheet you'll want to print out/repeat aloud/tattoo on your forehead: Dr. Pooja's Guide to Setting Boundaries.
Mash-Ups In The News:
A History Of America's Culture Wars In Fashion
BLOOMBERG
What do the clothes we wear say about us, and how does the meaning of our clothes change over time? Derek Guy explores the cultural and social battles that have reshaped the legacies of everything from skinny jeans to Doc Martens. 
Erewhon's Secrets
THE CUT
We've all heard about the Hailey Bieber smoothie, but what's the deal with Erewhon, really? Read how the health-food sect started in the 1960s by two macrobiotic enthusiasts became the most culty grocer in L.A.
Preparing To Fly In "Puffling"
THE NEW YORKER
"Grab some popcorn and settle in for this heart-warming, alternative tale of girlhood. In Jessica Bishopp's meditative short film, Puffling, teenagers in Iceland make it their mission to rescue lost puffins.
Advent Calendars, Explained: Where They Came From And Why They're Everywhere Now
NPR
Sephora has them filled with makeup, Bonne Maman has them with jam, you can find ones with hot sauce — there are even "Hanukkah calendars." Take a look at the history of Advent calendars and what makes them so popular.
Latinos Have Been Raising The Flag On Climate Change. Now It's Time To Listen
LOS ANGELES TIMES
In this rousing piece, JP Brammer says "a staggering 81% of Latinos in the U.S. consider addressing climate change to be a priority compared to 61% of non-Latinos…It's time to take Latinos' lead on this issue as we prepare for a perilous future."
How Young Floridians Are Fighting "Florida-Grown Fascism" Under Ron DeSantis
TEEN VOGUE
Because f that guy. Teen Vogue met with more than 20 young people around The Sunshine State who are taking a stand against DeSantis and his radical crusade against marginalized young folks.
Asian Malls In The U.S. Are Thriving Post-Pandemic, Bucking A Retail Trend
NBC NEWS
"As traditional U.S. malls struggle to reinvent themselves, those that cater to Asian customers are emerging as popular destinations that blend shopping and community." We're so here for it.
UC Berkeley Takes Significant Step To Repatriate 4,400 Native American Human Remains
PRO PUBLICA
Slow clap, but go on. UC Berkeley's lagged behind in returning its 9,000 holdings under the Native American Graves Protection and Repatriation Act, but is now looking to repatriate nearly half.
Forgetting My First Language
THE NEW YORKER
One writer's struggle to retain her first language "feels isolating but isn't unique; it's a shared pain common among first- and second-generation immigrants." But thanks to her growing dependence on translation apps, her bond with her parents grows stronger.
How the Fossil-Fuel Lobby Weaponized Julia Child's Gas Stove
VOX
Spoiler: It wasn't just Julia Child's stove, either. The fossil-fuel lobby was all over Hollywood in general during the 1960s and '70s, it seems — and still use social media influencers to spread their propanda today.
Team Mash-Up is the brain trust of smart minds and savvy creators, that builds all the cool stuff you see here.