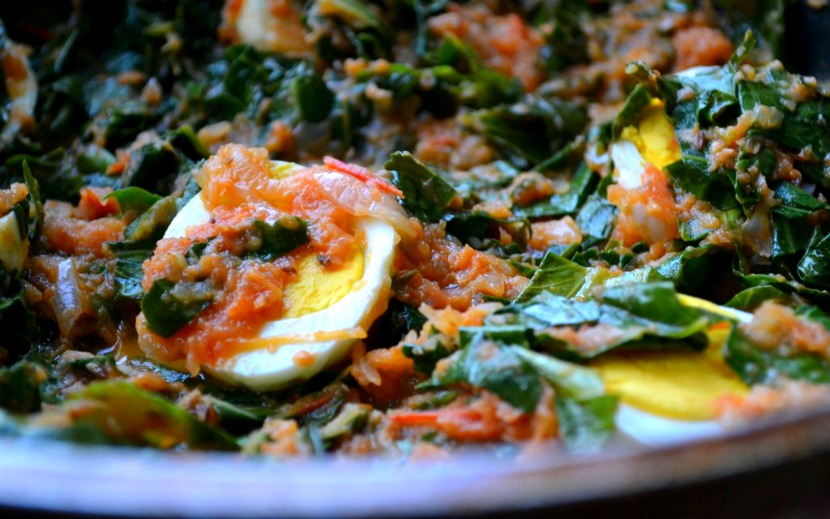 Eggs abound in springtime! But Mash-Ups don't have to resign themselves to egg salad or matzo brei to enjoy the bounty. If you're suffering a mid-Passover food slump, we got you covered. Here, our Indian-American Mash-Up Nishta Mehra shares her mom's delicious kosher-for-Passover egg curry recipe. This is especially handy if you still have egg leftovers from your (duh) interfaith Easter. Get your masala on, kids.
Curry is one of those terms that has come to stand for so many things that now it means almost nothing at all. Or, maybe, it means lots of different things to lots of different cultures, though people outside of those cultures tend to think that "curry" always means the same thing — a soupy-ish sauce served over rice. But I'll save the soapbox for another day! Here's my mom's version of egg curry, only the tiniest bit adapted by me. By "adapted by me" I mean mostly "actual measurements provided by me," since my mom, like every Indian mother and grandmother in the world, never measures a thing and instead tells you, "enough," when you ask her how much seasoning to add to a dish. [Editor's note: No seriously. Why do no Mash-Up moms use measurements?]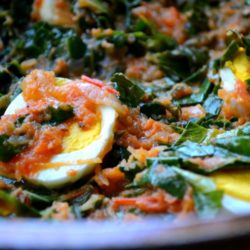 Nishta's Mom's Egg Curry
Use Easter leftovers in this kosher-for-Passover Indian dish.
Ingredients
Curry Sauce ingredients
½

of a Serrano pepper

seeded & roughly chopped

2-

inch

piece of ginger

peeled & roughly chopped

3

cloves

garlic

peeled & roughly chopped

2

small yellow onions

peeled & sliced

4

Roma tomatoes

roughly chopped

pinch

of cumin seeds

1

bay leaf

2-3

tbsp

of vegetable oil or ghee (clarified butter)

1-2

tbsp

butter

salt

½

tsp

ground cumin

½

tsp

ground coriander

¼

tsp

garam masala
Egg Curry ingredients
Curry sauce that you just made (see recipe below)

6

hard boiled eggs

peeled and halved

A couple handfuls washed and chopped greens such as kale, chard, arugula, collards, or spinach
Instructions
First, make the Curry Sauce
In a heavy-bottomed pan, heat the oil or ghee over medium to medium-high until quite hot but not smoking.

Toss in the cumin seeds — they should splutter and crack immediately.

After 30 seconds, turn the heat down to medium-low and toss in the Serrano, ginger, garlic, onions, and bay leaf.

Cook, stirring periodically, until everything has softened a bit, for 4-5 minutes.

Add the tomatoes, along with the butter and sprinkling of salt.

Smush the tomatoes with the back of your cooking spoon, then cover the pan and leave it alone for another 5-6 minutes.

Check the curry by dragging your spoon along the bottom of the pan — if it makes a clear trail, then you can take the pan off of the heat.

Cool for a bit before removing the bay leaf and tossing everything else into the blender.
Then, make the Egg Curry
Sauté the greens in a bit of the fat of your choice, adding a splash of water and salt, and, if they're on the bitter side, a drizzle of honey.

Then fit the pan with the lid and let the greens wilt for 5-8 minutes.

Add the prepared curry sauce to the pan, thinning with a little water, if needed.

Stir and warm over medium-low heat until simmering, then season with the ground cumin, coriander, and garam masala.

Taste for salt adjust as necessary.

Gently place the hard boiled egg halves in the pan, and nudge the sauce around to cover them. Allow everything to heat through before serving.
Serve with Basmati rice and plain yogurt. Enjoy!
Notes
You can make the curry sauce ahead of time, and store in the refrigerator until you're ready to use it.
Nishta J. Mehra was born and raised in Memphis, Tenn., the proud first-generation daughter of Indian immigrants, which means she can make both saag paneer and buttermilk biscuits from scratch. Author of The Pomegranate King, she is currently at work on her second collection of essays, Making Space: On Parenthood, Family, and (Not) Passing, forthcoming from Picador. She teaches high school English in Texas with her wife, Jill, and their son Shiv. Follow her @bluejeangourmet.