Mash-Up Round-Up: Beef Jerky + Mania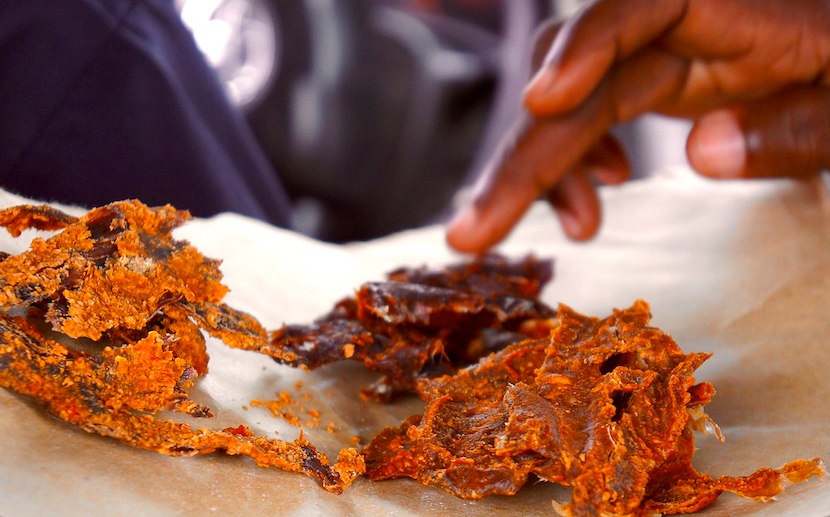 The week of July 28, 2018 was ceasing all consumption of beef jerky, our favorite snack; celebrating a special circle of vandals; and looking up every address we've ever had on this extremely addictive map.
RIP Jonathan Gold. He evangelized that the greatness of Los Angeles lies in its mashiness.
Mash-Ups In The News:
The World's First Non-Korean K-Pop Group
Korean boy band with no Koreans…so a boy band. Nah.
via Vice
Why Women Volunteer for Tasks That Don't Lead to Promotions
They're time-consuming, they're unlikely to drive revenue or be included in your performance evaluation, they're the jobs nobody wants to do. They're also the jobs women disproportionately are saddled with doing. It can be incredibly detrimental to career enhancement.
via HBR
Yes, They Came As Refugees, But on 'Queen Sugar' This Family From Vietnam Gets To Be So Much More
"I've played the sobbing mom clutching her child who died from the war multiple times, and it was nice to not have to cry and to have kids who were alive. I'm a refugee child, but there was always a lot of laughter in my family, even when my parents were working three jobs around the clock. Maybe it was part of our survival skills."
via PRI
A Toxic Town, a Search for Answers
Ayne Amjad is continuing the promise of her late father, standing up for the people of Minden who have been poisoned by the cancer-linked PCBs (polychlorinated biphenyls) left by the now-defunct Shaffer Equipment Co. The poor "get the shaft," and there's little chance of a Hollywood happy ending, but she's continuing the fight for the people who need it.
via Washington Post
On Monolids And The Language Of Beauty
"It's important to have the crease or your person won't look real." Oh boy. Does having a crease in your eyelid define what's real?
via Nylon
Actress Awkwafina Brings Her Unbottled Charm to the Silver Screen
We're some OG Awkwafina fans here at Mash-Up, cos this girl is a star. From her grandmother to her "saving grace" Margaret Cho, Awkwafina talks on bringing weird food to lunch and getting that sweet, sweet representation growing up — "because if you don't have that, you can't materialize any dream."
via Vogue
America's Wholesome Square Dancing Tradition Is A Tool Of White Supremacy
You probably had to square dance in gym class for a week, and you've got Henry Ford to blame for that injustice. Twenty-eight out of 50 states have declared square dancing their official dance, but how did this happen? The short answer: Racism and anti-Semitism. The long answer: It all started with Henry Ford's fear of jazz music…
via Quartz
Year after year, the world's largest water tasting ("the Academy Awards of Water") continues to happen — in a state where too many towns don't even have clean tap water. What makes a good water? How do you get a "water-taster certificate"? How is this a real thing? Eater attempts to answer these questions and more.
via Eater
An Iranian Caricaturist Got a Visa Despite the Travel Ban. Now She's Drawing Trump
"I made his character a wild animal stamped 'Made in Russia.'"
Ms. Sheykhi received the "Einstein visa," (the famous people and extraordinary ability visa) after the Trump administration's ban on travel from several predominantly Muslim countries. Extraordinary ability indeed, she's now making art that reflects the true essence of Trump himself.
via NY Times
There's an Army of Local Lawyers Itching to Fight Trump's Policies
"It was a relief thousands of people were banding together, because it meant we could actually do something instead of just sitting on the sidelines not knowing what steps to take."
Veronica Walther assisted about 20 women who had been detained while seeking asylum for themselves and their children. Now, Walther is organizing other attorneys to volunteer remotely, helping prepare legal briefs on behalf of asylum seekers, or to volunteer in the detention centers themselves.
via Bloomberg
Team Mash-Up is the brain trust of smart minds and savvy creators, that builds all the cool stuff you see here.