Mash-Up Round-Up: Ellen and Obama + Model Minority Myths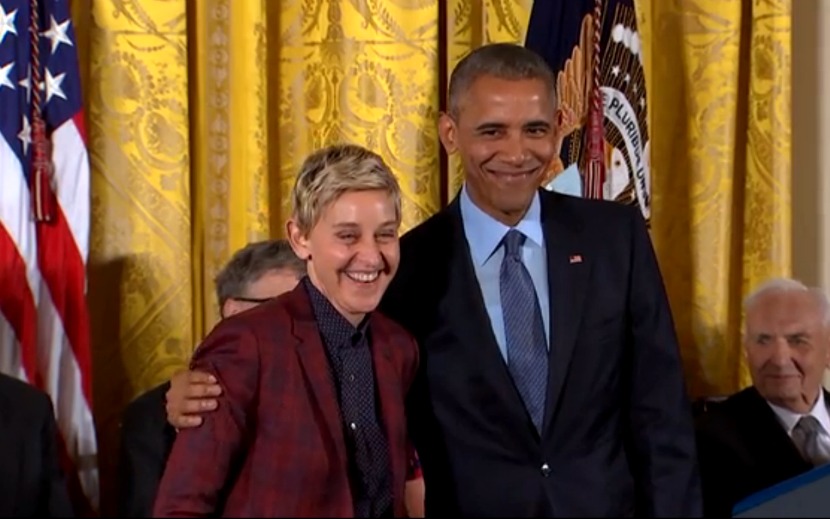 The week of November 26, 2016 was visiting our new BFF, the Humpback Whale of the Hudson; weeping uncontrollably about Ellen and Obama; and thinking about "feeling fat." No seriously, really thinking about it.
Mash-Ups In The News:
Socialized French Medicine = Pretty Awesome!
In France, Jake Lamar nearly died of a defective aortic valve, the kind of invisible time bomb we all have nightmares about. Because of France's "socialized medicine" (what Obamacare opponents have nightmares about), having his freak health crisis abroad likely saved his life, and cost less than $1500 to treat. France also has one of the world's longest lunch breaks. Point, France.
via LA Times
11 Things You Need To Know About Standing Rock And #NoDAPL
A very useful primer on the escalation of violence at Standing Rock. Indigenous scholars and activists have also created a Standing Rock Syllabus, including PDFs for articles, maps showing the gradual loss of Native land, and other readings that are essential to understanding Indigenous struggles, particularly at the Dakota Access Pipeline.
via Buzzfeed
There Are No More Secrets In Sperm Donation
Mapping your genome is fascinating for any Mash-Up, and thanks to affordable genetic testing (who knew we were so Neanderthal?) it's easier than ever to learn about your genetic roots. This is especially true for people fathered by anonymous sperm donors. But does the knowledge change who we are? How much does our genetic identity inform our cultural one?
via New York Magazine
What About The Black Working Class?
The white working class is a subject of national obsession, especially during election season. But what about the 4% of Black workers who earn less than minimum wage? "The notion of the white working class implicitly embodies a view of white privilege," says William Spriggs, chief economist for the AFL-CIO. "It implies that things are supposed to be different for them, that they aren't the same, that they aren't going to face the same pressures."
via CNN
How To Be Your Own Light In The Age Of Trump
"Write down what you value; what standards you hold for yourself and for others. Write about your dreams for the future and your hopes for your children. Write about the struggle of your ancestors and how the hardship they overcame shaped the person you are today. Write your biography, write down your memories.
"[Because] they can take everything from you in material terms – your house, your job, your ability to speak and move freely. They cannot take away who you truly are. They can never truly know you, and that is your power." — Sarah Kendzior
via The Correspondent
Every Country's Tourism Slogan In One Insane Map
Many of world's tourism slogans are boring. (Also, we didn't necessarily know that entire countries had tourism slogans.) The U.S.: "It's all within reach." Optimists, we like it! But other slogans, if they don't quite make us pack our bags, at least spark our interest. Argentina beats to our rhythm! Cameroon is all of Africa in one country! And did you know Malaysia is actually truly Asia?!
via Digg
The Algorithm May Be A Little Racist
From car dealerships in the 1980s to Airbnbs today, discrimination in commerce is still rearing its ugly, racist head. As our lives become more entangled in the digital world, so do our identities, making it easier for algorithms to actively discriminate against individuals. We can blame the algorithms, but let's keep in mind that someone had to program them.
via Harvard Business Review
What Older Americans Can Teach Us About The Fight For Civil Rights
What good is our history if we don't learn from it? This article goes beyond the lessons on the civil rights movement we learned in school, and gives us advice and insights directly from the people who lived through it. One gem: Teach your children how not to see themselves as victims.
via TED
The Real Secret to Asian American Success Is Not Education
Asian Americans are out-earning everyone, and most people will trudge out tired model minority myths as the reason why. But studying hard and not complaining isn't what turned the tide for Asian immigrants in this country — it was that when America got slightly less racist towards Asians, opportunities opened up and with that, an avenue to higher pay. Go figure!
via Washington Post
Team Mash-Up is the brain trust of smart minds and savvy creators, that builds all the cool stuff you see here.