Mash-Up Round-Up: The Pope Trolls Trump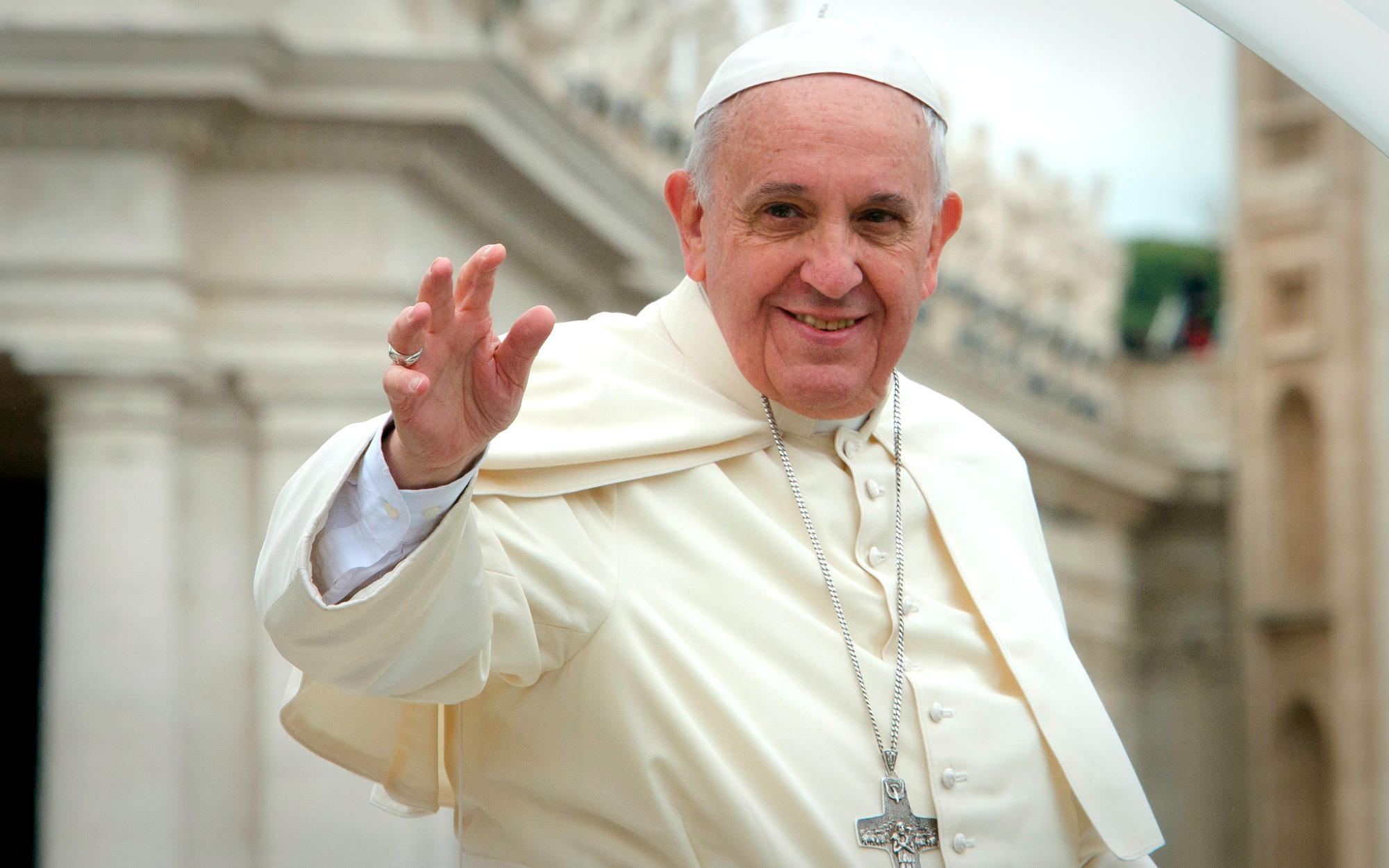 The week of May 27, 2017 is practicing our cursive;getting down with these grannies; and asking the important questions.
LA friends! We're doing a live taping of our show on June 13 and we will definitely all be drinking mezcal when we talk to the fabulous Bricia Lopez of Guelaguetza. Tickets here. See you soon.
🙌🏾 Ramadan Mubarak, Mash-Ups! 🙌🏾
Mash-Ups in the News:
Must Read: New Orleans Mayor On The Removal Of Confederate Statues
Mayor Mitch Landrieu has given one of the best speeches ever about race in America. It is compassionate, humane and calls out the extraordinary hypocrisy of wanting to celebrate some history while completely erasing the rest.
via Pulse
Reggaeton in The Atlantic?! We are converging on Mash-Up America guys. Apurense and read this history of how race plays into reggaeton, which is giving us all the gasolina we need for the long weekend.
via The Atlantic
"About two years ago, I walked into some art event in downtown Manhattan, realized I was the only person of color there, and immediately walked out. I guess my time being a token was over. In this city where emergency vehicles wail like mothers, like the worst has already happened, I have learned not to live in the shadow of whiteness. I have learned that I am the sun, the object and the shadow."
via Buzzfeed
"Master Of None" Is Like Nothing Else On TV
Did we binge watch the entire season in one night? Yes, yes we did. We especially loved the Religion and New York I Love You episodes. This show details the Mash-Up experience and practices profoundempathy in such a smart and entertaining way. If you're a fan too, listen to our interviews with co-creator Alan Yang and writer/co-star Lena Waithe!
via Washington Post
A Dying Mother's Plan: Buy A Gun. Rent A Hotel Room. Kill Her Son.
This Chinese-American Mash-Up was dying of cancer and feared what kind of destruction her schizophrenic son might do in the world. So she killed him. We have so much work to do, specifically as Mash-Ups, to address issues of mental health.
via Los Angeles Times
A Message To 2017 Graduates: Walk.
"What fucking good is gonna come from you hearing about working hard and/or growing from your mistakes when the newly elected most powerful man in world got into his lofty position by doing precisely none of those things? I may as well tell you to start robbing banks. The hell if I know what's gonna work out for you and what won't." Advice? Walk.
via Deadspin
A Family Of Syrian Refugees Launches Canada's Hottest Chocolate Company
Syrian chocolatier flees to Canada, opens chocolate company in Nova Scotia, is successful immediately. Classic rom com! But really, it's a wonderful story about a kid with a sweet tooth who taught himself the art of making chocolate and found peace after war. He believes chocolate and sweetness will help bring peace to people's lives. We don't disagree.
via Saveur
How To Spot A Front Runner On The Bachelorette
Rachel Lindsey is the first Black Bachelorette! And she's so lovely and smart and a lawyer and it makes us very happy. As does this statistical analysis of who might win, because if you can't sometimes take the Bachelorette seriously, what can you take seriously?
via FiveThirtyEight
Fun Fact: 80% of Independent donut shops in L.A. are Cambodian owned. Another fun fact: The reason that donut boxes are pink is because the Cambodian immigrants were being super entrepreneurial and asked: Why do these white donut boxes cost so much? Instead, they bought pink cardboard (cheaper than the white!), because pink is close to red, and red is an auspicious color in Cambodia. Everybody wins.
via Los Angeles Times
Inspo of the Week:
Pope Francis Trolls Trump On Climate Change
The internet was alive and kicking this week during the president's visit to Europe. Have you seen this eye roll? Or this one? No one is trolling Trump harder this week then Papa F — by handing him his encyclical on climate change and saying how we are all tied together by this world we inhabit. Joke's on us though, since Trump doesn't like to read.
via New York Times
Team Mash-Up is the brain trust of smart minds and savvy creators, that builds all the cool stuff you see here.