Mash-Up Round-Up: Vegan White Supremacists + Cat Furniture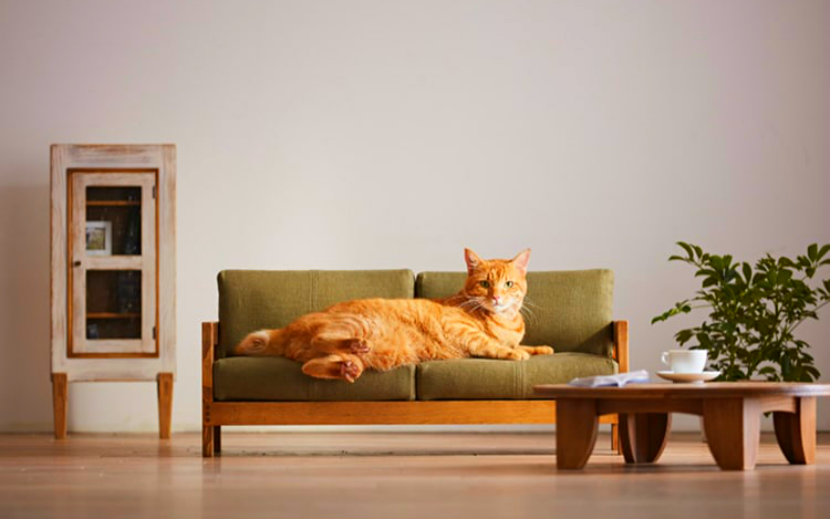 The week of October 28, 2017 was learning that fish get seriously depressed, and it's not a joke (seriously); dogs have particular facial expressions they use to totally exploit their humans; and you can buy miniature Japanese furniture for your cats. All in a week's work, fam.
The new season of the podcast is coming! More in your inbox and ears in just a few days…in the meantime subscribe! And listen to some of your old faves!
Facebook Exec: "Diversity Isn't A Numbers Game"
Maxine Williams has worked and lived her whole life as a Black woman, and now as the global director of diversity at Facebook, and she's teaching "totally unbiased" execs that algorithms and statistics can't "solve diversity" or capture what it feels like to be a marginalized voice in a place of work. Related: Leaders aren't as great at inclusivity as they think they are.
via Harvard Business Review
David Cross, Charlyne Yi, And The Luxury Of Forgetting
Racist jokes and bad "Asian accents" are so ubiquitous that for some people they're as typical as asking for the time. But while wypipo have the privilege of forgetting the careless things they say — the targets of those jokes are left impacted for life.
via GQ
John Cho Went Nude Because There Were No Asian Male Butts Onscreen
We've been deprived of Asian Male Butts™ (and Asian males in general) on our TV shows and movies for far too long! John Cho, as per usual, is coming to the rescue. If you're wondering how many Asians there are on TV this fall season, our friend The Angry Asian Man counted them for you.
via Huffington Post
Why So Many White Supremacists Are Into Veganism
These vegans are no "pacifistic hippies" — for white supremacists, the true vegan archetype is an "Aryan warrior" whose diet shows purity, nobility, and racial superiority by caring for the welfare of "all" sentient creatures. Pretty sure other human beings would count as "sentient creatures," but alright.
via VICE
The Search For "Good" Genes And The Booming Fertility Business
The baby store and catalog you pictured (before you knew where babies actually came from) is becoming closer to the truth. The ways we make our families is changing rapidly, and the fertility industry is transforming along with it. From choosing baby traits to the "Costco" model of babymaking, we're seeing a new generation of high-tech babies who come with a money-back guarantee.
via Washington Post
An Archeological Dig In Israel Unveils Clues About Ancient Food And Drink
Archaeologists stumbled upon giant, ancient wine cellars that would have held the equivalent of more than 20,000 bottles of wine (aka heaven) and now we know more than ever about how people got down 1800 B.C. style.
via New York Times
What The German Language Reveals About Attitudes Towards Work
Language creates worlds and cultures, so German workers greeting their coworkers with "mahlzeit" (meal-time) in Germany or using phrases like "erst die arbeit, dann das vergnügen!" (first work, then pleasure) can reveal a lot about German working culture. Germans care about their free time, and while Germans are some of the least satisfied workers in Europe, they also have some of the highest levels of life satisfaction.
via BBC
Rihanna Fills A Hole In $430 Billion Beauty Market
Playing color chemist is a daily routine for some women of color because the beauty industry too often ignores that brown isn't just brown, but comes in a spectrum. Rihanna's Fenty line, which embraces all shades, has sold out online and in Sephora stores across the country.
via Marketplace
The Uncanny Resurrection Of Dungeons And Dragons
Stories are who we are. Dungeons and Dragons, the roleplaying game of storytelling with elves, dwarves and gnomes (oh my), is making a comeback, tiptoeing around the magical realm of the mainstream. We love this. What are the stories you tell yourself, and why?
via New Yorker
Japanese people are among the most nonreligious people in the world, but spiritual beliefs play a role in the daily lives of most Japanese. It's a culture that deeply honors the dead; which manifests as the proliferation of hauntings, ghosts, and spiritual possessions in the aftermath of catastrophes like earthquakes and tsunamis.
via Longreads
10-Year-Old Immigrant Girl With Cerebral Palsy Detained On Her Way To Surgery
Rosamaria Hernandez, a 10-year-old girl with cerebral palsy, was detained by border control on her way to surgery. She was allowed to go into her operation, but while she recovered, armed Border Patrol agents stood outside her hospital room. We live in a country where undocumented girls like her are treated like high-priority criminals, and the line between life and death is guarded by checkpoints.
via New York Times
Team Mash-Up is the brain trust of smart minds and savvy creators, that builds all the cool stuff you see here.