Mash-Up Round-Up: Gorilla Selfies + Adulting While Millennial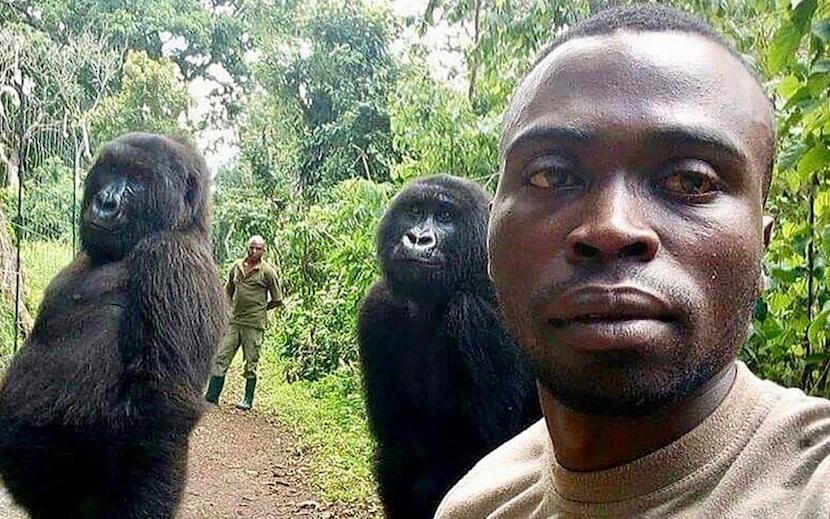 The week of April 27, 2019 was learning about KeanuCon (who's in?); gorillas posing for selfies; and Marsquakes, nbd. Also, this is what a breast actually looks like and it's WILD.
Mash-Ups In The News:
Pineapple on Pizza Is Easy to Hate — At Least in Theory
Our country can be divided on many things. Political parties, Chris preferences, and of course, whether pineapple is allowed on pizza. Even Team Mash-Up is split. Read this for some theories on the topping we love to hate (and hate to love).
via Washington Post
What Do Migrant Kids See When They Visualize 'Home'?
Dioramas of soccer fields, sky blue churches, picnic benches and birds. An exhibit in El Paso is showcasing works of art created by children detained in a migrant border encampment, who just want to be free.
via City Lab
Elizabeth Warren Rolls Out Plan to Reward Hospitals That Make Childbirth Safer for African-American Women
Senator Warren is taking action in a language healthcare providers understand: MONEY.
"If providers deliver quality care to black moms, they'll make more. If they don't, they'll make less. Don't just observe and debate racism in health care. Make providers pay until this crisis is fixed."
via CNN
Outsourcing Adulthood: Can You Ever Really Grow Up If You Don't do Anything for Yourself?
Will new adults know how to go grocery shopping? How to do laundry? Fix a leaky faucet?? Okay, WE still haven't figured out that last one, but with errand paralysis and a "share economy," why would we even need to learn?
via The Cut
Inside The San Diego Church Where ICE And Border Patrol Bring Pregnant Women
Women seeking asylum have given birth to 24 babies while living in this church the past year. That's almost one every two weeks. When you need security and comfort more than ever, how do you find shelter with nowhere to go?
via Buzzfeed News
The Armenian Rugs That Tell Two Stories
Woven by refugee orphans saved from the 1915 genocide of 1.5 million Armenians, 3,000 rugs were made and given to American donors who had paid for the children to be looked after. With one rug at the White House and another discovered in a San Diego home, the history of 100 years ago is made tangible.
via BBC
"Texas Mexican didn't cross the border, the border crossed it."
via NY Times
Saving The Story Of Grits, A Dish Born Of Poverty Now On Fine-Dining Menus
Grits are a southern staple with a deep southern history. We're talking 8700 B.C. in Central America to artisanal fine-dining today. Erin Byers Murray's book on the ingredient hopes to explore how food shapes our culture, and give grits the origin story it deserves.
via NPR
The Racial Bias Built Into Photography
Who are you calibrating the light to? It turns out film is calibrated to a white lady's skin and that actually has so many implications for how we see ourselves. This article is 🔥.
via NY TIMES
Amy Poehler's Coming-of-Rage Story: Comedy's Subversive Star Is Defining Her Own Feminism 
She's a legend with so many upcoming projects we're tempted to take the next year off to consume it all. From college improv to SNL sketches to literally redefining and shaping the genre of comedy itself, Amy Poehler embodies inspo.
via Hollywood Reporter
Team Mash-Up is the brain trust of smart minds and savvy creators, that builds all the cool stuff you see here.