Mash-Up Round-Up: Nuns are Retiring to Jewish Old Age Homes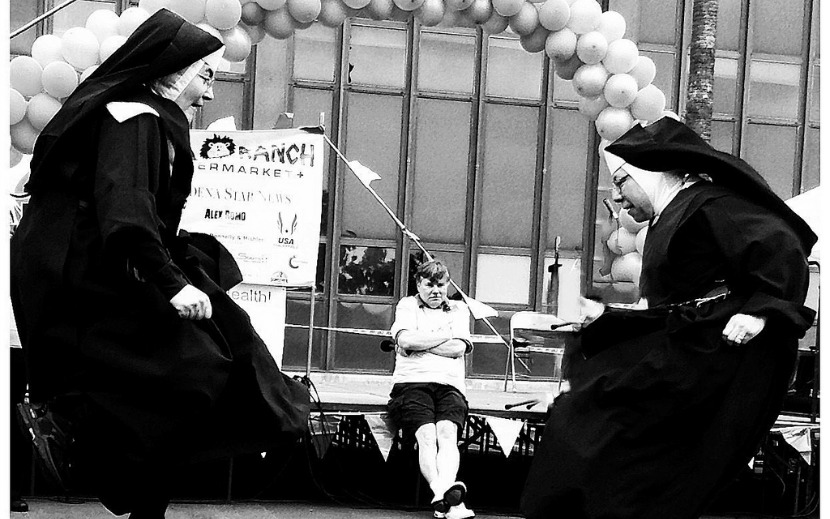 The week of May 30, 2015 was: learning that Big Bird doesn't want to be a player no more; being jelly of this teenager's badass feminist yearbook quote; and feeling weird about it, but HELLO NEVILLE LONGBOTTOM. 10 points for Gryffindor.
Mash-Ups in the News:
Those Mash-Ups raised to identify with the cultures of both of their parents have higher self esteem than non-Mash-Ups. Yeah, because we're the greatest. Plus, great repeated use of "monoracial" in this article.
via NY Mag
In light of the arrests this week at FIFA (and the 900 migrant workers who died in Qatar), the world's best primer on how fucked up FIFA is: they pay no taxes, the governments take on all the costs, but FIFA gets all the profits. Oh and they set up courts in South Africa that existed outside of the rest of the justice system.
via Last Week Tonight
Great new series from our favorite foodie zine about our Mash-Up moms and what they cook. Hello Ginger Scallion Wings!
via Lucky Peach
It happened at the White House Seder. Also, she's a total Mash-Up. Also, Obama's face in this photo.
via Washington Post
Black-American expats in Thailand are treated light years better than African migrants, and they don't feel good about it.
via The Root
Do you have salami over your eyes? That's Italian for "rose colored glasses." We literally want salami over our eyes.
via Chocolate and Zucchini
Oops! The NYT summer reading list has boring books that were entirely written by white people. Pick some of the boring books written by POC too! We also write boring books! Thankfully, Slate put together some non-boring recommendations.
via Slate
Ever wonder why everything in England is a curry? And let's be honest, curries are for sure better than scones.
via The Guardian
The author of the new novel "Loving Day" talks about being a racial optical illusion and about owning the word mulatto. And some thoughts on kissing his ass.
via NPR
"I miss the bacon." With more nuns over 90 than under 60, the Church is looking for alternative ways to support their aging sisters. In comes Jewish old age homes. At first hesitant, now everyone is way into it. We love this story.
via Crux Now
Which names are most likely to be the names of Democrats and which the names of Republicans? What would Larry David and Jerry Seinfeld say to their mega-elephant names?
via Verdant Labs
It's a little weird when one of our foods becomes the "it" cuisine, but Filipino food is definitely taking its role in the spotlight. Bout time! At the same time, chefs are bringing great California cuisine to the Philippines, and having a lot of success.
via Eater
Beautiful interactive story about Dance Theater of Harlem and how the future is bright for diversity in dance.
via Mashable
So, only 30% of Hawaii is white, but the previews for this movie make it seems like it's all military and whitefolk. That said, it does star four of the most delightful white people in showbiz, so maybe we will just see it and judge for ourselves. We do find it impossible to believe that Cameron couldn't find an actual hapa actress to play the hapa lead.
via Entertainment Weekly
Team Mash-Up is the brain trust of smart minds and savvy creators, that builds all the cool stuff you see here.