The Era Of The Christian Drag Album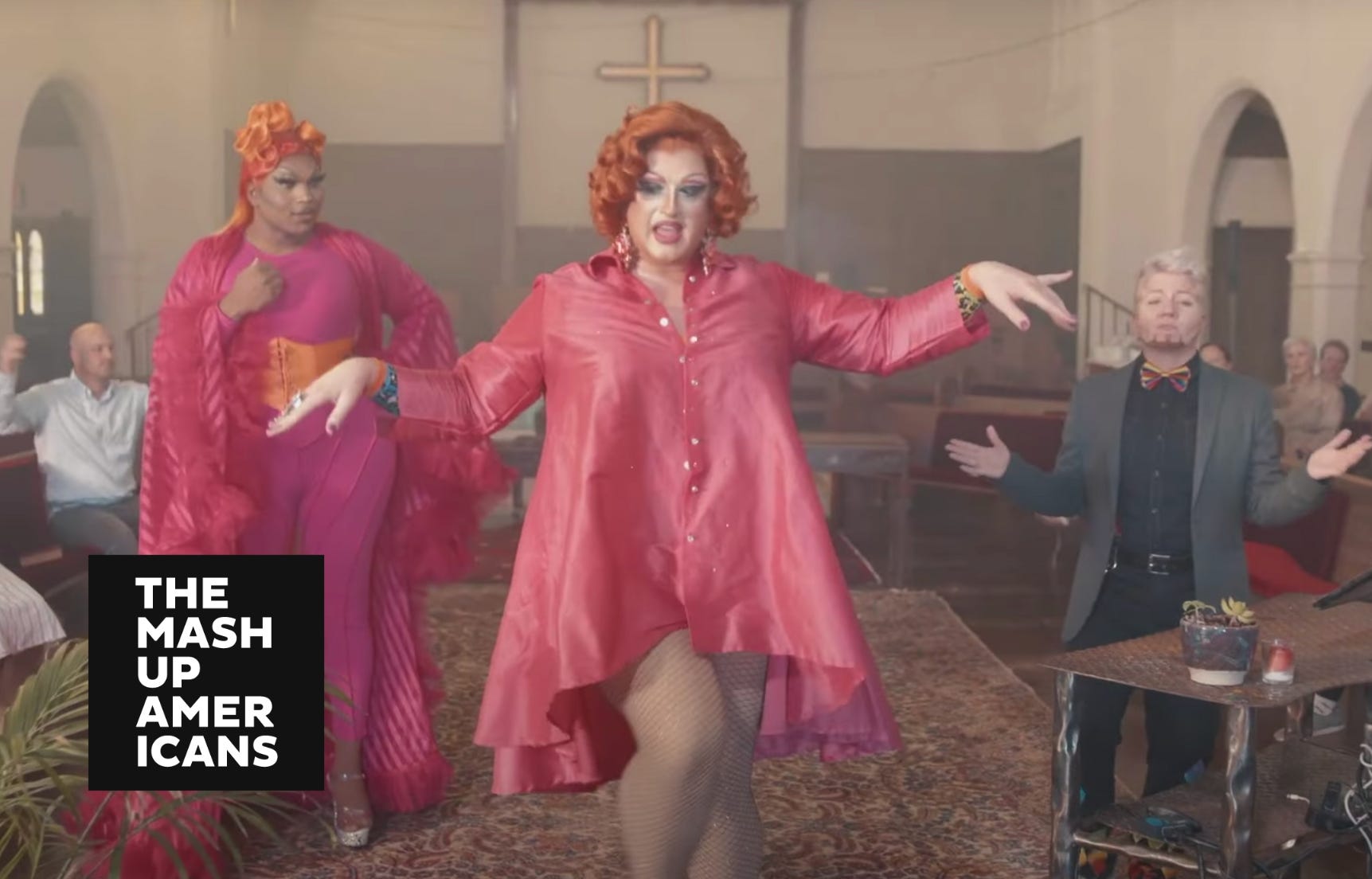 This Week In Mash-Up America
The week of August 12, 2023 was catching the stars; the Montgomery melee; Indigo Girls on repeat; and focusing on mortality reduction. You only need 4,000 steps! 

Grief, Collected: How Grief Lives In The Body 
Oldie But Goodie: Today we're talking to Dr. Dorothy Holinger, psychologist and author of The Anatomy of Grief. This validating conversation is an exploration of the science and spirituality of grief, how deeply personal and individualistic the grief experience is and how integral it is to all living beings. You can find more info and resources at griefcollected.com.
Mash-Ups In The News:
Breaking The Cycle Of Holocaust Hoarding
HEY ALMA
"When the world ends again, we will be prepared." Learning to overcome overconsumption and preparation anxiety by using what you have and redirecting your preparedness to those who need it more.
The Most Stereotypical Person From Every U.S. State – According To AI
HIPPO REPORT
Mashing up the stereotypes of each state, this series of AI-generated images might include a disproportionate number of cowboy hats and corn. And men.
Wildfire Decimates Lahaina, Once The Capital Of The Hawaiian Kingdom
NBC NEWS
The wildfire devastation of Lahaina has left hundreds of families displaced and businesses destroyed. Now, Hawaiians are mourning the loss of lives and the loss of Native Hawaiian history and culture. You can help here.
My Mom Will Email Me After She Dies
THE ATLANTIC
Three months after her mother's departure, a new type of ghost will visit — delivering cookie recipes, emails, passwords and more. A story of the transforming nature of grief in the age of digital afterlives. 
What The Retrievals Understood About Women's Pain
SLATE
In The Retrievals, patients at Yale's fertility clinic describe going through IVF egg retrieval with no pain control — a nurse had swapped out their fentanyl — while no one believed their agony.
Indigenous Athletes Are Reviving An Ancient Sport In San Diego
KPBS
The Tlecoyotes are working to reclaim a key piece of Mesoamerican culture and bring back one of the oldest team sports in history, ulama.
Indian Boarding School Survivors Share Stories Of Sexual Abuse, Trauma
WASHINGTON POST
Taken from their homes, Native American children were forced to attend Indian boarding schools by the federal government in an attempt to wipe out their languages and culture. Hear the stories of four survivors, now in their 70s and 80s.
What The Webb Space Telescope Will Show Us Next
NEW YORKER
Astrophysicist Jane Rigby talks about the greatest challenges of the JWST, what we're seeing when we see its images, and how it might help us understand our place in the universe.
He Was A Top Church Official Who Criticized Trump. He Says Christianity Is In Crisis
NPR
"I think if we're going to get past the blood and soil sorts of nationalism, it's going to require rethinking what the church is."
Meet Flamy Grant, The Drag Queen Carving Out Her Own Lane In Christian Music
BILLBOARD
Drag artist Flamy Grant recently reached No. 1 on the iTunes Christian album charts. Their music is for queer kids growing up today: "I don't want them to have to go through what I did, which was to conform, or get kicked out."
For Millions Like Me With Long Covid, The Pandemic Isn't Over
THE WASHINGTON POST
Covid cases have risen dramatically this summer, reminding us that the virus is very much still with us. For many however, such a reminder will never be needed — their lives and bodies forever changed by the infection.
A Gripping View Of Life In San Francisco's SROs
KQED
More than 20,000 people currently live in San Francisco's single-room occupancy hotels, commonly referred to as SROs. The new documentary, Home Is a Hotel, shares the story of five SRO households over five years.
Team Mash-Up is the brain trust of smart minds and savvy creators, that builds all the cool stuff you see here.