Mash-Up Weddings: Joseph & Michelle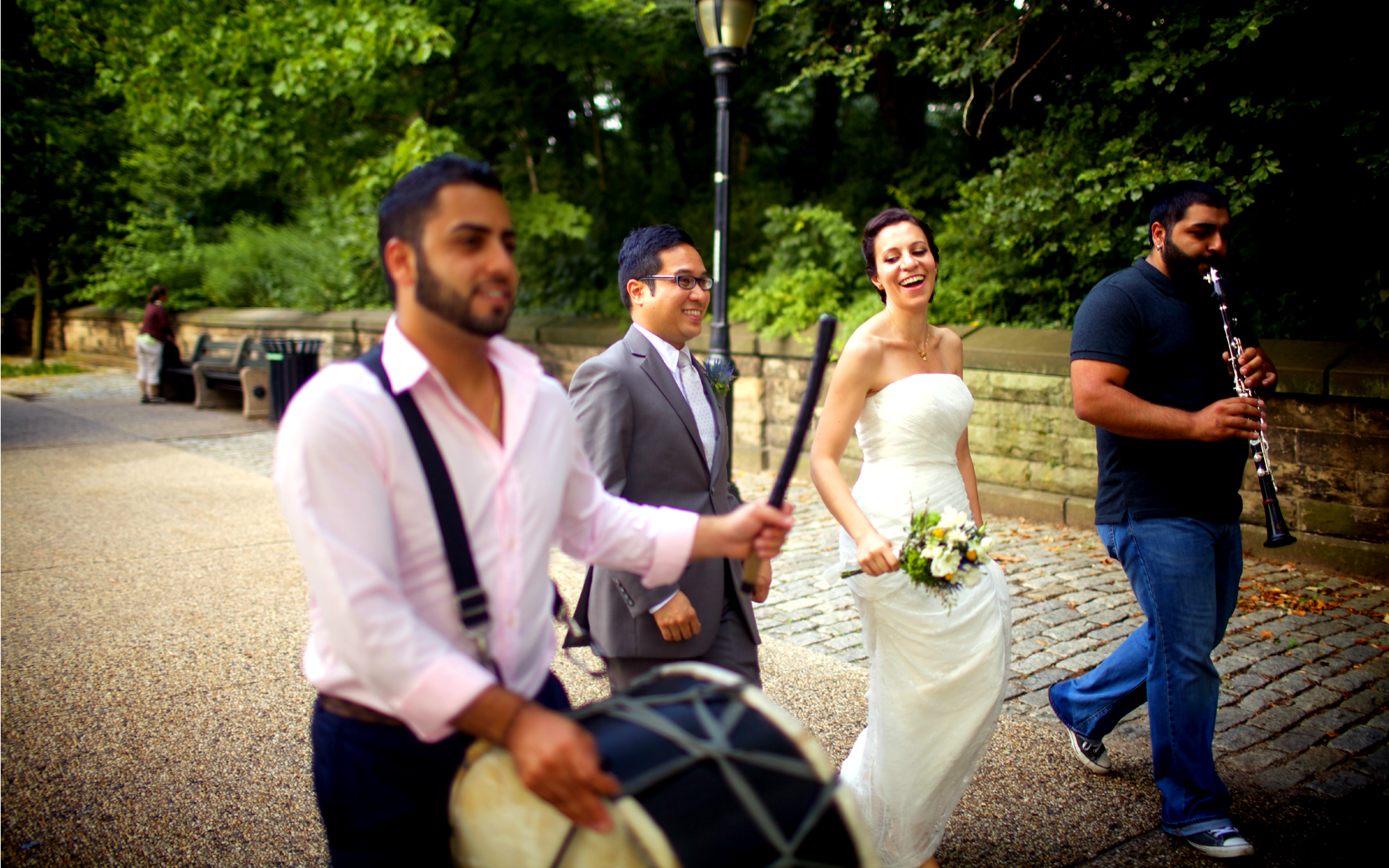 When it comes to Mash-Up Weddings, all you need is love. And planning. And communication. Oh, and mutual respect for differing cultures. And parents. And traditions. And bilingual priests. Maybe a translator? And, ultimately, a willingness to make a celebration and a relationship and a future all your own.
And that can be daunting! So we're thrilled to share the third in our series of Mash-Up Wedding photo essays, to provide inspiration and ideas for your own celebration. Here are our dear Mash-Ups Joseph Gabriel and Michelle Bachir. Joseph is a first-generation Filipino-American from New Jersey. Michelle was born in Lebanon and lived in London and Dubai before coming to the U.S. six years ago. Joseph and Michelle met, wed and reside in New York City.
This is their Mash-Up wedding story.
The Happy Couple: Joseph and Michelle
Joseph and Michelle's first date was in Flushing Meadows Corona Park, in the melting pot that is Queens. The park was the site of the 1964 World's Fair, which left behind remnants like the Unisphere — the 12-story-tall stainless steel globe where Joseph and Michelle decided to first meet.
A Token Proposal
Two years after their first date, Joseph proposed. He presented Michelle with a vintage World's Fair trinket engraved with the Unisphere as her engagement ring. It is now Joseph's wedding band.
English-Arabic Invitations
Joseph and Michelle decided to host their wedding in Brooklyn, where they live, but invitations were sent far and wide. A dual English-Arabic format helped spread the message to family and friends around the world, which was delivered in envelopes sealed with bilingual stamps.
The Civil Ceremony
The City Clerk Marriage Bureau is a revered New York institution and Joseph and Michelle did not pass up the opportunity to get married there. One Wednesday morning in July, Michelle put on a white summer dress, Joseph donned a barong tagalog — traditional Filipino formal attire — and they stood in line in downtown Manhattan. After a minute-long ceremony, they celebrated with friends over soup dumplings in Chinatown and with a walk across the Brooklyn Bridge. Here they are moments after getting hitched!
Zaffa
While the civil ceremony was their "official" wedding, Joseph and Michelle held their "real" wedding 10 days later at the Brooklyn Society for Ethical Culture. Guests assembled at the venue while the couple snuck away to start their zaffa — the traditional Arab wedding march that loudly announces the occasion. Here they are in Prospect Park at the start of the zaffa, five blocks away from the venue.
Chair Lift
When the couple arrived at the venue 15 minutes later, their families surprised them by lifting them high up above the crowd. Like the chair dances of other Middle Eastern cultures, lifting the couple is a staple of Lebanese weddings, but Joseph and Michelle were not expecting it at the onset of the ceremony. This photo shows a couple joyfully holding hands, but in reality they were just trying not to fall!
Zarghouta
Michelle's sister, Roula, welcomed the guests with the zarghouta, the traditional Lebanese greeting recited in Arabic, announcing that the family's youngest daughter was getting married. While not all of the guests could understand Arabic, the loud and boisterous ululating was an unmistakable celebratory sound.
Dual-Language Ceremony
The couple's friend, Mariam, officiated the ceremony in English, while another friend, Rawan, translated into Arabic. The dual-language approach caught some guests by surprise, at which point Mariam quipped, "That's right, folks, we're doing this 'U.N.-style'!"
A Toast with Arak
Back home in Lebanon, Michelle's father makes arak, an 80-proof liquor distilled from grapes. He brought over a few liters for the wedding guests to toast with. Joseph's father, not being familiar with the potent liquor, figured he'd take the drink in one shot. Guests' reactions ranged from amusement to genuine concern. (Don't worry, it just loosened up Joseph's father, who had a great time!)
Lebanese-Filipino Menu
Nothing says "Mash-Up" like the melding of flavor profiles. Joseph and Michelle chose a menu of Lebanese and Filipino dishes, ranging from warak inab (Lebanese stuffed grape leaves) to lechon (Filipino whole roasted pig). For dessert, Joseph insisted on representing his Jersey roots with a Carvel Cookie Puss ice-cream cake.
Bottled Centerpiece
As an added touch, a pair of beer bottles — Filipino San Miguel and Lebanese 961, natch —held the centerpiece flowers at each table.
Spicing It Up
Joseph and Michelle wanted to send their guests off with a special gift. They settled on olive oil soap made by Michelle's family; sumac (a dried and ground berry with a tangy flavor); and zaatar (a mix of thyme and other spices). Early in their relationship, Joseph discovered these spices in Michelle's kitchen and is now fond of experimenting with them in totally unorthodox recipes.
Dabkeh
The drummer from the zaffa stuck around for the music and dancing, layering his beat onto the DJ's Top 40 selections. Late into the night, the crowd gathered around for the dabkeh, a style of Levantine Arab folk circle dance.
… And Welcome Baby Gabachiriel (Gabriel-Bachir!)
Michelle and Joseph recently welcomed their first child, a sweet boy named Rami, who's keeping them busy! They're looking forward to exploring what it means to be a Mash-Up "Leba-pino" family. Congratulations, Joseph and Michelle!
Wedding Photos: Weddings by Two
For the rest of our Mash-Up wedding series, check here:
Mash-Up Weddings: Ruch and Sarah
Mash-Up Weddings: Hitha and Seth
Plus: Mazel Tov! You're Engaged! Now What?
Do you have a Mash-Up Wedding you'd like to share? Email us at yo@mashupamericans.com and you could be featured next!
Team Mash-Up is the brain trust of smart minds and savvy creators, that builds all the cool stuff you see here.