Guideparents, Not Godparents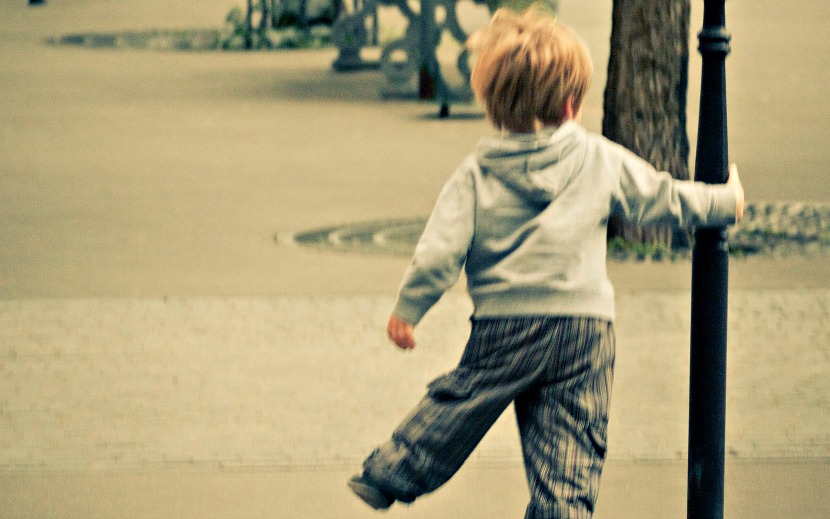 Some of the most memorable occasions in life stem from rituals and the ceremony associated with them. But what happens when a sacred ritual is tethered to a religion you're no longer practicing? For Alix Steel, who was raised Roman Catholic, the longing to hold some kind of baptism for her infant daughter led to some deep soul-searching. And up sprang a new tradition.
Mother: Roman Catholic. Husband: Atheist. Me: Caught in the middle. That's the position I found myself in when my daughter was born and the dreaded "B" word (baptism) came up.
My husband said if we baptized our daughter, Dillon, in a church he wasn't coming. My mom said if we baptized her outside of the church without a priest, she wasn't coming.
Cue the discordant strings.
My first attempt was to make everyone happy. It didn't matter either way to me, so what about a baptism with a priest in a park? I suggested. Apparently, that is against the rules. What about a nonreligious baptism? Well, then that isn't a baptism. What about a minister in a park? Apparently, for really good Roman Catholics, that doesn't count either.
I was totally freaking out. Then a friend of mine said the most amazing thing to me. What do YOU want? she asked. And so I embarked on some soul-searching. What about a baptism was important to me?
I was raised Roman Catholic and practiced until I was 23, but then left the Church. I believe in the faith but was/still am struggling with organized religion. I don't know what the future has in store for me in terms of religion but right now I know a Sunday Mass isn't in the cards for me and Dillon. (Side note: I had the same struggle when my husband and I got married. We opted for a nonreligious ceremony. We wrote our own vows and were married by my godfather — who used to be a Brother — so in my mind it had a thread of religion, kind of. It was a tough time for me and my mom, but it was the perfect wedding for me.)
I embarked on some soul-searching. What about a baptism was important to me?
But this time around I couldn't let go of the religion, of the idea of having some kind of baptism. Most of my friends hadn't baptized their kids, so why did I care so much?
Godparents, it occurred to me. My godparents are two of the most important people in my life. My godmother, Maria, is my mom's best friend from college. Her daughter is my mom's goddaughter and her granddaughters are my goddaughters. I am an only child but my family never felt small because I had this huge extended family. They were friends, sisters, cousins, moms. My life would be incomplete without them.
When I became a godmother, I took it seriously. I didn't take on the role as spiritual advisor, as is common in the tradition, but I was the older sister who helped Marialyse and Marielle navigate this crazy world (they are now 21 and 23), and who is there for them no matter what. When Marialyse was having a hard time in college, her mom asked me to reach out because she might open up to me differently. When Marielle was struggling with some breakups and relationship drama, I was the one who took her out for mimosa brunches.
My godfather, meanwhile, is the most amazing man I ever knew. He was my second dad and best friend. He sadly is no longer with us, but I would be a different person today had it not been for his love. When I was a kid, Vincent would babysit and watch Ginger Rogers and Fred Astaire movies with me. When I grew older, he made every effort to be my friend. We would go to dinner, the opera, the ballet, the movies. He made me a big priority in his life.
I wanted Dillon to have all that, but without the religious pressure. Then a light bulb went off: guideparents. I actually never heard of this term but apparently it's a thing among secular individuals who want to carry over parts of the tradition of baptism.
Then a light bulb went off: guideparents.
My husband and I held a nonreligious ceremony in Prospect Park in Brooklyn. We invited only our closest friends — the people whom we knew would be a part of our lives for the next 20 years, whom we would turn to for help and whom Dillon would count on as a second family. I chose my goddaughters to be Dillon's godmothers — marking the fourth generation of godparent action between our two families. Dillon's godfather is my husband's godson.
My best friend officiated, beginning the ceremony by saying a few words about who she was and what godparenting meant to us. Dillon's god/guide parents then stood up and committed to being there for her throughout her life. Each of them then vowed to 'do' certain things. Some were specific to their skills and interests — like how to code (from her 20-year-old tech-savvy godfather) or how to love Mickey Mouse (from one of her Disney-obsessed godmothers). And the rest of the vows were joint statements, such as, "I promise to love and support Dillon."
My best friend then led a call-and-answer session with the rest of the guests, who promised to be there for Dillion throughout her life; said a few more words about the godparent tradition; and then we all went back to our apartment to eat and drink. It was no muss, no fuss and we drank a lot. No better way to celebrate my daughter.
To this date, my daughter's guideparent ceremony was one of the most meaningful and impactful days of my life. From the moment the ceremony began, I was a weeping mess. I was overwhelmed by the outpouring of love; so many people stood up and said, "Yes, I will help you in this life, you can turn to me when you need me and we pledge to love you."
Everyone took the occasion seriously, as if they all knew what was at stake. And in the end, I got what I really wanted for my daughter: a community and an extended family. The best part is, I didn't have to compromise anything; I simply made a tradition of my own. My daughter, who is now 15 months old, is so loved and cared for and she doesn't even know it yet.
But she will soon, and perhaps one of these days, she will pass down the guideparent tradition to her own kids.
Here is Team Mash-Up's quick guide to holding a guideparent ceremony of your own.
Traditions. New or old, we dig them.
Saying Grace: Staying True to Who You Both Are
Alix Steel is the anchor of What'd You Miss with @TheStalwart for @BloombergTV, covering global markets, economic news and commodities.