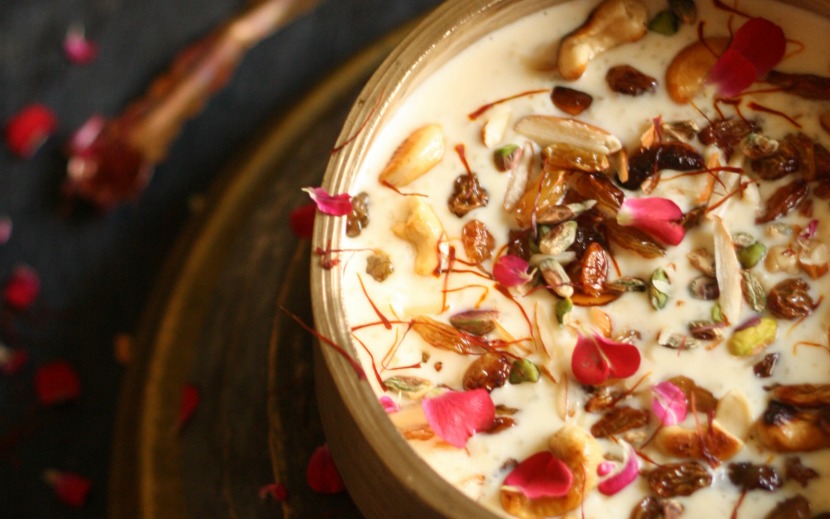 Diwali, or the Festival of Lights, marks the start of the Hindu New Year. The occasion is a time for celebration, togetherness and renewal — plus partaking in tantalizing dishes. Here, Indian-American Mash-Up Nishta Mehra shares her recipe for kheer, a creamy rice pudding that is sweet and oh so satisfying, from her food blog, bluejeangourmet.com. Read Nishta's companion piece about celebrating Diwali and how she's passing down the traditions she learned as a young girl to her own family today.
Kheer isn't particularly difficult to make, but it does require patience. Cook it slowly on the stove whenever you're already planning to be in the kitchen for a while.
The best part? Kheer keeps extremely well — in fact, you may even find that it tastes better after a few days in the fridge.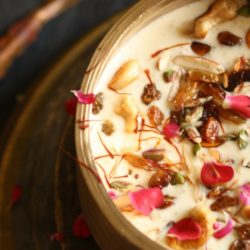 Nishta Mehra's Recipe for Kheer
The tastiest Indian rice pudding we've ever tried.
Ingredients
4

cups

milk

use whole milk – it makes for far superior kheer

½

cup

basmati rice — use the good stuff!

½

cup

chopped almonds and/or pistachios

toasted

¼

cup

sweetened condensed milk

2

T

ground cardamom

I love this flavor, but if you don't, cut the amount in half

Optional: rosewater
Instructions
Rinse the rice twice while heating the milk over medium-low heat in a heavy-bottomed pot. Drain and add the rice to the milk, stirring to combine with a wooden spoon.

The main object while cooking kheer is to keep the milk from scorching at the bottom of the pan. You don't have to stir constantly, just regularly, and err on the side of caution when it comes to managing the heat on the stove.

As it cooks, the kheer will thicken. If you prefer a thinner pudding, feel free to add extra milk.

When you've reached the 20 minute mark, check the rice for doneness. Once it has been cooked through, remove the pot from the heat. Stir in the cardamom, then swirl in the sweetened condensed milk, then check for sweetness — you may want to add a bit more.

Serve the kheer hot, warm or cool. Sprinkle each bowlful with a handful of nuts and a teaspoon or so of rosewater.

Enjoy!
Nishta J. Mehra was born and raised in Memphis, Tenn., the proud first-generation daughter of Indian immigrants, which means she can make both saag paneer and buttermilk biscuits from scratch. Author of The Pomegranate King, she is currently at work on her second collection of essays, Making Space: On Parenthood, Family, and (Not) Passing, forthcoming from Picador. She teaches high school English in Texas with her wife, Jill, and their son Shiv. Follow her @bluejeangourmet.