A Lil Keanu To Bless Us The Weekend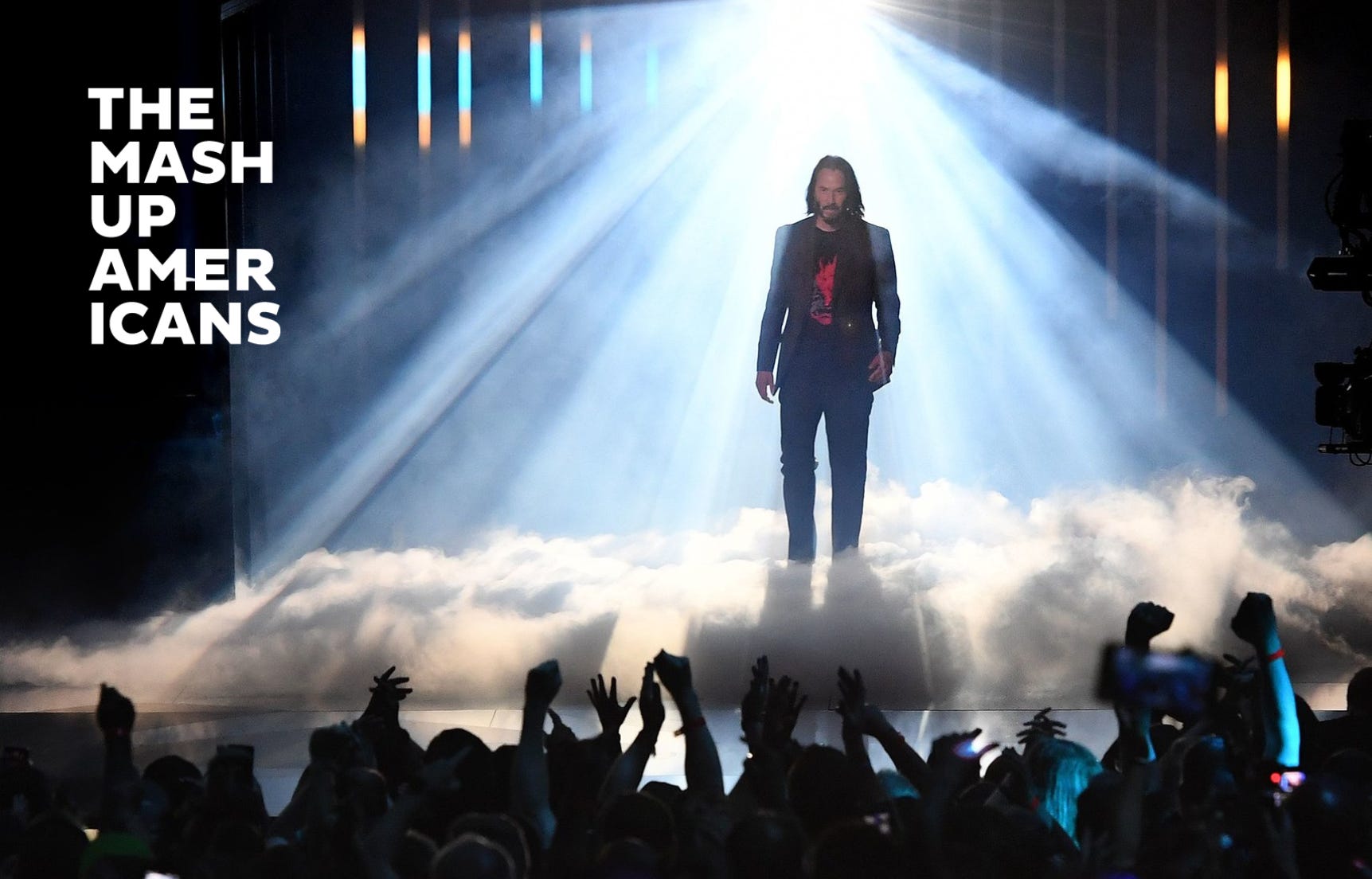 This Week In Mash-Up America
The week of April 8, 2023 was being late to the meeting; wondering why Americans care so much about work; and Keanu + Broadway?!?!
Passover Delights, Any Time Of Year: Amy's Kimchi Matzah Brei
Fry up some onion, matzah, eggs, and kimchi. OR make a matzah brei with hot honey, feta, and herbs. OR use Easter leftovers in this kosher-for-Passover Indian dish. We've got you covered for a mashy Passover Easter this week.
Mash-Ups In The News:
Finland's Top Political Ally: The Sauna
POLITICO
A "holy place," where people can share their deepest thoughts and bargain in the buff. A brief exploration of sauna diplomacy in Finland. 

The Story Of A Girl And Her Goat Explains How The Meat Industry Indoctrinates Children
VOX
Listen, we're omnivores here. But this story was like the plot of Okja or Charlotte's Web, if it ended with our beloved animal friend being seized and slaughtered by a state senator to "teach us a lesson."
Ceder the goat versus the multibillion-dollar meat industry shows how one child's defiance and showing of mercy threatened the entire American agricultural system.
Historian Turkiya Lowe Is Reshaping How The National Park Service Tells The American Story
19TH NEWS
An interview with Turkiya Lowe, the chief historian for the National Park Service and the first woman and first African-American person to ever hold the position.
The Man Behind The Internet's Favorite Outfits
NEW YORK TIMES
Combining "Y2K" aesthetics, tight silhouettes, sheer fabrics, femininity, power — Mash-Up Duy Tran has arrived.
Mutual Aid Clubs Are Still Going Strong In L.A. Chinatown. But Their future Is Uncertain
LOS ANGELES TIMES
"We offer so much to people through the generations. You come to share your burdens and solve problems. To keep it going, we need to educate the youth on their roots so that they will learn about the greater community and its purpose."
You Never Forget Your First Gefilte Fish 
SAVEUR
Shockingly sugary to naturally sweet, a story of a polarizing appetizer and another Passover recipe.
106-year-old Indigenous Filipino Tattoo Artist Becomes Vogue Cover Model
NBC NEWS
Apo Whang-Od, also known as Maria Oggay, is famous for mastering a 1,000-year-old "batok" tattooing technique.
What Is Gochujang? To Start, It's Not A Sauce
NEW YORK TIMES
Sweet, spicy, savory — this perfect Korean ingredient is the source of unknowable depth and the foundation of endless possibilities.
Anonymous is a Mash-Up that needs a safe place to talk about and explore some of their darkest, most difficult, most secret issues. We get it. We're here.