Mash-Up Round-Up: Korean-Chinese Cuisine + Well-Meaning White Families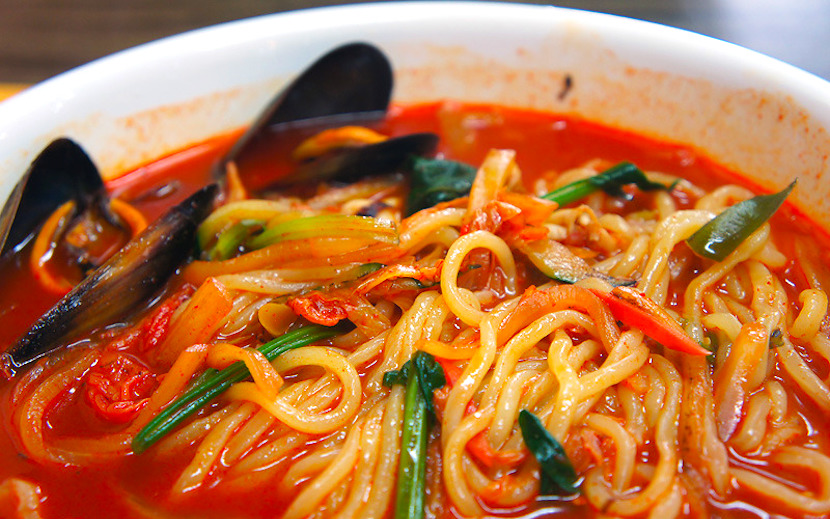 The week of September 8, 2018 was Wiz Khalifa all the way; feeling vindicated about jade vagina eggs; and ugh, we will always love Ethan Hawke, don't @ us.
The Mystery Of People Who Speak Dozens Of Languages
Hyperpolyglots will make you feel inferior. Someone has a command of 22 languages and you can barely speak your grandma's native tongue? Only a couple dozen in the world are certified hyperpolyglots, and seeing how they think, feel, learn and experience languages can teach us all how to be better global citizens. Speaking of which: Come join us in LA at the Hammer Museum on September 25 for a very fun conversation on polyglots and the porousness of culture! Free!
via New Yorker
Ayanna Pressley Seeks Her Political Moment In A Changing Boston
Ayanna Pressley ran against Michael Capuano, a 10-term incumbent congressman in the Democratic primary in Massachusetts.
And. She. WON.
She joins a rising tide of women, including Alexandria Ocasio-Cortez, Cynthia Nixon, and Stacey Abrams, who are challenging historically white male power structures in politics: "I'm not running to keep things as they are, I'm running to change them."
via New York Times
How Well-Intentioned White Families Can Perpetuate Racism
Every parent wants to be a "good parent," giving their child every opportunity they can to succeed. But what happens when prioritizing your own kids comes at the expense of other people's kids? A sociologist went to affluent white neighborhoods to see how white families are handling racism, and found that, well, liberal white parents have a lot of work to do.
via The Atlantic
"To All The Boys I've Loved Before" Helps Yakult Yogurt Drink Fly Off Shelves
Lara Jean's little sis and her penchant for "Korean yogurt smoothies" has led to some major (if unintentional) product placement for the real-life Japanese Yakult Yogurt Drink — and honestly give us a lifetime supply if it will quench our Peter Kavinsky thirst.
Also, the movie's star, Lana Condor, has created a scholarship fund to pay for the cost of schooling for one girl from Cần Thơ in Vietnam, so this cast can't get any better.
via Bloomberg
The Origins Of 5 Popular Korean Dishes, Illustrated
Korean cuisine is really mash-up cuisine, and these Korean-Chinese dishes are at the center of it all. From jjajangmyeon, spicy jjamppong and kkanpunggi, or those golden fried mandoo, these mashy meals contain years of Korean history, cultural connections, and oh so much deliciousness.
via Goldthread
Nike Knows The Future Looks Something Like Colin Kaepernick
Mash-Ups are big business, and we're the future. As one researcher said in response to Nike's big campaign featuring and honoring the social justice protest by Colin Kaepernick, "If you don't have a multicultural strategy, you don't have a growth strategy."
Looks like racists are gonna have to go barefoot while the rest of us keep running forward.
via Washington Post
India Just Struck Down A Law Banning Gay Sex
India's highest court has just struck down a Victorian-era prohibition on gay sex, calling it "irrational, indefensible, and manifestly arbitrary." It's also a symbolic break with India's colonial past, makes it illegal to discriminate against people based on sexuality, and is a huge step for future progress to come.
via Vox
Nearly a hundred years ago, the media coverage of the Second Klan helped it thrive and grow, and as these past debates on media neutrality and normalization are sounding scarily familiar, we need to dive deeper into our history to stop from repeating it.
via WNYC Studios
Here's How America Uses Its Land
If there's one thing America's got lots of, it's land. Learn more about the 1.9 billion-acre puzzle that makes up our country. From its 3.6% urban areas and 20% agricultural land to the million acres of golf courses and airports, these maps will show an America beyond state borders.
via Bloomberg
Riz Ahmed Acts His Way Out Of Every Cultural Pigeonhole
He does not do it all. He is it all. Everything that God and Pakistan and England and Wembley and Oxford and freestyle battles and Shakespeare conservatory have made him. And if he is, then so, perhaps, are you.
via New York Times
Why Young Men of Color Are Joining White-Supremacist Groups
"Multiracial white supremacy" is an actual oxymoron, but to our great dismay, it is a real thing. There are growing numbers of Black, Latino, Asian, and mixed-race members of the alt-right, embracing an America-first nationalism that believes "the West is the best." These people go against everything we believe in as Mash-Ups, and reveal the insidious epidemic of intolerance.
via Daily Beast
Oh, Senator Cory Booker Had Time Today
"I am going to release the email about racial profiling, and I understand that the penalty comes with potential ousting from the Senate… I openly invite and accept the consequences of my team releasing that document right now."
In other words: Bring it.
If the American government is now a reality TV show, this is the tea spilling, receipt showing mic drop we'll be rewinding a couple dozen times. The Brett Kavanaugh hearings make us want to hide in a hole, but it's speeches and power moves like Cory Booker's that make it all feel a little bit better.
via Elle
Team Mash-Up is the brain trust of smart minds and savvy creators, that builds all the cool stuff you see here.