Mash-Up Round-Up: Wu-Tang + Rules of the Rich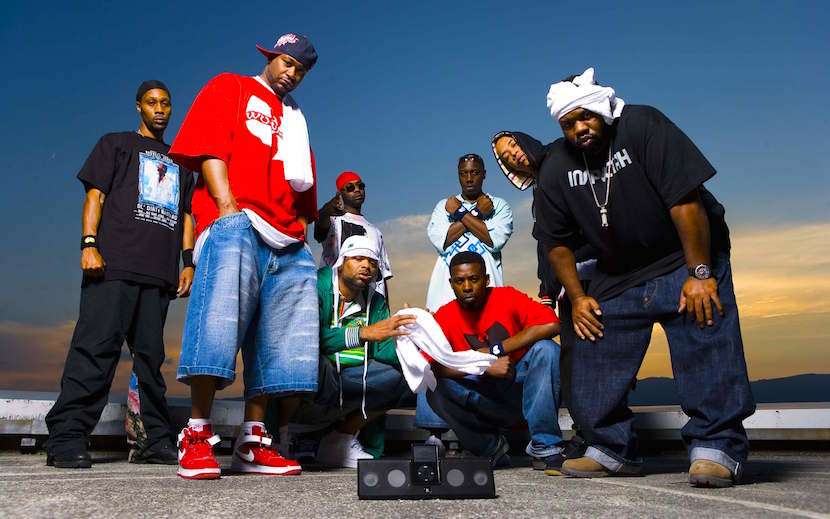 The week of February 10, 2018 was laying plans to shoot Peter Thiel into space; NOT acquiring "The Shape Of Water"-themed dildo (it was sold out!); eating our baldness-prevention McDonald's fries and crunching our Lady Doritos as loudly as possible. Just let us fat in peace, fam.
Why Everyone In Black Panther Has Natural Hair
We're beyond hyped for Black Panther (see y'all at the midnightpremiere?), and everything we've heard about this movie promises perfection. Case in point: Everyone has natural hair in different stylings and creative looks, showing the beauty and versatility of Black hair. Y mas: Danai Gurira's Okoye is your new fave, Letitia Wright's Shuri is your princess, and Ryan Coogler is a revolutionary game changer.
via New York
What Does Nike's Sports Hijab Mean For Running?
Nike released the pro hijab, but what do Muslim women runners think about it? On the one hand, the ideal sports hijab is as individual as a sports bra, and most one-fits-all attempts fall flat. On the other hand, these products and the runners who choose to wear them tell the sports world (and future hijab-wearing athletes) that they can join in the race too.
via Runners World
Cape Town Faces Day Zero: What Happens When They Turn Off The Water?
As Cape Town experiences water shortages, sanitation failures, disease outbreaks, and anarchy, the realities and consequences of climate change are too clear to deny — and it's only getting worse from here. Even some billionaires aren't immune to the changes, but we can't just wait for every rich person to learn how climate change can affect them personally.
via Guardian
The Shallowess Of Google Translate
No one can deny that Google Translate is useful and even amazing, but these AI translators only see language as something to "decode," not something to understand. Meaningful and deep translations are what allow us to truly understand one another, so until our AI start developing memories and experiences to draw from (which is um, scary), human translators should keep doing the work that connects our world.
via Atlantic
When Your Mom Is The Manager Of Wu-Tang And Your Dad Is A Shaolin Monk
Jian Hong Shi's godfather is RZA and her father created the USA Shaolin Temple, so she was automatically cooler than us the moment she was born. Her parents were probably the highlight of her school's career day, and the (ultra-cool) 15-year-old tells us what it's like.
via Slate
Why Schools Fail To Teach Slavery's Hard History
Do you know what the Civil War was about? According to the high school seniors who took this survey, it was to protest taxes on imported goods. Yikes x 10000. Our schools are failing to teach the "blood-soaked bedrock" our country was built on, and tiptoeing around these hard truths have a lasting impact. Face these truths yourself with John Jay College's Index Of Slaves And Owners In New York.
via NPR
FEMA Only Delivered 50,000 Of 30 Million Meals To Puerto Rico
The recent failings of FEMA to provide relief to Puerto Rico have been "a logistical nightmare," with the agency scrambling to award multimillion-dollar agreements to inexperienced contractors. Shouldn't the Federal Emergency Management Agency be a little prepared to help manage emergencies? Here's how you can still help.
via New York Times
The Syrian Baker Bringing The Middle East's Most Famous Ice Cream To California
Maher Nakhal brought his childhood to the United States in the form of a Syrian ice cream machine, giving the increasing refugee population of Anaheim, California a bittersweet taste of home.
via New Yorker
"Fresh Off The Boat" Does An Entire Segment In Mandarin
About 50% of the latest episode of "Fresh Off The Boat" is spoken in Mandarin, because why not? Chun-Li from the Street Fighter II video game was the most Chinese representation the show's writer Jeff Chiang got growing up, but now we're getting to see all the possibilities of a primetime mash-up TV show, and we're never going back.
via Hollywood Reporter
How Do You Learn The Rules Of Being Rich?
From training away your accent to watching YouTube videos on silverware, what does it take to move from one class to another? These "class migrants" lived the rags-to-riches story America loves to believe, becoming our CEOs, lawyers, and executives, but what's the emotional toll of this journey up the socioeconomic ladder?
via Guardian
Montana Man Quits Government Job Rather Than Help ICE Deport Immigrants
Jordon Dyrdahl-Roberts refused to aid in the breaking up of families when he was told to get information to ICE about undocumented members of his community. He refused to just follow orders. He firmly drew his line in the sand, stood his ground, and showed his child and his country what an American hero looks like.
via Huffington Post
Team Mash-Up is the brain trust of smart minds and savvy creators, that builds all the cool stuff you see here.