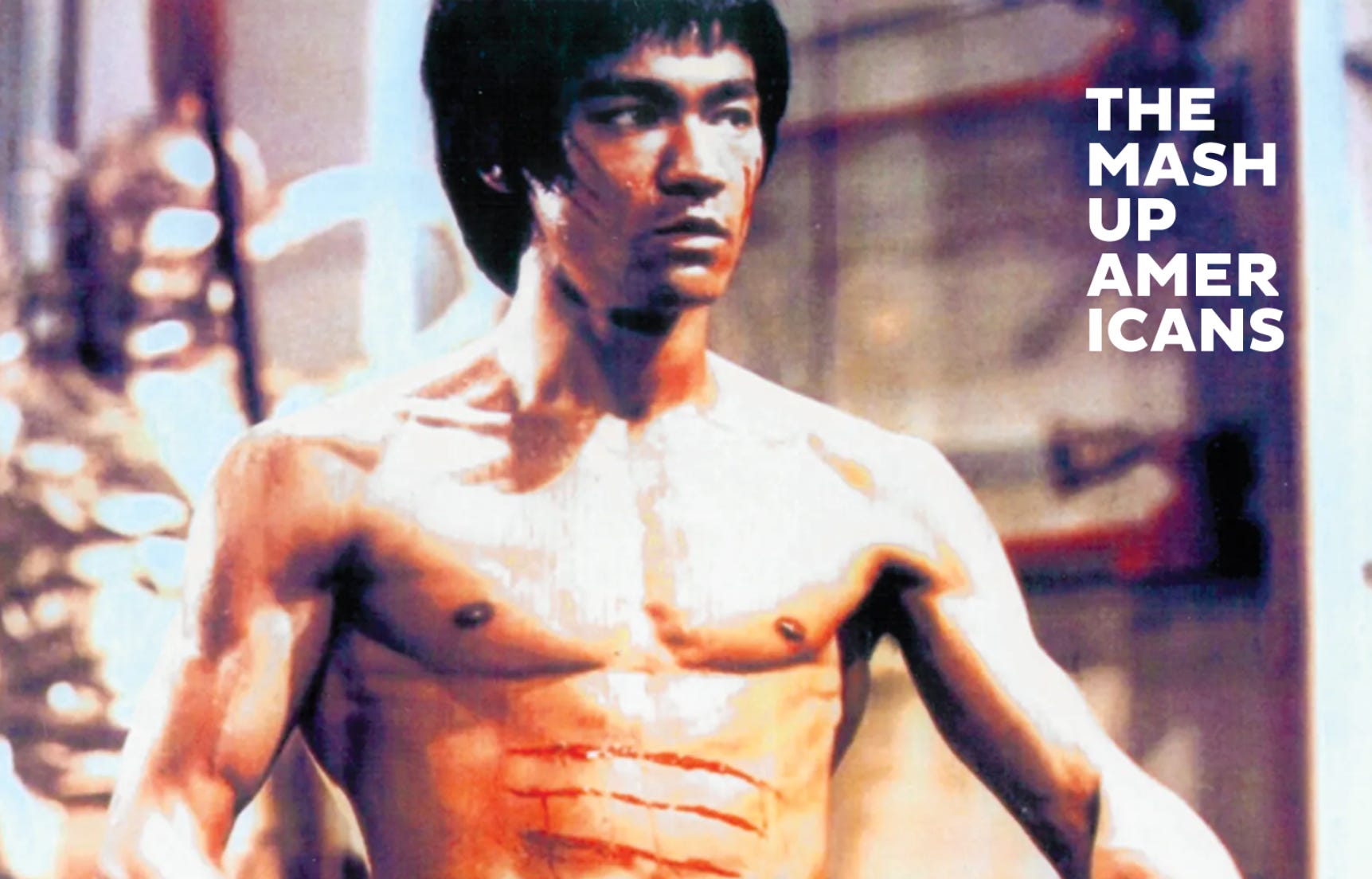 This Week In Mash-Up America
The week of July 1, 2023 was launching into the joy of summer with Warrior! The Mash-Up Americans are BIG Bruce Lee fans. We're thrilled to be producing a podcast about Warrior — an incredible TV series based on the writings of Bruce Lee, now streaming on Max. Set in the streets of 1800s San Francisco Chinatown, it's ass kicking martial arts historical fiction. It's also full of incredibly hot Azn men!

In today's special newsletter, we thought you'd enjoy a reminder about why Bruce Lee remains one of the most influential Asian Americans in history, how martial arts have acted as a unifying force across the globe, and to learn more about some of the wild history and characters of San Francisco's Chinatown.

Mash-Up HQ will be taking a breather next week; we'll be back in your inboxes on July 15. Loveyas.
Join the cast and crew of Warrior for a behind-the-scenes look at the making of Season 3 of the show. Each week, our hosts Lisa Ling (journalist) and Hoon Lee (Warrior writer, actor) will interview cast members, showrunners, and other special guests about the latest episode, discussing everything from the characters and storylines to the fight choreography and historical context.
The first three eps are out now!
Warrior Stories To Get Excited:
'Warrior' Season 3: Max Martial Arts Series Is Back to Kick Some Serious Ass
ROLLING STONE
If you didn't know, Season 3 of Warrior has returned to our screens after three years of cancellation purgatory, and now it's found new life on streaming with Max. They've come all this way, and it's more than worth the wait.
Me And Bruce Lee Would Like To Have A Word With You
W. KAMAU BELL
Comedian and host W. Kamau Bell remembers growing up and watching Bruce Lee fight — literally fight — against racism. With the legacy and memory of Bruce, he explores what it means to be against racism, especially when it's messy, complicated, and inconvenient.
Every Fighting Style Practiced By Bruce Lee (& Where He Learned Them)
SCREEN RANT
From Wing Chun to Taekwondo, Bruce Lee was a mash-up martial arts master; always evolving, picking up moves, stances, and ideas from other styles and cultures.
How Bruce Lee Used Kung Fu To Beat Bigotry
THE WRAP
Bruce Lee believed in Kung Fu for all, and had the most diverse group of students in the United States. Listen to this episode of the "Shoot This Now" podcast, where they focus on Lee's quest to break down barriers for himself and his Black students and friends.
Why So Many Black People Love Kung Fu
THE GUARDIAN
Kung Fu references have been prevalent in Black culture for half a century, so what is it about the martial arts style that spoke, and continues to speak, so strongly to Black audiences? This video essay investigates.
Chinatown Tong Wars
SF EXAMINER
Warrior takes us into the Tong Wars of San Francisco's Chinatown, a bloody conflict of rival gangs that reached its height in the late 1800s. Prime yourself for the show (or enrich your previous viewing) by learning more about this captivating part of Asian American history.
Ah Toy, Pioneering Prostitute Of Gold Rush California
NEW YORK REVIEW OF BOOKS
Ah Toy was the second Chinese woman to land in San Francisco. Within her first year, she opened a brothel and hired Chinese immigrants. Throughout her life, everyone from customs officials to white Christian missionary women tried to yank away her freedom — to no avail. 
The Women Who Fought Slavery And Sex Trafficking In San Francisco's Chinatown
THE BOLD ITALIC
From the early 20th century, a portrait photograph of six women — two white and four Chinese — reframes the role of Asian American activists and anti-slavery pioneers, and reshapes the way we understand history.
'Warrior' Gives Viewers A "Universal Translator" In 19th Century Chinatown
INVERSE
In Warrior, language is used as a careful and effective narrative device, allowing Chinese characters to be the most accessible on the show for modern American audiences. 
'Rise' Authors Jeff Yang And Phil Yu On Why Understanding Asian American History Is More Important Than Ever
SEATTLE TIMES
The authors for "Rise: A Pop History of Asian America from the Nineties to Now" were among the first gens to live with the term "Asian American" after it was coined in 1968. In this interview, they discuss the motivations for their book, living history as it happens, and the rising waves of incoming generations.
Team Mash-Up is the brain trust of smart minds and savvy creators, that builds all the cool stuff you see here.